Lions Prepare for Fish Fry...
Centerville Lions discussed final plans for their annual Fish Fry on Saturday, June 11 at its dinner meeting Monday, May 23 at the Centerville Senior Center. It will be dine-in or carry-out at the Centerville Christian Church Annex this year. Hours will be 11 am to 7 pm.

Fish will be prepared by Dan's Fish Fry Service again this year. Besides fish there will be tenderlions, applesauce, coleslaw, chips, dessert and a drink all for $12.00. Hamburgers, cheeseburgers and hot dogs will also be available.

Treasurer Dennis Stephen reported the recent Community Breakfast brought in 213-dollars. The next breakfast is planned for August 6 from 7:30 to 10 am at the Centerville Senior Community Center.

The Scholarship Committee reported there will be two $250 scholarships awarded this year.

President Scott Bevington reported the club has received a thank you letter from the Wernle Youth and Family Treatment Center for a recent donation. He also thanked Lions Ty Farmer and Jim Resh for their participation in the Veterans Parade on Sunday, May 22.
5/23/22


Community Breakfast Was a First For Centerville Lions...
It was a cold and windy Saturday morning, but more than 120 persons turned out including carryouts for the Centerville Lions Club first Community Breakfast on May 7. District Governor Jeff Locke of Richmond and PDG Ron Bonham of Indianapolis a couple of Lions officials who came.

Besides fresh pancakes, there were biscuits and gravy and eggs and sausage. After studying financial results, Lions will determine whether to continue with the project.
5/7/22
Centerville Athletic Director Speaks to Lions...
Shane Osting, Athletic Director for Centerville High School, spoke to members of the Lions Club Monday evening, April 11th at the Senior Center following dinner.

The Athletic Department is planning a golf outing with funds going to all sports this spring. Mr. Osting stated that Centerville team sports have changed to new divisions and will now be in 3-A because Centerville's enrollment is up to 520 students. Osting said will be a help in some sports and may not be in others.

Osting is in his second year as Athletic Director.
4/11/22

Sandie Rowe Brings Wernle Home Message to Lions Club...


Members of the Centerville Lions Club welcomed the chairman of the board of Wernle Youth and Family Treatment Center Monday evening, March 28 at a dinner meeting in the Centerville Senior Center. Sandie Rowe spoke of the operations of the Center and treatments they give to troubled youth from all across the country. Many are referred to Wernle by the courts. They can stay until they are 18 years old. The Wernle Coaches4Kids Golf Outing is May 16th at Forest Hills Country Club.

Lions President Scott Bevington announced several local and club donations to the Vest Program for the Town of Centerville. And the club received several bags of eye glasses for delivery to Mexico, a Lions Club project.

Tickets for the Centerville Lions Club Breakfast for the community were handed to each member. The breakfast is May 7th at the Senior Center and serving is 7 pm to 10:30 am. Cost is $7.50 each and the Menu includes: Eggs, Sausage, Biscuits and Gravy, Pancakes and drinks. The public is invited to attend. Tickets are available at the door or from any Lions Club member.

The Community Awards Banquet will be held Monday, May 9th at the high school cafetorium, and will honor citizens who have served the area well . The Community Service Award will be given and past winners are invited to attend along with members of the public. Serving on the committee are Phil Stevenson, Mike McCoy, Dennis Stephen, and Jim Resh.

The Lions Club meetings are held the 2nd and 4th Monday of each month at 6:30 pm for dinner at the Senior Center. New members are encouraged and welcomed to visit.
3/29/22
Centerville Lions Holds Planning Meeting For Events...


Members and guests of the Centerville Lions Club met for dinner Monday, March 14th at the Centerville Senior Center and to make plans for several events in 2022. President Scott Bevington laid out several projects which the Club hopes to complete this spring and summer.

Special guests were Suzy and Darrel Maines, who recently moved to the Centerville community.

The Lions Club was awarded a Membership Satisfaction Award from Lions International.

Upcoming projects and events include:

Election of Officers April 25th.
May 7th - Lions Club Breakfast for the Community at the Senior Center. Times are 7am - 10:30 am. Cost is $7.50 each. Please contact Dennis Stephen for tickets at 855-2034.

May 9th - Community Awards Banquet at the high school cafetorium beginning at 6 pm. Nominations for the Community Service Award should be directed to Phil Stevenson, Chairman. Citizens are encouraged to nominate a deserving person or group for the awards. Please call 855-5337 or 935-2481.

June 11th - Annual Lions Club Fish Fry at the Fellowship Hall downtown. This will be a sit down and carry out event for the public.

July will be the Lions Club family picnic and the last weekend of August the annual Archway Days Festival in the Park.

3/14/22
Sonia Spencer, widow of Lion Allan Spencer dies...
Sonia Spencer, widow of Lion P. Allan Spencer, has died at the age of 83. She passed away Wednesday, February 2 in Little Rock, Arkansas, where one of her sons, Shawn Spencer, resided.

Other survivors include sons Chad Spencer and Brent Spencer; three grandchildren; a brother Chadd Sewell, nieces, nephews and cousins.

Calling will be from 1 to 4 pm Sunday, February 13 at the Doan and Mills Funeral Home in Richmond. Additional visitation will be Monday, February 14 from 10 to 11 am at the Centerville United Methodist Church where funeral service will follow at 11 am. Burial will be in Crown Hill Cemetery in Centerville.

Memorial contributions may be made to the Centerville-Abington Senior Center, 111 South 2nd Street, Centerville, Indiana 47374.

2/4/22


Great Turnout For Christmas in Centerville...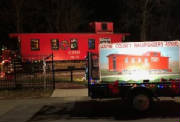 One of the floats in the Christmas parade
Good weather blessed the annual Christmas in Centerville Festival in Centerville on Saturday, December 4. The nighttime Christmas parade was a favorite of fans as it started at Maplewood Park and proceeded south to Main Street and then east to 4th Street. Everyone said it was well done and proceeded without a hitch.

Lots of people were seen walking the streets by the historic homes. Thanks to technology they were able to follow it on their phones.

Christmas in Centerville was not held last year due to Covid-19.
12/4/21
Lions Hear About Model T Ford Museum in Richmond...
Rachel Hughes, Executive Director of the Model T Ford Museum in Richmond, spoke to the members and guests at the Centerville Lions Club dinner meeting on November 22nd at the Centerville Senior Center.
Rachel told the history of the Model T which Henry Ford invented and described the museum's operations. The museum was begun in 2007 by Jay Klehfoth and is located now at 309 N. 8th Sreet in Richmond, Indiana.
The museum contains 42 Model T cars.

Hours are 10 am to 4 pm Wednesday through Sunday.
11/22/21
Christmas in Centerville...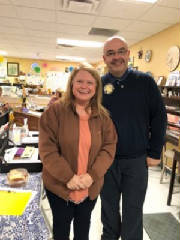 Shari Markley of Christmas in Centerville spoke before members of the Centerville Lions Club Monday evening, November 8. She said this year's event should be the largest ever held for the celebration. She invited the Lions Club to participate and chair one of the events. The club is exploring chairing the Lighting Contest. Other choices are Tour of Homes, Caroling in Town, A 5-K Run, Twinkle Tunnel in the park, or a pop up shop at the bank.
President Scott Bevington said the club received a thank you note from Camp Woodsmoke for the club's donation of $250. And the club received a check for $178 from the Leo Club to help purchase third-grade dictionaries
It was reported the Halloween Drive-Thru on October 30 was a success with all 250 bags of candy being passed out. The Christmas Banquet on December 13 was discussed. The location has yet to be finalized.
There were nine members present at the meeting.
11/9/21
Lions Prepare For Halloween...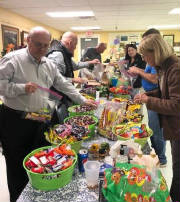 Centerville Lions began preparing for Halloween Monday evening, October 25, by filling over 200 Halloween candy bags to be given out at the Centerville Halloween Drive Thru party on Saturday October, 30th. The Drive Thru begins at 5 pm at the Centerville Elementary parking lot. DG Locke pitched in to help.
The Club voted Monday evening, October 25, to donate $250 to the District Project Camp Woodsmoke.
Jeff Jenkins, Vice President, conducted the business meeting and Connor Elstro, son of Lions Joe and Anne Elstro, was a guest. 15 members and guests attended. Two prospective new members attended the meeting, Richard and Vickie Tincher of Centerville.
10/26/21
Lion Jim Resh with the banner at a recent Awards Banquet
The Centerville Lions banner has been found. It was located at the home of our secretary Wendy Cook. Lion Wendy told Lion Jim Resh, who has been trying to locate the missing banner for several weeks, she thought they were looking for the old, original banner. Resh said that banner was ratty and thrown away several years ago.
A new banner was then purchased and will be utilized at the next meeting, October October 25. That will be District Governor's Night, with Jeff Locke as our guest speaker.
10/17/21
Centerville Lions Hear About Recent Archway Days...

Members of the Centerville Lions Club heard about the recent Archway Days din Centerville in August. Josh Minnix, president of Archway Days, said there was a great turnout despite the rain on Saturday. He said there were between 85 and 90 vendors, although in years before that number surpassed 100. Besides income from the vendors, Minnix said there have been a "lot of donations" from others throughout the community.
Minnix is also assistant fire chief of the Abington Volunteer Fire Department and operates Minnix Well Servicing. He also passed along some homeowner tips.
9/17/21
Steak Fry Launches New Lions Year...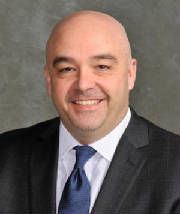 The 2021-2022 Lions year was launched Monday evening, September 13, with the annual Steak Fry. Some 20 members and guests attended the steak fry held at the Mansion House and Log Cabin in Centerville.
President Scott Bevington said there was a strong showing of members from the Liberty Lions Club. Lion Scott reported that Centerville Lions had sent $250 to the Liberty club supporting its effort in aiding those affected by hurricane Ida.
He also reported that Centerville Lions made a good showing for the Archway Days parade, passing out 200 bottles of water labeled with information encouraging others to join us while celebrating our most veteran members, Jim Resh (61 years of service) and Jim Howell (58 years).
During the coronavirus pandemic the club has decided to forgo the Community Awards until the spring of 2022. The date for the event will be decided in February.
The club also decided to postpone the planned October 2 breakfast and will shoot for January 8.
And the annual Halloween event will again be a drive-by on October 30.
9/15/21
Lions Eat Pizza For Final Meeting of the Year...
It was the last meeting of the year Monday evening June 14th for the Centerville Lions Club following its annual fish fry on Saturday. And pizza from Americana Pizza in Centerville was on the menu... in fact the only item besides soft drinks.
Treasurer Dennis Stephen and Fish Fry co-chair reported a profit of over 13-hundred dollars from the Fish Fry held on Saturday, June 12. He said the amount should increase with some donations yet to come. He said the club served around 480 meals during the seven-hour drive-thru this year. He added that's comparable to previous fish fry events that were eat-in affairs.
The club will hold its Fish Fry on June 11 next year.
Members decided to participate in Archway Days in Centerville on August 27 and 28. They plan to have a promotional booth offering water to hot event goers.
They discussed having a Community Breakfast the first Saturday of each quarter. Dates would be October 2, January 8, April 2 and July 2. The breakfasts would be held at the Centerville Senior Center. A decision will be made when the club returns to meeting in September.
Outgoing president Holly Stiggleman presented two Diamond Centennial awards to Lions Dennis Stephen and Ty Farmer. The awards are part of the Centennial Membership Awards program of Lions International.
The president also swore in First Vice President Jeff Jenkins, who was unable to attend Installation of Officers on May 24.
And the club will hold its annual Family Picnic Monday, July 12, at Maplewood Park.
Incoming president Scott Bevington will hold an organizational meeting August 9 to plan for the 2021-2022 Lions year. The first meeting will be the club's annual Steak Fry on September 13.
6/14/21
New Officers Installed...
Officers for 2021 were installed Monday evening, May 24, by 25F District Governor Kenneth Faulkner.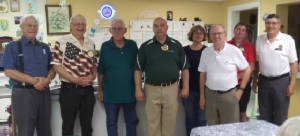 Officers attending the installation were (above) Bill Felker, public relations, webmaster and bulletin editor; Paul Estro, assistant tail twister; Steve Sheckles, Tail Twister and Lion Tamer; Scott Bevington, President; Holly Stiggleman, board member and past president; Jim Resh, public relations; Ty Farmer, Second Vice President; and Dennis Stephen, Treasurer.
Those not attending were: Jeff Jenkins, First Vice President; Wendy Cook, Secretary; Cyrstal Jenkins, assistant treasurer; And Ann Elstro, Joe Elstro and Bob Hobson board of directors.
New officers take over July 1st.
5/24/21