New officers take over in July...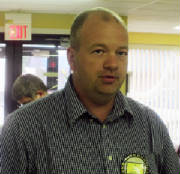 Lion Joe Elstro
The Centerville Lions Club installed officers for 2017-2018 at its meeting Monday evening, June 12, at the Centerville Senior Center. They take over July 1.
They are: Joe Elstro, president, Ty Farmer, 1st vice president and Bob Hobson, 2nd vice president.
Wendy Kornman and Dennis Stephen remain secretary and treasurer, respectively.
Other officers: Paul Estro and Steve Sheckles remain Tail Twister and assistant Tail Twister. Steve Sheckles also will serve as Lion Tamer again assisted by Kevin Sparks.
Cyrstal Kaulen will be membership chair and Bob Hobson stays on at Safety Officer.
Board of Directors; 2 years: Tim McConaha and Dennis Stephen. 1 year: Jim Resh and Wendy Kornman.
6/12/17
Lion Jack Farmer dies at age 69...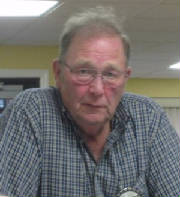 Lion John R. "Jack" Farmer of Centervlle died unexpectedly at his home on Friday, July 7. Retired from the Richmond Police Department and Cincinnati Insurance, he had been a member of the Centerville Lions Club since October 1, 2001. He served as its president in 2014-15. Jack was involved with Wayne County 4-H.

Survivors include his wife, Joyce; children Ty, Justin, Sarah Sparks and Pam Tidrow and seven grandchildren.

Funeral services will be Wednesday, July 12 at the Doan and Mills Funeral Home in Richmond, where visitation will be Tuesday from 4 to 8 pm. Private burial will be in Crown Hill Cemetery at a later date.
7/7/17
Changes to Fish Fry under study...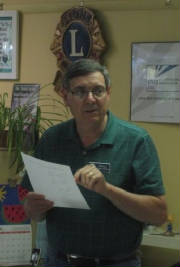 Dennis Stephen
Two Lions Club members have been appointed to study the impact changes to the annual Fish Fry might have in the future. Lions Dennis Stephen and Bob Hobson have been given authority to approve changes if they seem feasible.
A major change would be having a Fish Fry service prepare the fish and/or pork tenderloin for them. The Club would supply the rest of the menu.
Stephen, who also serves as club treasurer, said either way the price for the dinner will probably increase next year. Meals were $10 this year with pre-sale tickets at $9.
Stephen reported estimated profit this year around 16-hundred dollars.
6/12/17
Lions learn about founders.... make final plans for Fish Fry...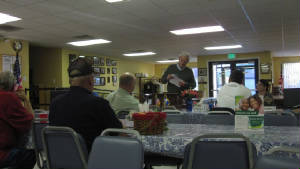 Lion Bill Felker spoke to Lions on the founding of Lions clubs in the early 1900s. He said an Evansville physician, Dr. William P. Woods began a fraternal and secret organization in August of 1911, but disbanded it in favor of an open service oriented organization. He began forming it in 1915, having it officially chartered or incorporated with the state of Indiana on October 24, 1916 as the "International Association of Lions Clubs." State records show there were 35 Lions Clubs then.

Around the same time, a young Chicago businessman, Melvin Jones, invited representatives of like minded clubs to Chicago. He suggested they join Dr. Woods organization. A short time later on July 31, 1917, Dr. Woods issued a call for a national convention in Dallas, Texas. They officially adopted the name, "International Association of Lions Clubs." Dr. Woods became its first president with Melvin Jones as Secretary-Treasurer. Delegates also voted to open membership to women, but rescinded the option for women at the second convention. At the third annual convention, held in Jones hometown of Chicago, a dispute arose between Jones and Dr. Woods regarding the issue of women membership. But, a sufficient number of delegates felt otherwise. This issue would not be corrected until the 1987 convention in Tai Pei, Taiwan.

The Association was also reorganized under a new charter from the State of Illinois on August 25, 1919, which named Melvin Jones as founder. During this time records which recognized Dr. Woods as founder began to disappear from official Lions publication.
Lion Felker said as the need for a communication link among members, the Lion Magazine was formed and the first issue was published in November 1918, with Melvin Jones heading the masthead as editor.
He said, "It's important, as Hoosiers, we remember that Lion's roots began right here in Indiana."
--------------------------------------

Final plans for the annual Fish Fry were discussed at the Centerville Lions Club Monday evening, May 22. Committee chair Bob Hobson distributed tickets to members to sell. The price remains at $9.00 for pre-sold tickets and $10.00 at the door. It will again be held at the Christian Church Fellowship Hall on June 9th and 10th with serving between 11 am and 8 pm both days.
5/22/17

Lion Joe Elstro and his trains...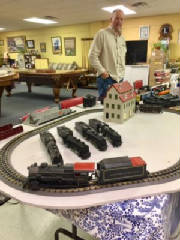 Vice President Joe Elstro presented the program at the Centerville Lions Club meeting Monday evening, March 27th at the Centerville Senior Center.
Elstro demonstrated several model trains and engines running the trains for all the see Joe said Lionel trains were most popular with the first Lionel being available in 1901. He showed one model which was made in 1917. Joe said he has always been interested in trains.
Club president Tim McConaha conducted the business meeting an said a new slate of officers will be voted on in April. He is still seeking a candidate for second vice president.
3/27/17
Lion Sheckles retires froom RP&L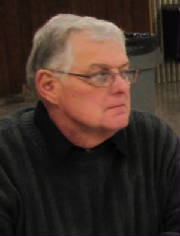 Longtime Lions Club member Steve Sheckles has retired from Richmond Power and Light. An RP&L publication says Sheckles retired on February 10th after dedicating 48 years of service to the utility. He served as a Line Foreman.
Sheckles says he plans to travel and spend time with his grandchildren. Lion Steve joined the Centerville Lions Club on March 1, 1989. He currently serves as Lion Tamer and Assistant Tail Twister.
4/3/17

Lions donate to Centerville Police and Mansion House...
The Centerville Lions Club voted Monday evening, March 13th, to install a new overhead garage door at the Lions storage building at the Mansion House. Mark Helms was awarded the contract in the amount of $760. Member Ty Farmer arranged for the project estimates.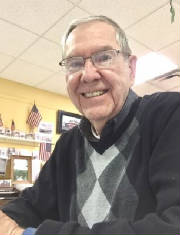 Lion Jim Resh
This year Lions Club International is 100 years old and was founded in Chicago in 1917. As part of the celebration, Lion Jim Resh suggested the club donate $1,000 to the Town of Centerville for the Police Department for help in purchasing new digital cameras for the department. The donation is being made in memory of the late Don McKinney, a long time Centerville teacher
The club also voted to donate $100 to the Beep Ball project in Indianapolis.
Meeting was conducted by President Tim McConaha.
3/13/17
Wheelers Antiques speak to Lions...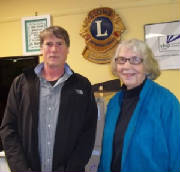 Just like the Antiques Roadshow on television, the Centerville Lions Club hosted Sue and Scott Wheeler from Wheeler's Antiques in Centerville at its February 27th dinner meeting. The event was held in the Senior Center and several members brought items to have appraised.

Paintings, jewelry, pottery, along with model cars and prints were displayed and Scott and Sue Wheeler described each item and estimated their value. Wheeler's Antiques are open daily from 11 am to 5 pm on West Main Street and have been a part of our town since 1970.

President Tim McConaha conducted the business meeting and Ty Farmer reported on the new proposed garage door for the storage room at the Mansion House. This project should be completed by spring.
2.27/17

Looking ahead...
It's going to be a busy second half of the Lions year.
The 2017 Lions Club Fish Fry is set for June 9th and 10th in the Christian Church Fellowship Hall.
The annual Awards Night for the community service awards and outstanding citizens will be held on Monday, April 24th at 6 pm in the high school cafetorium.
The Lions Club will again this year present two college scholarships to high school seniors and will sponsor the Perfect Attendance Award at the high school awards.
This year the International Association of Lions Club will celebrate 100 years as an organization. Businessman Melvin Jones organized the Lions in 1917 in Chicago and it has spread around the world. The organization has over 1,000,000 members and over 40,000 clubs. The Centerville Club was organized in 1944. The Lions Convention will be held in Chicago this summer.
Next meeting of the Centerville Club will be Monday, March 13th at the Senior Center for dinner.
2/27/17
Chamber honors Lion Stevenson...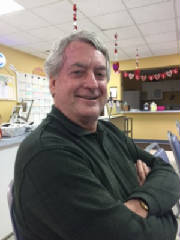 Lion Phil Stevenson
Centerville Lion Phil Stevenson was honored recently by the Wayne County Chamber of Conmerce as Outstanding Educator at the group's annual meeting at the Kuhlman Center. Stevenson is superintendant of Centerville-Abington Community Schools.
Lions Club president Tim McConha announced Monday evening that the Leos Club at the Centerville High School has been discontinued. It has only three members.
Club members approved the annual college scholarships to be given to Centerville High School seniors this spring along with the Perfect Attendance Award.
Antique dealer Scott Wheeler will present an Antique Roadshow type program at the next Lions Club meeting on February 27. Members are encouraged to bring an item to find out its value.
1/23/17
Lions celebrate the season...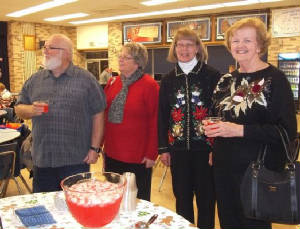 Lion Bob and Joy Hobson, Wendy Kornman and Marie Elstro at the punch table
The annual Lions Club Christmas Banquet was held on Monday, December 12th at the high school cafetorium and tables were decorated in Christmas colors and bows. Lion President Tim McConaha presided over the opening ceremony, and dinner music wasprovided by Tom Walker at the keyboard.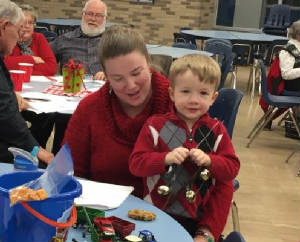 Lion Anne Elstro with son Conner playing the bells during singing of the carols
Following dinner, a Christmas Quiz was conducted by committee member Wendy Kornman and prizes awarded to the winners. A sing-a-long was led by Chairman Dennis Stephen and Tom Walker played for all the Christmas carols.
12/12/16
Librarian says library does many things...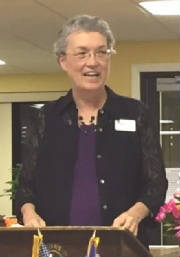 Centerville/Center Township Librarian Beth Treaster spoke to members of the Centerville Lions Club Monday, November 28th in the Senior Center at a regular dinner meeting.
Librarian Treaster told of the future of libraries and also what our local library does to promote the history of Centerville. The library also hosts many public events and even musical concerts, including Christmas in Centerville. The staff took part in the Centerville Bicentennial and this year's torch relay. Libraries now have computers and many ways to help visitors find books and historic items.
A new book is being published about Jody's Restaurant, which was a popular eating place in town for many years. The book will be available after December 2nd.
Vice President Joe Elstro conducted the meeting. It was announced that the Lions Club Christmas Banquet will be held on Monday, December 12th at the Centerville High School cafetorium. Punch table at 6 pm with dinner following at 6:30 pm. Entertainment will be provided. Chairpersons are Wendy Kornman and Dennis Stephen.
11/28/16
First responders honored as football coach thanks fans for support...
First responders were honored by the Centerville Lions Club Monday evening, October 10, at the Centerville Senior Center. Over fifty attending enjoyed pizza, salad and cookies. Members of the Centerville Fire and Police departments were special guests of the club.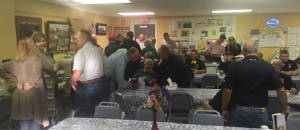 Centerville High School football coach Kyle Padgett addressed the group. Padgett, who grew up in Indianapolis, said he is fond of the Centerville area. He said he was surprised he was hired after applying for the position.
Padgett said he has high standards for members of the team, both on and off the field. They report their grades each week, with anything below a C unacceptable. He added those high standards off the field transfer to wins on the field.
Padgett said he appreciates the home crowd cheering loudly, but it makes difficult in sending in play calls.
10/10/16
Lions kick off new year with annual steak fry...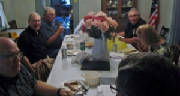 Centerville Lions kicked off its new year with the annual steak fry Monday evening, September 12 at the Mansion House in Centerville. Around 15 attended.
They enjoyed a steak dinner prepared by Lion Paul and Marie Elstro and their son, Lion Joe Elstro.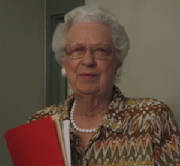 Carolyn LaFever, a trustee of Historic Centerville, Inc. spoke to Lions after the dinner. She asked Lions to help support the group, which runs the Mansion House.

She told of improvements made to the 1840 Mansion House including the installation of a new roof and of activities held at that location.

9/12/16
Board approves programs for 2016-2017...
Programs for the 2016-2017 Lions year were approved by the board of directors at its annual organizational meeting Monday evening, August 29. It was held at the Centerville Senior Center.The new year will kick off Monday evening September 12 with the annual steak fry. It will be held at the Mansion House beginning at 6 pm.Regular meetings throughout the Lion year are held the second and fourth Mondays of each month with the exception of December, January and February. The December meeting will be the Christmas Banquet on December 12. The January meeting will be held on the 23rd and the February meeting will be February 27.The annual Community Halloween Party will be held on October 31.Nomination of officers for next year will be held on March 27, with election of officers to take place on April 10. The Community Awards Banquet is slated for April 24
The club's money making event, the annual Fish Fry, will be June 1 and 2. Proceeds fund the organization's projects throughout the year, including scholarships for graduating seniors at Centerville Senior High School.And the Family Picnic will end the club year on June 26.
8/29/16
Lions undergo vision training...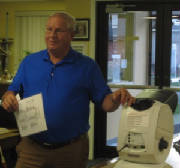 Lion Jack Buckland
Members of the Centerville Lions Club were trained in the state approved vision testing program. Lion Jack Buckland of the Richmond Lions Club provided training in the operation of optical machines and procedures.
Centerville students in grades 3, 5 and 8 will be tested on October 24. Medical clinical testing is done by a doctor in the first grade. Students who need additional testing are referred to a doctor.
Lion Jim Howell announced the October 10 meeting will include an Honors Program for First Responders. Police and firefighters and their wives have been invited. Centerville High School Coach Kyle Padgett will also speak.

9/26/16