Our next event:

July 12 - Family Picnic at Maplewood Park


Upcoming Programs:

August 9 - Organizational meeting

September 13 - Steak Fry

September 27 - Dinner meeting
Plans For Ambassador Healthcare Revealed...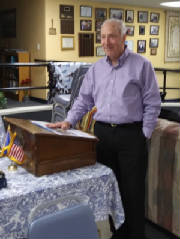 Exciting plans for Ambassador Healthcare of Centerville were revealed to members of the Centerville Lions Club Monday evening, May 10. Doug Cook, President and CEO of the facility on U.S. 40 just east of Centerville, said plans include an improved entrance along with landscaping. Major initiatives include a goal of 20% increase in nursing staff, contributions of $100,000 toward Nursing Scholarships for Wayne County residents and other local charitable initiatives, addition of ministry staff to assist residents and employees with their spiritual needs, and substantial improvement of food and beverage and activities in the facility.
Cook, who has been the managing member of Ambassador since March of 2018, said during the past year patients dropped to 65, but currently are back to 75. He said his goal is to 100 by the end of the year. The facility is licensed for 137 beds. Another goal is to continue great care and good food. He said there were 175 employees prior to Covid-19, however that number has fallen since it's been a struggle to find employees.
Cook recently announced that actor Richard Thomas has joined him as a partner. Thomas, well-known from his leading role as John-Boy in the CBS drama, The Waltons, has known Cook for over 20 years. Thomas will be a strategic partner helping guide the overall goals and strategies of Ambassador Healthcare and to promote the organization.
5/10/21
Centerville Lions Elect Officers For Next Year...
Officers for 2021-2022 were elected by members of the Centerville Lions Club Monday evening, April 26, at its regular dinner meeting at the Centerville Senior Center.
Nominees elected were:
President: Scott Bevington
First vice president: Jeff Jenkins
Second vice president: Ty Farmer
Secretary: Wendy Cook
Assistant Secretary: Jim Resh
Treasurer: Dennis Stephen
Assistant treasurer: Crystal Jenkins
Tail Twister: Steve Sheckles
Assistant tail twister: Paul Elstro
Lion Tamer: Steve Sheckles
Assistant lion tamer: Ty Farmer
Board of Directors two years: Holly Stiggleman and Anne Elstro
Board of Directors one year: Bob Hobson and Joe Elstro
Membership: Joe Elstro
Public relations: Bill Felker and Jim Resh
New officers will be installed on May 24.
4/26/21
Lion Anne Elstro's Father Has Died...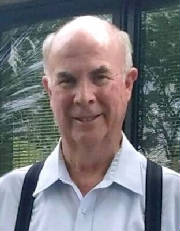 Retired Centerville educator Jerry Lynn "Poppy" Allen has died at the age of 76. He was the father of Centerville Lion Anne Elstro. He had recently been diagnosed with cancer and passed away Thursday, April 22, at Reid Health. He is also survived by his wife, Peggy, another daughter Amy Ashley and several grandchildren.
He retired from Centervlle-Abington Community Schools in 2007 after 28 years. He became the school system's first Technology Coorindator. He began his career as a junior high science teacher. He also served as first assistant principal at Centerville-Abington Elementary and served briefly as interim principal at Rose Hamilton Elementary. He also was an adjunct professor at IU East for 20 years, where he taught computer education. After retirement, he worked with a technology consulting firm, AdTec. He also farmed and served as a Wayne County Sheriff Reserve Deputy.
Burial will be in Crown Hill Cemetery in Centerville. A Celebration of Life is being planned for this summer. Arrangements were announced by the Doan and Mills Funeral Home in Richmond.
Memorial contributions may be made to the Hodgin Road Christian Church where he was a founding member or to a charity of your choice.
4-24-21
Lions Day At The United Nations...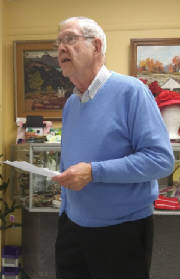 Centerville Lions were represented at Lions Day at the United Nations on April 10. Lion Jim Resh participated in a Zoom meeting of Lions Clubs International celebrating 75 years of partnership with the United Nations. Lion Resh told members of the Centerville Lions Club Monday evening, April 12, the event commemorated our long-standing relationship as a consultative NGO (Non-Governmental Organizations) to the UN dating back to 1945 when Lion leaders were asked to help develop the NGO charter for the UN. He joined Lions, Leos, UN diplomats, dignitaries and other guests in the global conversation about this year's theme, "Connected Through Service."
Lions Clubs International is the largest service organization in the world, with more than 1.4 million members in 48,000 clubs serving 200 countries and geographic areas worldwide.
4/12/21
Connersville Lion Mike Vanover Dies...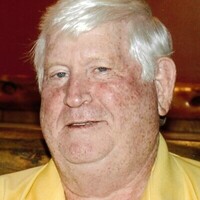 Connersville Lion Michael David Vanover died Wednesday, March 24, at his home. He was 73 and leaves his wife Beth, a daughter and son, and several brothers and sisters. He was also a member of Warren Masonic Lodge #15.
Visitation will be Wednesday, April 7, from 11 am to 1 pm at the Urban Winkler Funeral Home in Connersville, with services to follow at 1 pm. Burial will be in Dale Cemetery.
4/2/21
President Holly Stiggleman Issues Special Message...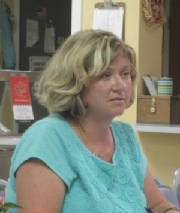 This has been the most wonderful year of my life! Have you heard anyone say that lately? Probably not! This year has brought heartache, stress, and sadness for so many people. People that we care about have been sick. Many of our friends and neighbors have lost jobs. A lot of people, including myself, feel isolated because they are not seeing friends and family regularly. It's so easy to get caught up in the negative right now!
Although it's not always easy, I try to focus on the great things that have recently happened in my life. I've spent lots of nights with my husband, sitting around a campfire just talking. I've been able to spend lots of time with my boys. We've had two health scares in my family this year and thankfully, both have turned out okay. I've grown closer to God through prayer. I've had new opportunities to serve others and I've met some fabulous new people while participating in that service.
The Lion's motto is, "We Serve." As Centerville Lions members what can we do to serve others? We are being told to stay home as much as possible. How can you serve others when you are stuck in your house? One of the most therapeutic exercises I've completed in the last year was going through my house and decluttering. Many local charities will accept gently used clothing, household items, and more. Check-in on friends and family by calling them on the phone or sending them a card. My students at school sent tons of Christmas cards to people that they care about. Do you know a healthcare worker? Send them a card thanking them for all that they do. We can also make monetary donations to local food banks and charities. Now is also a great time to support local businesses. There are still many ways for all of us to serve!
In December, our local membership decided to stop meeting in person. I still think that was a great decision. I miss my friends from Lions Club but I want everyone to stay healthy. We will have a business meeting only on February 22nd. We need to discuss if and how we can proceed with the Community Awards Banquet, fish fry, and how to navigate the rest of the year. I appreciate your membership in the Centerville Lions Club and I appreciate your willingness to serve even though it might look a little different this year! Take care and stay healthy!
2/15/21
Centerville Lions To Meet Once A Month...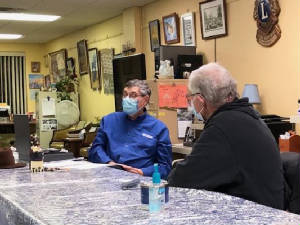 Treasurer Dennis Stephen and Steve Sheckles
The Centerville Lions Club has decided to begin meeting again, but only once a month for awhile. Members met for a business meeting Monday evening, February 22 at the Centerville Senior Center to discuss future meetings and projects. It was the first meeting since last November 23. December and January meetings were canceled due to coronavirus. The next meeting is scheduled for March 22.
The six members attending decided to move the Community Awards program to September instead of having it in April.
The decided to keep the annual Fish Fry fund raiser in June, but it will be a drive-thru only. The menu will be limited to fish with the usual sides. The Fish Fry was canceled last June.
Additional details will be announced later.
2/22/21
Former Centerville Lion Tom Barker has died...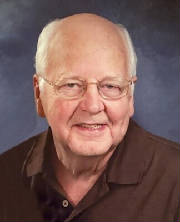 Former Centerville Lions Club member Tom Jesse Barker of Richmond died February 17. He waw 83. Survivors include his wife of 66 years, Marilyn; two daughters, several grand and great-grandchildren.
Services will be private with a Celebration of Life later. Burial will be in Earlham Cemetery.
Lion Tom retired from the Richmond Fire Department after 22 years and later was a realtor with Lingle Real Estate. He also was active in several organizations including the Centerville and Richmond Lions Clubs.
Memorial contributions may be made to the Wayne County Foundation - Barker Famiy Fund or St. Paul's Lutheran Church.
2/20/21
Former Lion Jay Klehfoth Dies Unexpectedly...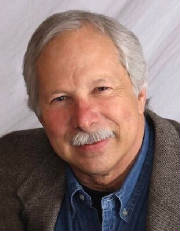 Former Lion Jay Klehfoth of Centerville died unexpectedly at his home on December 16. He was 75, A memorial service will be held later.
An Air Force veteran, he was a graduate of Indiana University and also attended Purdue. He received An MBA from Miami University of Ohio in 1971. After serving in the corporate world, he and his wife, Barbara, moved to Centerville where was responsible for moving the Model T Ford Club of America to Centerville and eventually to Richmond.
Survivors include his wife, Barbara, three children, four grandchildren, two great-grandchildren and a brother.
Memorial contributions may be directed to the Model T Ford Club of America, P.O. box 996, Richmond, Indiana or 2nd Chance Animal Rescue of Richmond, Inc., 2905 US Highway 35 N., Richmond.
Condolences may be sent to the family via the guest book at doanmillsfuneralhome.com.
12/20/20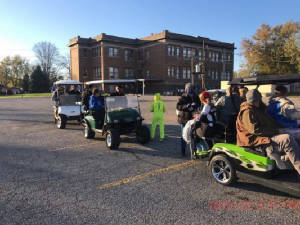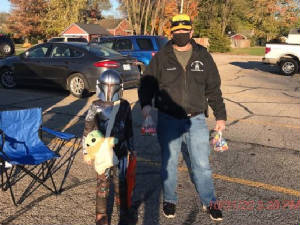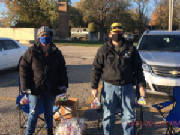 A Halloween Drive By was held by the Lions Club this year due to the annual Community Halloween Party sponsored by the club being cancelled this year due to Covid-19. It was held at the Centerville Elementary school parking lot during the town's 5 to 7 pm Trick or Treat night. Club president Holly Stiggleman was joined by Lions Joe Elstro and Ty Farmer in distributing around 160 treat bags. Lion Holly said they were gone by 6:30 pm.
11/1/20
Lions Learn About Model T Museum...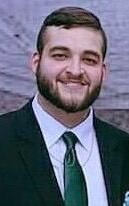 Noah Bevington
Noah Bevington of the Model T Ford Museum in Richmond spoke to members of the Centerville Lions Club Monday evening, October 12. Noah, son of Lion vice president Scott Bevington, said the museum is committed to collecting, preserving and exhibiting artifacts from the Model T Ford era for future generations through displays and events that educate people of all ages on the history, lore and skills needed to maintain the car that put the world on wheels.
Bevington said it is the only museum in the world dedicated solely to the Model T. It is owned and operated by the Model T Ford Club of America. It is a 501c3 organization supported by donations and merchandise sales, not the Ford Motor Company.
It originally opened in Centerville in 2007, but expanded and relocated to its current location in Richmond's historic Depot District in 2012. It features 40+ exhibits in 2 buildings. Most Model T's on display were either donated or on loan.
The musuem features Era-correct rooms as if you had stepped back in time when you go inside the Vintage Ford Agency building. It includes the Lobby and Showroom, Vintage Garage & Machine Shop and Agriculture Room. Their library includes a superb collection of Model Ts, Ford Motor Company and Henry Ford publications and resources.
Their docents specialize in personal tours, and the museum has been ranked #1 for Things to Do in Richmond by Trip Advisor since 2017.
MTFCA members and their immediate family members have free admission; while non-members are $5 each, ages 12 and under are free. Bevington said they are always looking for new volunteers.
10/15/20
Update on Halloween and Christmas...
Lions Club president Holly Stiggleman reminds Lions "we will be putting together 200 treat bags, for the Halloween drive-by, at our next meeting October 26. Members are encouraged to bring candy or prizes to put into the bags. We will be passing these out from 5-7 on the 31st. We will be located in the parking lot of Centerville-Abington Elementary." She also said earlier, "We will ask community members/kids to stay in their cars during the Drive By. Lions Club members are asked to wear masks and gloves."
She announced on October 2: "I am planning on booking the Centerville Christian Life Center for our Christmas party on Monday, December 14th. There is a cost of $50.00 to cover a cleaning fee. We will not be having outside entertainment this year. Having our party at the Life Center will allow us to bring a guest and still practice social distancing."
Updated 10/15/10
Kyle Turner Outlines Hopes For Main Street Centerville...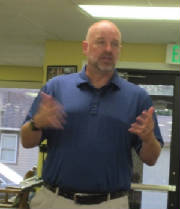 Kyle Turner, who heads up Main Street Centerville, spoke before members of the Centerville Lions Club Monday evening, September 28. He outlined some of the hopes and plans for the organization.
He said the Centerville Christian Church among other groups has helped clean Maplewood Park, install new signs and paint trash cans over town.
Turner said they are working for a successful Christmas in Centerville this year.
And they are developing a program for visitors.
He also touched on some of the other happenings that are occurring in Centerville.
9/28/20
Officers Installed - Fish Fry Postponed To September...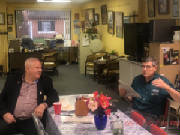 PDG Buckland (l) with Treasurer Stephen
Officers for the Centerville Lions Club were installed at a special meeting on May 18 called by President Bob Hobson. PDG Jack Buckland of the Richmond Lions Club installed Holly Stiggleman as president along with Scott Bevington, vice president; Dennis Stephen, treasurer; and Paul Elstro as Lion Tamer. Other officers, elected on March 9, will be installed later. The meeting was the final one as president for Lion Hobson as Lion Holly takes over July 1, the beginning of the new Lions year.
Meetings since March 23 have been cancelled due to the coronavirus.
Since the Fish Fry had to be postponed for June, a business meeting has been scheduled for August 17 at 6:30 pm at the Centerville Senior Center to discuss it. The Fish Fry, tentatively scheduled for September 26, will be discussed to determine how it will be conducted; whether it will be a drive through type of event or something else.
5/27/20

First Programs Announced...
By Vice President Scott Bevington, program chair
The Steak Fry will be September 14th. While we usually don't have a speaker for this event, it makes for good timing to do one in this case. Before the Covid outbreak was in full gear, we had previously scheduled Kyle Davern of the Alzheimers Association of Greater Indiana to speak. Mr. Davern will join us on the 14th as the Richmond Walk to End Alzheimers will take place that Saturday, September 19.
On September 28, Kyle Turner will join us to update the goings on with Main Street Centerville, Inc. On October 12th, my son, Noah Bevington will be making a presentation on the Richmond Model T Museum. (He is the program coordinator there.) On October 26th, Centerville Town Council President Dan Wandersee will join us to give us a presentation on things going on in town government. On November 9th, Shari Markley will join us to discuss plans for the annual Christmas in Centerville event.
5/2/20