Officers for 2016-2017 installed...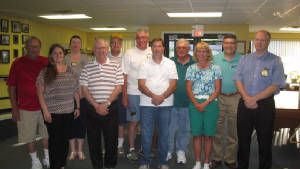 Jack Farmer, Pam Tidrow, Anne Elstro, Jim Resh, Paul Elstro, Tim McConaha, Ty Farmer, Steve Sheckles, Wendy Kornman and Joe Elstro
Officers for 2016-2017 were installed Monday evening, June 13 at the Centerville Senior Center by outgoiing president Pam Tidrow.
Officers taking over on July 1 are: President, Tim McConaha; First Vice President, Joe Elstro; Second Vice President, Ty Farmer; Secretary, Wendy Kornman; Treasurer, Dennis Stephen; Tail Twister, Paul Elstro; Assistant Tail Twister, Steve Sheckles; Lion Tamer, Steve Sheckles;
Board of Directors (two years), Jack Farmer, Jim Resh; Board of Directors (one year) Anne Elstro, Bob Hobson, Pam Tidrow Past President.
The club decided to have its final event of the year, the family picnic, at Maplewood Park this year. It will be a BBQ and begin at 6 pm on June 27. Members are asked to bring a side dish and a chair to sit in.
6/13/16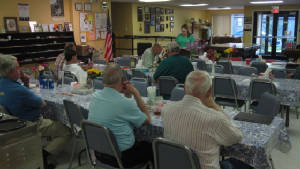 Fourteen members attended the May 23 meeting of the Centerville Lions Club held at the Centerville Senior Center.
Fish Fry chair Bob Hobson said plans for the annual Fish Fry for June 17 and 18 are coming right along. He said the sign advertising the event should be up soon over Main Street.
Dictionaires distributed...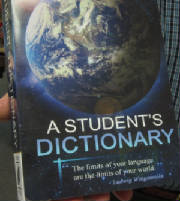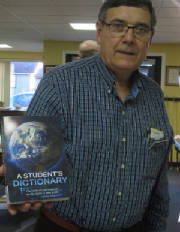 Dictionaries were distributed to 3rd graders at Centerville Elementary School last week.
Lion Dennis Stephen (right) said he and Lion Paul Elstro presented books to around 130 students.
The books were purchased by the Lions Club.
5/12/16
Lions conduct May 9 meeting...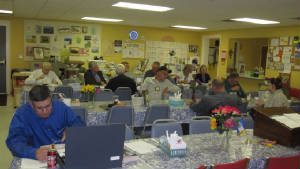 Centerville Lions met on a rainy Monday evening, May 9. Twelve members and one guest attended the dinner meeting at the Centerville Senior Center.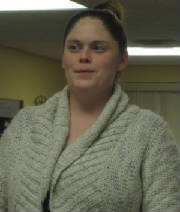 President Pam Tidrow
President Pam Tidrow conducted the meeting. Secretary Wendy Kornman presented the minutes from the April 11 meeting. And treasurer Dennis Stephen gave a short treasurer's report.
It was announced the Lions Club will present two scholarships and two perfect attendance awards at the Centerville High School Awards Program on June 4.
Items discussed during the meeting were about the Dictionary Program, approval of Lions programs and moving of items at the Mansion House to the garage.
An update on the June 17-18 Fish Fry was presented by Lion Stephen.
5/9/16
Steve Hayes of Hayes Arboretum talks before Lions...
Members of the Centerville Lions Club learned about Hayes Arboretum Monday evening, April 11th, at its regular dinner meeting in the Senior Center. Steve Hayes, Director of the Arboretum, was guest speaker. He stated the Arboretum is celebrating its100th year this year. The area was purchased by his great great grandfather Stanley Hayes in 1911 and has growninto one of the finest land preserves in the State of Indiana. The Arboretum includes 16 miles of trails and over 800 native trees and growth inside the area. The Hayes large home on the grounds was constructed in 1923 and is used for overnight lodging, receptions, weddings and other celebrations. The Arboretum is open all year and contains 466 acres of natural beauty.
Fish Fry tickets distributed to members...
Bob Hobson, Chairman of this year's Lions Club Fish Fry, handed out newly printed tickets for the event. The 37th Fish Fry will be held June 17 & 18th at the Christian Church Fellowship Hall, on Main Street in downtown. Tickets are $9.00 in advance and $10 at the door.
Lions Club Vice President Tim McConaha conducted the meeting and it was announced that the Lions Club donated $96 to Hope House recently. The Club also voted to send $250 to Lions International for projects and approved the new dictionary project for the Lions Club 25F district of Indiana. More information will follow.
Election of officers held for next year...
Election of Officers took place for 2016-17 and Tim McConaha was elected President. Vice President is Joe Elstro and 2nd Vice President is Ty Farmer. Elected to the Board of Directors are Pam Tidrow and Jim Resh. The entire slate of new officers will be installed at the June 13th meeting.
April 25th will be the Lions Club Community Awards Banquet beginning at 6:00 pm with a social and dinner at 6:30pm in the high school cafetorium. The Outstanding Community Service Awards will be presented and all citizens are invited to attend. Reservations may be made by calling Phil Stevenson at 855-3475 before April 20th. Cost is $10 each. Committee members are Dennis Stephen and Jim Resh
4/11/16

Lions hear about expansion at Rose Hamilton Elementary...

Centerville-Abington Community Schools Superintendant Phil Stevenson and Centerville Lion spoke the to the Centerville Lions Club Monday evening about the proposed addition to Rose Hamilton Elementary School and the 2014 Feasibility Study on improvements to school buildings throughout the corporation.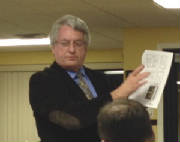 Stevenson said Rose Hamilton is preparing for a 4.1 million dollar addition and improvement to the parking lot. The school was built in 1967 and expanded in 1970, but has not been updated since that time.
He also said the school district has lost 29 students since the beginning of this school year and has begun accepting transferred students.
In action taken by the club Monday evening, members voted to give Leo Club perfect attendance awards along with college scholarships during the high school awards ceremony this spring.
Governor's Night will be observed at the next meeting on March 14 at the Senior Center.
2/23/16
Lions support Indiana Beep Baseball...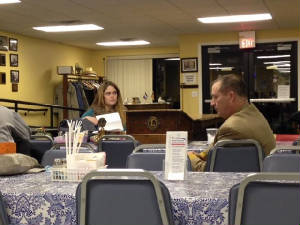 President Pam Tidrow and board member Mike Spotts
Centerville Lions voted to financially support the Indiana Beep Baseball program at its meeting Monday evening, January 25. Members earmarked $100 to the program.
Club president Pam Tidrow conducted the meeting with 12 members present.
Community awards committee members Phil Stevenson and Jim Resh updated the club on the April banquet. They are accepting nominations for the annual awards.
Members were also reminded that annual dues are due.
The next meeting will be the fourth Monday in February on the 22nd.
1/26/16
Centerville Police Chief speaks to Lions Club...
Centerville Police Chief Ed Buchholz spoke before members of the Centerville Lions Club Monday, evening Nov. 23rd. Chief Buchholz is hoping to begin a Cadet Program for teens to learn more about law enforcement in our town.
Chief Buchholz has been with the police department for 23 years. He always wanted to be a police officer and served as a MP in the Air Force before coming to Centerville.
The Centerville Police Dept. has seven members and is now housed in the new facility just east of town, which is large enough for each member to have their own office. Matt Alexander is assistant chief.
The dinner meeting was held in the Senior Center. Tim McConaha, First VP of the Lions Club, conducted the business meeting. Dennis Stephen announced the annual Lions Club Christmas party will be held on Dec. 14th at the high school cafetorium.
11/24/15
Halloween Participants have fun during party...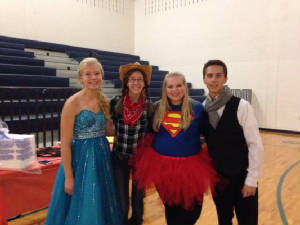 Members of the Leo Club assisted Lions with the party.
150 persons turned out for the annual Community Halloween Party Saturday evening, October 31 at the Centerville Elementary Gymnasium.
35 costumed children participated in the costume competition. Winners were judged and announced in four catagories:
Under 3: 1. Harrison Pardo; 2. Eli White; 3. Jaylen Sprinkles.
4-6 years: 1. Ari Stevenson; 2. Eli Rayles; 3. Mia Lipscomb.
7-10 years: 1. Aubrey Russell; 2. Gibson Rayles; 3. Carissa Shadle.
11-14 years: 1. Lauren Menke; 2. Bailey Miller; 3. Dylan Burke.
Leo Club members who helped Centerville Lions during the party were Madilyn Coomes, Jessi Martin, Maddie Day and Braeden Day.
Attendees enjoyed the popular Cake Walk along with many Halloween games including the Basketball Toss, Ring Toss, Ghosly Golf, Candy Corn Bowling and Pumpkin Bean Bag Toss, . Refreshments were also served.
The Halloween Party is one of the many projects of the Centerville Lions Club. It was co-chaired by President Pam Tidrow and Assistant Secretary Courtney Amos.
Check our
FACEBOOK
page for more pictures.
11/2/15
Lions hear of future plans for Centerville...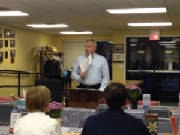 Centerville Town Board president Dan Wandersee addressed members of the Centerville Lions Club Monday evening, October 26. He looked at future plans for attracting businesses to Centerville.
Wandersee spoke of the annexation to I-70 and the impact that has had on the overall attractiveness to site selectors for larger companies, as well as the impact of new legislation on small towns.
10/27/15
Lions prepare for future meetings...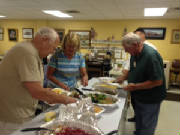 Lions Barker, Kornman, Sheckles and Sparks (hidden) enjoy chicken dinner with all the trimmings
There was no program for Lions at the first regular meeting of the year, but the food was good. The program for the next meeting on October 12 will be announced later.
President Pam Tidrow reported on the Fish Fry in June saying the club netted $2,900. She reminded members the Community Halloween Party is October 31 at the Centerville Elementary Gymnasium.
Lion Pam said the club will participate in the Centerville Library sponsered Block Party Saturday, October 3. The club will have a booth handing out information and helping with the drawing of a prize.
The club voted to sponser the Dollars for Scholars Golf Tourney for $150.
9/28/15
Officers for 2015-2016 were installed by Past District Governor Carl Sharp of Liberty Monday evening at the Centerville Senior Center.
Lion Pam Tidrow advances to the presidency, taking over from her father, Lion Jack Farmer. Former presidents Tim McConha was installed as first vice president and Joe Elstro as second vice president.
Standing committees have been announced...
Standing committees for the Centerville Lions Club have been announced by President Pam Tidrow.
Club members have been appointed to 17 committees:
Steak Fry: Paul Elstro
Halloween Party: Pam Tidrow, Courtney Amos
Christmas Banquet: Dennis Stephen, Wendy Kornman
Membership: Kevin Sparks, Jack Farmer
Programs: Tim McConaha
Leo Club: Pam Tidrow
Public Relations: Jim Resh
Webmaster/Bulletin Editor: Bill Felker
Communiity Events: Joe and Anne Elstro
Sight and Hearing: Dennis Stephen, Bob Blue
Broom Sales: Dennis Stephen, Tim McConaha
Convalescent Aid: Bob Hobson
Safety Officer: Bob Hobson
Scholarship: Anne Elstro, Pam Tidrow, Steve Scheckles
Fish Fry: Jack Farmer, Bob Hobson, Steve Orsborn
Family Picnic: Joe and Anne Elstro
Community Awards: Jim Resh, Dennis Stephen, Phil Stevenson
8/31/15