COMMUNITY HALLOWEEN PARTY




Centerville Elementary School Gymnasium

Wednesday, October 31

6:00 - 8:00 p.m.

Free

CAKE WALK, GAMES, PRIZES FOR COSTUMES



Our next event:


October 31 - Community Halloween Party


Other scheduled programs coming up:

November 12 - Dinner meeting

November 26 - Dinner meeting

December 10 - Christmas Banquet

Wife of Former Member Dies...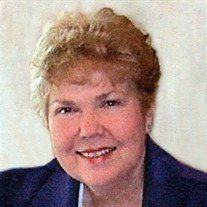 74 year old Toni Benedict, wife of former Lion Phil Benedict, died Wednesday, October 10 at Friends Fellowship Community. They had been married 52 years. Survivors include twin sons and several grandchildren.
A graduate of Miami Valley Nursing School, Toni retired from Richmond State Hospital in 2008 , after 38 years of service.
Services will be held Wednesday, October 17 at 6 pm at the the Doan and Mills Funeral Home in Richmond, following visitation from 4 to 6 pm.
Memorial contributions may be made to: Friends Fellowship Community Endowment Fund, 2030 Chester Blvd., Richmond, IN 47374 or Alzheimer's Association, 50 East 91st Street, Suite 100, Indianapolis, IN 46240.
10/10/18
Board of Directors Set Dates for Meetings, Events and Programs...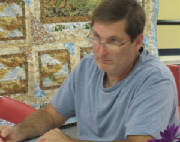 President Ty Farmer
The board of directors of the Centerville Lions Club met Monday, August 13 to plan for the upcoming Lions year. Dates were set for meetings, events and programs for the 2018-2019 Lions year.
The board approved switching the annual steak fry to September 24 instead of September 10, the first meeting of the year. Members are being encouraged to bring a prospective member to the steak fry.
Other major dates approved were: Community Halloween Party to be held on the same night the Town of Centerville sets, October 31; Christmas Banquet on December 10; Nomination of Officers for March 25; Election of Officers on April 8; Community Awards Banquet on April 22; Fish Fry on Saturday, June 8; Installation of Officers on June 10; and Lions Family Picnic on July 15.
They also approved participation in the Archway Days Parade on August 24 and the Centerville High School Homecoming Parade on September 7.
The meeting was conducted by President Ty Farmer at the Centerville Senior Center.
8/13/18
Lions hold Family Picnic...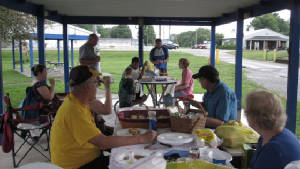 A dozen Centerville Lions and their families attended the group's annual family picnic at Maplewood Park in Centerville Monday evening, July 16. It was a hot, humid day with a downpour of rain occurring as the picnic began. Little Conner Elstro, son of outgoing president Joe Elstro, kept busy tasting the raindrops from the Maplewood Park stage, where the hamburgers and hotdogs were being prepared on the grill.
The next meeting of the Lions will be a board meeting on August 13 for an organizational meeting. The first regular get-to-gether will be the annual Steak Fry on September 10 at the Mansion House.
7/17/18
Lion Joe Elsto Receives Award...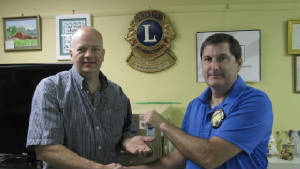 Lion Joe Elstro (left) recieved Key from President Ty Farmer
Lion Joe Elstro received an award at the first meeting of the new Lions year Monday evening, September 10.
President Ty Farmer presented Lion Joe with the Key award for two new memberships in the organization this past year.
Lions also heard from Leo Club sponsor Holly Stiggleman. She reported 28 students at Centerville High School have signed up for the club. She said they are working on projects for the year. The students will also be assisting with the annual Halloween Party on October 31.
9/10/18