Low Key Christmas Party This Year...
It doesn't take many Lions and friends to have a lot of fun when they get together. Described as a small crowd by Lion president Ty Farmer, Lions and their families and friends gathered at the Centerville Senior High School Cafetorium Monday evening, December 10, for its annual Christmas Banquet.
Lion Ty said those attending enjoyed a delicious meal and then sang Christmas carols and played a couple of games, including a Christmas Trivia game.
The Lions will begin the second half of the Lions year with a dinner meeting on January 28 at the Centerville Senior Center.
12/20/18

Liberty Lions Club President Dies in Motorcycle Accident...
Lions will honor Liberty Lions Club president Michael England Thursday evening at the Urban-Winkler Funeral Home in Liberty. The 62 year old England died in a motorcycle accident with a deer on Sunday, December 2. He is survived by his mother, wife, four sons, a daughter, two brothers and ten grandchildren.
12/4/18
Lion Mike Spotts Seriouly Injured in Head-On Crash...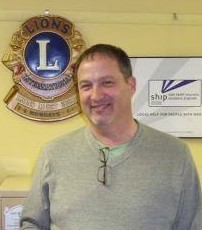 Lion Mike Spotts was seriously injured in a head-on crash Tuesday (Nov. 20) afternoon on Salisbury Road near its intersection with Rich Road.
Police indicate a northbound car veered left of center striking the oncoming radio station van driven by Lion Spotts. He was taken to Reid Healthcare and later airlifted to an Indianapolis hospital. The other driver was also seriously injured.
Lion Mike transferred his membership from the Richmond Lions Club to the Centerville club on February 24, 2014.
11/21/18
Lions Learn How to Keep Moving...
By Jim Resh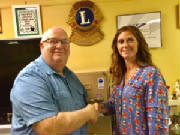 Program Chairman Bob Hobson welcomes guest speaker Kendra Busby
Members and guests of the Centerville Lions Club met Monday, November 12th at Centerville Senior Center for a regular dinner meeting. Guest speaker was Kendra Busby of Journey Yoga in the Richmond Depot District. She instructed the members how to breathe deeply and to sit up and declutter our thoughts. Kendra also gives physical therapy at her business. She was introduced by Bob Hobson.
President Ty Farmer conducted the business meeting and received reports from the recent community Halloween party by chairperson Holly Stiggleman. The Lions Club will sponsor a float in the Centerville Christmas Parade on December 1st and the annual Club Christmas banquet will be held December 10th at the school cafetorium.
The Lions Club International Centennial Award was given to three Lions members: Ty Farmer, Dennis Stephen, and Bill Felker.
Next meeting of the club will be Monday, November 26th at the Senior Center at 6:30 pm and guests are welcome.
11/13/18
Lions Hear About Hepatitis in Wayne County...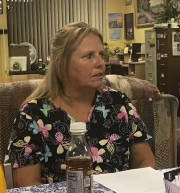 Registered Nurse Martha Smith from the Wayne County Health Department spoke to Centerville Lions Monday evening, October 8, about the problem of Hepatitis in Wayne County. Smith said Hepatitis A is virulent in our area. She said alerts are put out if a worker comes in sick and aren't following hygiene procedures. Smith says there has been a big response to vaccines. There are vaccines for Hepatitis A and B, but not type C.
Wayne County ranks number one in Indiana and 9th nationwide for Hepatitis A cases, although she said it's been slowing down recently.
10/15/18
Lions Discuss Halloween Party and Other Items...
Lion Holly Stiggleman discussed the Community Halloween Party on October 31. She urged members to bring cakes, cookies and other goodies for the event to be held at the Centerville Elementary gymnasium from 5:30 to 7:30 pm. Centerville High School Leos will be giving out candy. Lions Ty Farmer, Joe and Paul Elstro are in charge of set up at 4 pm.
Members also discussed the Dictionary Program in the schools and the cost of providing them depending on the type. Members can give donations for the project to reduce the amount taken from the Projects Account. And it was announced that one-thousand dollars has been set aside for spring scholarships at Centerville High School.
10/15/18
Lions Hold Annual Steak Fry...
Centerville Lions held their annual streak fry at the Log Cabin at the Mansion House Monday evening, September 24. Members and several guests attended the dinner including Carole and Bill McDonald of Apopka, Florida.
Following the meal, some of the group headed for the Mansion House to entertain themselves with card games.
Marie and Paul Elstro prepared the fixings as they have now for several years.
9/24/18
Lions Hear About Veterans Christmas Appreciation Dinner...
Centerville Lions learned about the Veterans Christmas Appreciation Dinner at its first meeting of the year Monday evening at the Centerville Senior Center.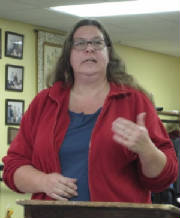 Lisa Creech
Lisa Creech, the director of the program, said it will be held at the Kuhlman Center on the Wayne County Fairgrounds on December 8. She was joined by board member Steve McFarland.
Creech said the dinner was the idea of her daughter Rebekah who wanted to do something to give back to the community and decided on the dinner for veterans.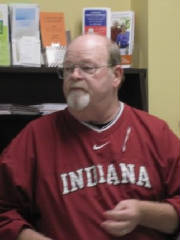 Steve McFarland
This will be the 5th year for the dinner. Only 30 veterans and families were recognized the first year; over 400 last year. All veterans and their families are welcome to attend. A ceremony will be held to honor the veterans and then dinner and entertainment will follow. The fiscal sponsor for this event is the Chamber Center for Excellence.
Doors will open at 3 pm for veterans to interact will local businesses to see available services within the community. Flag ceremony and dinner will begin at 5 pm.
Reservations are required by November 17 by calling Lisa Creech at 765-914-7367. Reservations may also be made on their Facebook page (Veterans Christmas Appreciation Dinner) or e-mailing
ForOurVeterans6869@gmail.com
The Lions voted to help sponsor the event by contributing $125 toward its costs.
9/10/18
Lion Joe Elsto Receives Award...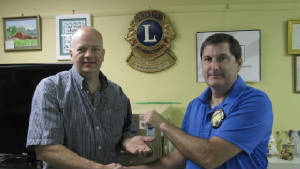 Lion Joe Elstro (left) recieved Key from President Ty Farmer
Lion Joe Elstro received an award at the first meeting of the new Lions year Monday evening, September 10.
President Ty Farmer presented Lion Joe with the Key award for two new memberships in the organization this past year.
Lions also heard from Leo Club sponsor Holly Stiggleman. She reported 28 students at Centerville High School have signed up for the club. She said they are working on projects for the year. The students will also be assisting with the annual Halloween Party on October 31.
9/10/18