Board adopts schedule for the new year...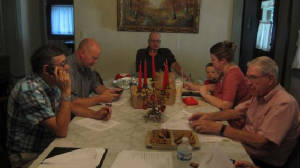 Programs and events for the 2017-2018 Lions year were approved Wednesday evening, August 23, The board of directors approved dates for the year at a special meeting held at the Mansion House in Centerville. President Joe Elstro conducted the meeting.
The new year begins September 11th with the club's annual steak fry for members and guests at the Mansion House. The second meeting of the year will be held September 25 at the Centerville Senior Center with initiation of new members.
The Community Halloween Party is scheduled for Tuesday October 31 from 6:30 to 8 pm at the Centerville Elementary gymnasium.
The Christmas Banquet will be held on December 11 at the Centerville High School Cafetorium.
The Community Awards Banquet will be held on April 23 and the annual Fish Fry will be June 8 and 9.
The board also approved Standing Committee chairpersons.
Attending the board meeting along with president Joe Elstro were vice president Ty Farmer, board member and treasurer Dennis Stephen, board member Jim Resh and members Paul Elstro, Anne Elstro and Bill Felker.
8/23/17
Lions in Archway Days Parade...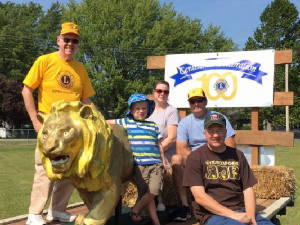 Centerville Lions participated in the Archway Days parade on Saturday, August 26. Riding on a float were (left to right) Lions Jim Resh, Anne Elstro and son Conner, Ty Farmer and Joe Elstro.
They handed out candy. Great weather... great crowd... great day!
8/26/17
Lion Jack Farmer dies at age 69...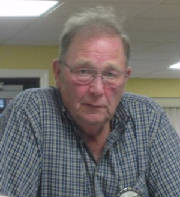 Lion John R. "Jack" Farmer of Centervlle died unexpectedly at his home on Friday, July 7. Retired from the Richmond Police Department and Cincinnati Insurance, he had been a member of the Centerville Lions Club since October 1, 2001. He served as its president in 2014-15. Jack was involved with Wayne County 4-H.

Survivors include his wife, Joyce; children Ty, Justin, Sarah Sparks and Pam Tidrow and seven grandchildren.

Funeral services will be Wednesday, July 12 at the Doan and Mills Funeral Home in Richmond, where visitation will be Tuesday from 4 to 8 pm. Private burial will be in Crown Hill Cemetery at a later date.
7/7/17