Coaches speak to Lions...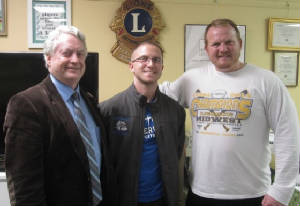 Supt. Phil Stevenson, coaches Beach and Padgett
Centerville High School basketball and football coaches spoke to the Centerville Lions Club Monday evening, November 17 at the Centerville Senior Center.
Basketball coach Steve Beach said he has a good team this and looks forward to the schedule this year. Beach is from Ferdinand, Indiana.
Football coach Kyle Padgett is from Cloverdale and played football at Valparaiso University. He says "the future is very bright and he is excited about that."
Christmas Banquet chair Dennis Stephen said persons attending this year are being asked to bring some canned goods for the Food Pantry in Centerville. Pianist Tom Walker will play again at the December 11 banquet. It will be held at the Centerville High School Cafetorium beginning at 6 pm.
11/27/17
Halloween Party enjoyed by community...
The annual Community Halloween Party sponsered by the Centerville Lions Club was enjoyed by many in the community Monday evening, October 31. Although it was a school night, the little gremlins started pouring into the Centerville Elementary gymnasium around 6 o'clock after making their rounds throughout the community. They were able to play games and win prizes as well as take home some cookies and cakes along with many donuts given away during the popular cake walk.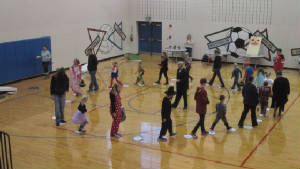 MC Jim Resh announced the cake walk with new Lion Scott Bevington, dressed as Daddy Warbucks, gave out goodies to the winners. The goodies were provided by members of the Lions Club and their families.
Near the end of the evening, prizes were given out for costumes in several age catagories. Winners were: Ages 1 throught 3 - Grayson Kearney dressed as Captain America, Justin Schnitzius as Popcorn Boy and Joanna Conner as Troll; Ages 4 throught 6 - Taylor Tice as Little Red Riding Hood, Lla W ildey as Genie and Charleigh Schnitzius as Cupcake; Ages 7 through 10 - Peyton White as Camo Army, Mhleigh Hartman as Minnie and Haille Shaffer as Fire Dragon; 11 through 14 - Gavin Stiggleman as Bob Plyley as the painter, Graci Plyley as Grandma and Cameron Stiggleman as Harry Potter; Ages 15 through adult - Chris Evrard as Brawny, Matthew Burch as Pumpkin Head and Emma Callahan and Trinitee Wood as Dead People.
It was esstmated that around 150 persons attended the party. Members of the Centerville High School Leos Club, an affiliate of the Centerville Lions Club, helped with the games and judged the costume contest.
The event is one of the major projects of the Centerville Lions Club.
10/31/17
Lions present $1,000 to Centerville Police...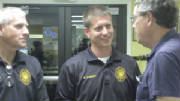 The Centerville Lions Club presented the Centerville Police Department $1,000 in observance of the 100th anniversary of Lions Club International Monday evening, October 9. The presentation was made to Police Commissioner Dan Wandersee and Sgt. Matt Alexander by club treasurer Dennis Stephen.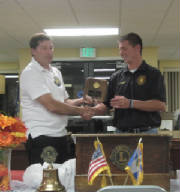 Program chair Ty Farmer presented a plaque to Sgt. Matt Alexander in memory of K9 officer Kendra who died a couple of weeks ago. Alexander said it is not out of the picture to replace the dog sometime in the future.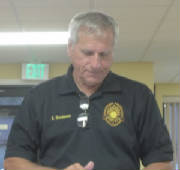 Centerville Police Commissioner Dan Wandersee updated club members on what has been happening at the police department recently. He said the police force has been increased to six officers which helps with rotation. They have also purchased a 4wd Ford pickup truck as an additional vehicle for the department.
Wandersee also invited Lions to visit the new department which is located in the old INDOT building east of Centerville. He said it provides a new training room, interrogation room and spaces for the officers.
Wandersee said drugs is the biggest challenge they have, although they have not seen the increase as other surrounding communities.
10/9/17
Centerville Lions gains five new members...
Five new members were inducted into the Centerville Lions Club Monday evening, September 25, at the Senior Center in Centerville. They are Mike McCoy of Greens Fork, Scott Bevington of Connersville, Cameron Felker of Richmond, Crystal Kaulen of Centerville and Jeff Jenkins of Richmond. Past District Governor Carl Sharp of the Liberty Lions Club inducted the new Lions. It is the most Lions inducted at one time in many years. It brings total membership to 23.
9/25/17
Lions in Archway Days Parade...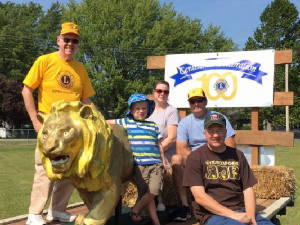 Centerville Lions participated in the Archway Days parade on Saturday, August 26. Riding on a float were (left to right) Lions Jim Resh, Anne Elstro and son Conner, Ty Farmer and Joe Elstro.
They handed out candy. Great weather... great crowd... great day!
8/26/17