Board of Directors set dates for meetings, events and programs...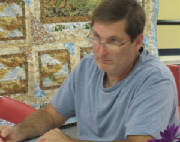 President Ty Farmer
The board of directors of the Centerville Lions Club met Monday, August 13 to plan for the upcoming Lions year. Dates were set for meetings, events and programs for the 2018-2019 Lions year.
The board approved switching the annual steak fry to September 24 instead of September 10, the first meeting of the year. Members are being encouraged to bring a prospective member to the steak fry.
Other major dates approved were: Community Halloween Party to be held on the same night the Town of Centerville sets, probably October 31; Christmas Banquet on December 10; Nomination of Officers for March 25; Election of Officers on April 8; Community Awards Banquet on April 22; Fish Fry on Saturday, June 8; Installation of Officers on June 10; and Lions Family Picnic on July 15.
They also approved participation in the Archway Days Parade on August 24 and the Centerville High School Homecoming Parade on September 7.
The meeting was conducted by President Ty Farmer at the Centerville Senior Center.
8/13/18
Lion Garrett D. Roberts dies at 77...

Centerville Lion Garrett D. Roberts of Centerville died Tuesday, July 24, at IU Health Saxony Hospital in Fishers. He was 77. He was retired from Chrysler Corporation at New Castle after 31 years of service. Lion Garrett joined the Centerville Lions Club on July 1, 1997. He also was a member of Harmony Masonic Lodge No. 11, Order of Eastern Star and Gideons International. He was co-founder of the Centerville Classic Car Club. He was a member of Centerville United Methodist Church and was a Reid Health volunteer.




Survivors include his wife Janice Chappell Roberts; a brother-in-law, Raymond Roberts of Michigan City; nieces; nephews; cousins and many friends.




He was preceded in death by his son, Garrett D. Roberts II; a sister and two brothers.




Visitation will be Friday, July 27 from 4 to 8 pm at the Mills Funeral Home in Centerville, with a Masonic Service at 7:30 pm. Funeral Service will be Saturday, July 28, at 11 am at the funeral home, where friends may also call beginning at 10 am. Burial will be in Crown Hill Cemetery in Centerville.

7/26/18




Officers installed for next year...

Centerville Lions Club officers for 2018-19 were installed by Past District Governor Carl Sharp of Liberty at the club's June 11th meeting at the Centerville Senior Center in Centerville.




Installed were President Ty Farmer, 1st VP Bob Hobson, 2nd VP Holly Stiggleman, Secretary Wendy Cook, Treasurer Dennis Stephen. Others: LCIF Chair Jeff Jenkins, Tamer and Tail Twister Steve Sheckles, Program chair Bob Hobson, Membership chair Crystal Kaulen and Marketing and Communications Bill Felker. Officers take over July 1st.




Dennis Stephen submitted a report on the Fish Fry held June 8 and 9. There was some discussion concerning the Fish Fry for next year, but no decisions were made.




The final event for Lions this year is the Family Picnic now scheduled for Monday, July 16 at 6:30 pm in Maplewood Park.




The Lions Club will also participate in the Community Celebrates event at Maplewood Park on July on 28th. Members will be operating a booth selling cotton candy.
6/11/18




Our next meeting:


September 10 - First regular dinner meeting, 6:30 pm at Senior Center


Other scheduled programs coming up:

September 24 - Annual Steak Fry at Mansion House, 6:30 pm

October 8 - Dinner meeting

October 22 - Dinner meeting

October 31 - Community Halloween Party

November 12 - Dinner meeting

November 26 - Dinner meeting

December 10 - Christmas Banquet


Lions hold family picnic...

A dozen Centerville Lions and their families attended the group's annual family picnic at Maplewood Park in Centerville Monday evening, July 16. It was a hot, humid day with a downpour of rain occurring as the picnic began. Little Conner Elstro, son of outgoing president Joe Elstro, kept busy tasting the raindrops from the Maplewood Park stage, where the hamburgers and hotdogs were being prepared on the grill.




The next meeting of the Lions will be a board meeting on August 13 for an organizational meeting. The first regular get-to-gether will be the annual Steak Fry on September 10 at the Mansion House.

7/17/18




Former member Bob O'Neill has died...

Former member of the Centerville Lions Club Robert C. O'Neill has died at the age of 89. O'Neill, who had resided in Centerville, died Wednesday, June 27, at Rawlins House Health & Living Community in Pendleton. He was a 1947 graduate of Centerville High School and had worked at Hoffco/Comet Industries for 24 years and had formerly worked at Wayne Works.




O'Neill served as president of the Centerville Lions Club in 1975-76.




He is survived by two sons, four grandchildren and three great-grandchildren. He was preceded in death by his wife of 51 years, Audrey F. Schroy O'Neill, who died in 2006.




Services will be held Saturday morning, June 30, at 10 o'clock at the Mills Funeral Home in Centerville where friends may call Friday from 5 to 8 pm. Burial will be in Crown Hill Cemetery. Memorial contributins may be made to the Crown Hill Cemetery or the Centerville-Abingnton Senior Center.

6/28/18




Son of former member dies...

Curt Allen Barker, 61, of Safety Harbor, Florida died June 14. He was the son of former Lion Tom and Marilyn Barker of Richmond.




He was a 1974 graduate of Richmond High School, Purdue University, and an MBA from the University of Dallas. He had also taught as an adjunct professor at both Purdue and Baylor. He was a businessman and marketing expert in the field of building products.




He is survived by his wife, Angela, two children and two grandchildren; and two sisters, Robin Hill of Lynn and Shelley Miller of Richmond; and other relatives. He was preceded in death by his first wife, Lori Lee.




Memorial services will be Saturday, July 14 at 2 pm at St. Paul's Lutheran Church in Richmond with a gathering and celebration of Curt's life in Shutte Hall. Internment will be in Earlham Cemetery.




Friends may remember him with a gift to the Wayne County Founation for the Barker Family Fund, which will created a stream of funding to support art education programs at Richmond Art Museum.

6/26/18