New officers installed...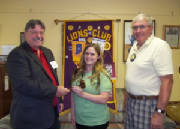 Installing officer PDG Carl Sharp with Lions Tidrow and McConaha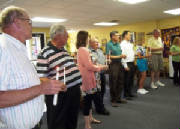 Lions P. Elstro, Sheckles, A. Elstro, Hobson, Stephen, Sparks, Kornman, McConaha & Tidrow
Wendy Kornman and Courtney Amos were installed as secretary and assistant secretary along with Dennis Stephen as treasurer and Kevin Sparks as assistant treasurer.
Other officers installed: Paul Elstro as Tail Twister, assisted by Steve Sheckles; Sheckles will also be Lion Tamer assisted by Phil Stevenson.
Board of Directors: Anne Elstro and Bob Hobson, two years; Ty Farmer and Mike Spotts, one year. Spotts is also membership chair.
Other items:
Treasurer Dennis Stephen presented a report on the Fish Fry held on June 5 and 6. He said the club will make about the same as last year.
The date for the Family picnic was changed to June 29... a week later than originally planned. It will be held again at the home of Lions Anne and Joe Elstro.
6/8/15
It's Fish Fry Time again...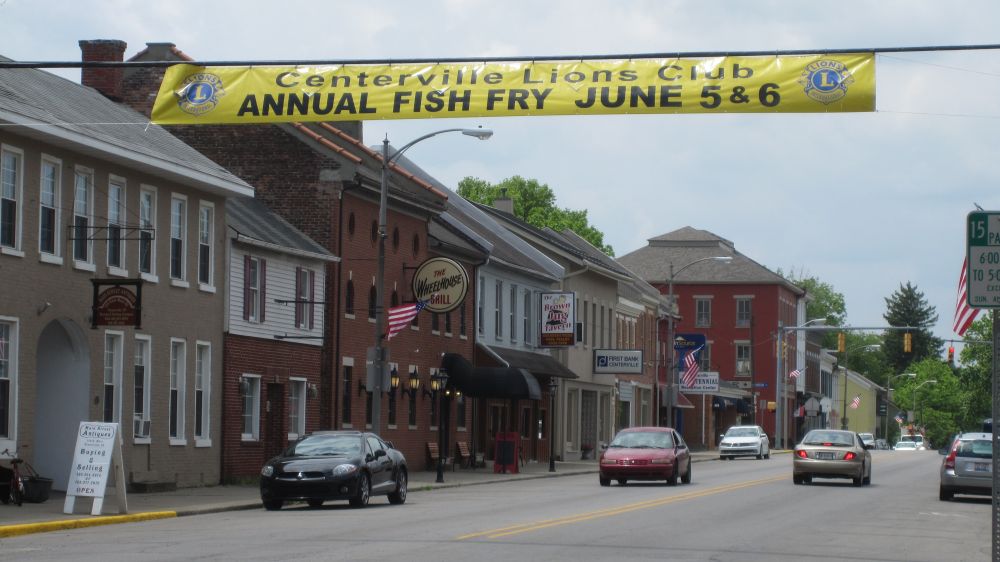 There's plenty of fish in the pond and fresh pies headed toward the Centerville Lions Club for Saturday. Friday ended with a successful first day of the 36th annual fish fry for the club.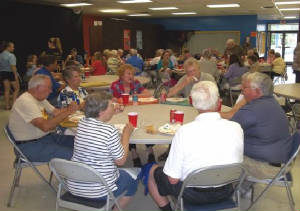 Happy diners enjoying their dinners
It's being held again this year at the Fellowship Hall of the Christian Church... just a block west of the Municipal Building where it was held for many years under a big tent. Now patrons can eat in the comfort of an air conditioned facility.
The menu remains the same as last year: fish sandwiches with baked beans, French fries, coleslaw, a drink and dessert. Hamburgers, cheeseburgers and hot dogs are also available. Carryout orders are also offered. The price also remains the same at $10.00...with advance sales tickets for $9.00.
Proceeds help fund the club's many activities during year.
Hours are 11 am to 8 pm on Saturday. And there's plenty of parking nearby.
6/5/15
Jim Howell receives the Melvin Jones Fellow Award...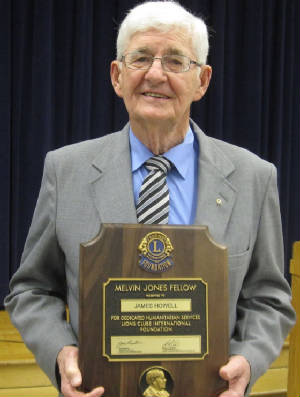 A member of the Centerville Lions Clubs for nearly 52 years, James I. Howell was awarded Lions Club most prestigious award Monday evening, April 13... the Melvin Jones Award, named after the founder of Lions. Awards Committee member Dennis Stephen read the nomination for the award.
A 1950 Centerville High School graduate, Jim attended Butler University receiving his bachelor's and Masters degrees. He served in the U.S. Army and returned to Centerville to embark on his teaching and coaching career at Milton High School. After six years, he returned to Centerville as coach and guidance director. From this position, he became Junior High principal and from 1967 to 1993, served as principal of Centerville Senior High School.
Jim has always loved working with children, helping plan and build the present Little League Diamonds. He has been a 4-H leader, a Fair Board member and a member of the 4-H Sale Committee for over ten years.
Professionally, he was a member of the National Association of Secondary School Principals. He served on various state committees.
Jim helped to get the Jaycees underway in Centerville. As a member of Centerville Christian Church for more than sixty years, he served as a Sunday school teacher, deacon and elder. He was instrumental in establishing the Centerville Senior Citizens Center and has served on the Reid Hospital Foundation Board and Wayne County Health Board.
As a Lion, he was inducted into the Lions Silver Anniversary Basketball Hall of Fame in 1975. He served as the club president in 1970-71 and served in many other leadership roles. He was the first chairperson of the club's annual fish fry and has regularly been a top salesman.
When someone has a problem, Jim is there to help, advise and encourage. His leadership ability and caring way have left their mark on many in our community.
4/13/15
Howell responds...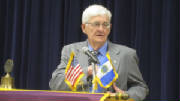 After receiving the Melvin Jones Fellow award, Jim Howell took to the microphone as if he were going to give a speech, a lecture, a sermon... but it came from his heart as he said, "I want to thank you... the Centerville Lions Club... I'm humbled."
Howell went on to describe what brings us together - family. He said the first thing he did when he became principal at Centerville Senior High School was to take the locks off the lockers He said we're going to trust... to be a family. And when he retired the yearbook was titled "One Big Happy Family." That was and is Jim Howell.
4/13/15
New Playground initiative explained to Lions...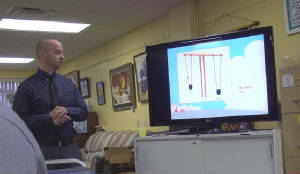 Members of the Centerville Lions Club were informed Monday evening, March 23, of a new group within the community who are raising funds for new playground equipment for Maplewood Park. Michael Scott presented the project with a photo presentation of what the new items will look like Everyone agree the town needs new equipment for the park.
The playground equipment committee hopes to have the slides, swings and jungle gyms installed by August if the funds are raised. More information is available on Facebook or from Scott at IU East.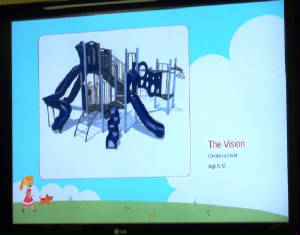 Club president Jack Farmer conducted the business meeting and said the cost for meals at regular meetings will be incresed by $1.00 each beginning in April. Election of officers will take place April 27 at the regular meeting.
Reservations were taken for the 70th Anniversary program and Community Awards Banquet on Monday, April 13 at the Centerville High School Cafetorium. The public is invited to attend. Call Lion Phil Stevenson for reservations at 765-855-3475 or e-mail him at
pstevenson@Centerville.k12.in.us
. Lions Club Charter Members will also be honored.
3/24/15
National Road topic of March 9 meeting...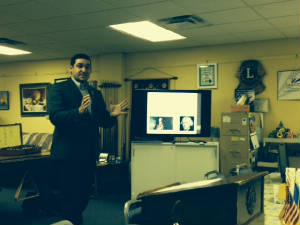 The president of the Indiana National Road Association spoke to members of the Centerville Lions Club Monday evening, March 9. Joe Frost presented a history of the National Road. He said it was constructed in Indiana in the 1830s. The first federally-funded road runs through six states.
Frost said there were three main reasons for building the National Road: National defense, political reasons and for economic development. He explained the road made it easier to send troops to the west, to link political centers such as Indianapolis and Columbus, and to create demand for communities and trade centers.
In 1926, the National Road was renumbered as US 40, although US 40 actually extends far beyond the original road.
Additional information on the National Road is available at www.indiananationalroad.org.
The Centerville Lions Club will nominate officers for 2015-2016 at its next meeting March 23. Elections will be held on April 27 and installation of officers is set for June 8.
3/10/15
Awards committee meets...
The Community Awards Committee met Tuesday morning to plan for the Awards Banquet on April 13. The Committee is urging members to nominate people from the Centerville community during the February 23 regular meeting.
The committee consists of Lions Dennis Stephen, Jim Resh and Phil Stevenson.
2/12/15
Centerville Lions celebrate Christmas with music...
Centerville Lions, their spouses and guests, celebrated Christmas at their annual Banquet December 8. Held at the Centerville Senior High School Cafetorium, the program featured jazz pianist Carol Lou Woodward.
She played during dinner many of her favorite songs. She led the Carol Lou Trio during the 1950s through 1970s. The trio was a jazz combo that featured her husband bassist John Hedges, who died in 2012, and various drummers. These included the future drummer for the Count Basie and singer Tony Bennett, Harold Jones.
Born in Peru, Indiana on May 20, 1931, Carol Lou continues to sing and play in combos in the Richmond area. In 2008 she released a Holiday collection entitled "Christmas with Carol Lou."
At the beginning of the evening Lions played a Christmas trivia game to determine which table would be the first through the buffet line. And they finished the night singing Christmas carols.
12/17/14
Note:
November 24 program was cancelled due to an emergency.
PDG Tom Slattery speaks to Lions...

Past District Governor Tom Slattery spoke to members of the Centerville Lions Club Monday evening, November 10. He addressed several topics.
Slattery told of Lion eyeglass collection and how they process the used glasses. He said they are also distributed to other countries.
He also spoke of Cancer Control, Leader Dogs for the Blind and the Vision project.
Slattery works for the state Lions Headquarters.
11/10/14
Lion Allan Spencer dies at 77...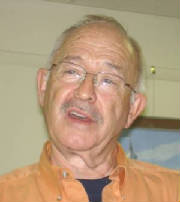 Lion P. Allan Spencer died Wednesday morning, November 5, at his home in Centerville. He is survived by his wife Sonia and three sons. Services were Monday, November 10, at the Centerville United Methodist Church. Burial was in Crown Hill Cemetery.
A native of Portland, Indiana, he was born on the day of an earthquake on March 6, 1937. A quiet man, he once said he resided in his father's funeral home for the first 8 or 9 years of his life. He changed his college major from engineering to administration, but didn't know what he wanted to do. After graduating in 1959, he thought about taking jobs in Alaska and Central America, but ended up taking a teaching job with Centerville schools. It was there he met his would-be wife in an adult night school class he was teaching. Then on a trip to Indianapolis with Superintendent Don Kehoe, he was asked to be his assistant. The title was later changed to Assistant Superintendent... a position he held until he retired.
Lion Spencer joined the Centerville Lions Club on January 1, 1962... having been invited to join by Charlie Killen. He became president of the club when Wilfred Nuss died and served from 1965 to 1967.
See obituary at Doan and Mills: www.doanmillsfuneralhome.com.
October 13th meeting...
Due to a scheduling error, Program Chairperson Pam Tidrow says Hollie Day from Communities in Schools will present the program for the Lions Club on October 27. Instead of a program Monday evening, October 13, the club used the time for an administrative session.
October is Membership Growth Month for Lions Club International. All Lions are encouraged to bring a potential member to our meetings. LCI is prepared to recognize any Lion who sponsors one member in October with a Silver Membership Growth Pin in October and a Gold Membership Growth Pin in April. PDG Tom Slattery will speak to our club on November 10th about "Easy Membership Growth."
First Vice President Tidrow conducted the meeting in the absence of President Jack Farmer. They discussed the need for volunteers for the vision program. Only two Lions were able to participate in the last program at Centerville schools, but a number of Richmond Lions came to assist. Tidrow says there will be another training session this year. Actual screenings are quite easy to conduct. Members are encouraged to come for at least one session for the next screening.
Also discussed was the Halloween Party. It will take place on October 31 from 6-8 pm at the Centervillle Elementary Gymnasium. Setup will begin at 4 pm with the assistance of the Leos. This is an "all hands on deck" event and a valuable recruitment tool as well as a service to our community.
10/14/14
Lions discuss scholarships and Fish Fry...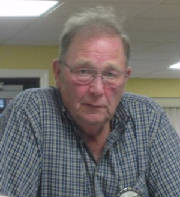 President Jack Farmer
Lions vice president Pam Tidrow reported that two recipients of scholarships have been selected along with a perfect attendance award at Centerville Senior High School. The scholarships will be announced during an assembly at the high school. Lion Pam says there were 24 applicants this year for the scholarships. She made the announcement during the Lions Club meeting Monday evening, May 11 at the Centerville Senior Center. There were 14 Lions present at the meeting.
The club discussed the Fish Fry coming up on Friday and Saturday, June 5 and 6. It was decided to move the June 1st Fish Fry meeting to Tuesday, May 26 following Memorial Day. It will begin at 6:30 at the Senior Center, but there will no meal at this meeting.
5/11/15
Officers for 2015-2016 elected...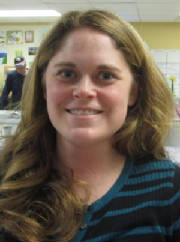 Incoming president Pam Tidrow
Centerville Lions Club officers for 2015-2016 were elected Monday evening, April 27 during a regular meeting at the Senior Center.
Pam Tidrow, who served as first vice president this year moves into the presidency. Tim McConaha, who served as president in 2007-2007, moves into the first vice presidency. Joe Elstro, a former president in 2012-2013, was elected to serve as second vice president.
Wendy Kornman and Courtney Amos were re-elected as secretary and assistant secretary. Dennis Stephen will remain as treasurer and Kevin Sparks will be his assistant.
Paul Elstro keeps his post as Tail Twister, assisted by Steve Sheckles. Sheckles will also remain as Lion Tamer while Phil Stevension was elected to be assistant Lion Tamer.
Anne Elstro and Bob Hobson were named to two year terms on the board of directors, while Ty Farmer and Mike Spotts remain for one year. Jack Farmer, as outgoing president, is also a board member. And Mike Spotts will remain membership chair.
The officers will be installed in ceremonies on June 8.
The program for the evening was cancelled due to the illness of Centerville Police Department Sgt. Matt Alexander's K9 Kendra. And the club voted to support the group seeking funds for new playground equipment at Maplewood Park in the amount of $250.
4/27/15
Community Awards were presented...
The Centerville Lions Club presented its annual Communithy Awards Monday evening, April 13, at the Centerville High School Cafetorium.

Centerville Fire Chief Dennis Spears received the Community Service Award. Spears, who has served with the department for 35 years, has been chief for the past 14 years. Born in Loogootee, Indiana in 1965, he moved with his family to Centerville when he was in the 6th grade, graduating from Centerville Senior High School in 1974.
The Centerville 2014 Bicentennial Committee also received a Community Service Award. The group headed by David and Beverly Nixon included Kate Johnson, Marie Elstro, Beth Treaster, Dan Wandersee, Loren Vance and Jim Resh. The Committee hosted numerous events during the year and published a 169 page hard copy book to tell the story of Centerville. It was entitled "Through the Archways of Time."
25F District Governor William Uhrig presented Centerville Lions Pam Tidrow with an Outstanding Service Award, for her efforts as the District and State Chair of the Leos Club.
4/13/15
Centerville Club observes its 70th Anniversary...

The Centerville Lions Club observed its 70th Anniversary Monday evening, April 13, at the Centerville Senior High School Cafetorium. Long time former club secretary Jim Resh told about the club that was chartered in 1944. He said there were 46 charter members inducted into the club that decided to meet on Mondays, which we still do.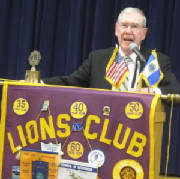 Lion Jim Resh tells of the club's history
He said the club has met at various churches in town, several different restaurants, the elementary school and now at the Senior Center. At first the club met with no meals, but later members wanted the fellowship of a meal together.
He pointed out from the program, the Lions have held many different events and projects throughout the last 70 years. He said we continue to sponsor the Community Fish Fry, the Halloween party for the area, sponsor 4-H Fair events, provide college scholarships, eye glasses for students, support Archway Days, Christmas in Centerville and provide convalescent equipjment free to those in need along with sponsoring the high school Leo Club and the Awards Banquet.
Resh said, "Melvin Jones was thinking ahead when he organized the Lions Club in Chicago in 1917 with Liberty, Intelligence, Our Nations Safety (Lions) and we look forward to celebrating 100 years in 2017.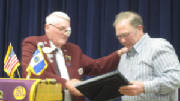 DG Uhrig present club president Farmer with certificate
Resh introduced several representatives of the club's charter members.
District Governor William Uhrig presented club president Jack Farmer with a Certificate of Achievement for the past 70 years of service.
4/13/15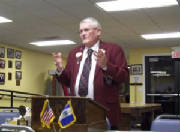 25-F District Governor Bill Uhrig
District 25-F Governor Bill Uhrig of Speedway stressed to Centerville Lions Monday evening the theme "Strengthening the Pride" and urged each club to obtain new members. Uhrig paid an official visit to the Centerville Lions Club Monday evening, February 23.
District 25-F has over 17-hundred Lions Club members. It comprises the southeatern part of Indiana. The Indiana State Convention will be held April 24 in Columbus. Also attending from the Indianapolis area were District Vice Governor John Brown, Cabinet Secretary Don Mullen and Betsey Uhrig.
The Governor presented membership awards to several Centerville Lions Club members including Courtney Amos. Tim McConaha and Kevin Sparks for 10 years of service. He presented Bob Hobson and Steve Orsborn with 20 years of service and each received a chevron from Lions International. The Governor was presented a Warm Glow candle and fudge from Cinnamon Spice Bakery of Centerville.
Two members of the Centerville High School Leo Club, Maddie Day and Emma Corman, also attended the meeting. A prospective member was introduced: Nick Arbogast is new to the area and is associated with Edward Jones Company in Cambridge City.
The Club voted to present two $350 college scholarships this spring to deserving Centerville High School seniors.
2/24/15
Lion Mike Poynter dies...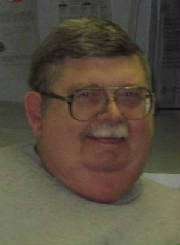 Lion Mike Poynter of Centerville has died. He died Tuesday morning at Forest Park Health Campus in Richmond. Ernest Michael "Mike" Poynter was 67.
Visitation will be Saturday from 2 to 5 pm at the Doan and Mills Funeral Home in Richmond, where services will be held Sunday at 2 pm. Burial will be in Crown Hill Cemetery.
Survivors include his wife Sherry, a daughter and two grandsons, a sister and brother.
Lion Mike was assistant engineer for the city of Richmond, had worked at NATCO and was head of maintenance for Centerville-Abington Schools for 25 years. He was a member of American Legion Post 25 in Richmond and the Centerville Lions Club.
2/10/15
District Governor Uhrig pays official visit...
Attendance continues to decline...

Lion Roberts recieves his 2015 membership card from Treasurer Dennis Stephen
Just a handful of Lions managed to attend the first meeting of 2015 Monday evening, January 26 at the Senior Center. Attendance at the meetings has been on the decline for several months, but the cold, blustery weather Monday evening didn't help. It's that time of year for membership renewals with annual dues of $80. Lion Garrett Roberts is one member who has already secured his membership for this year.

Lion Tim McConaha (left) helps Lion Resh with the Tourism Puzzle
Lion Jim Resh, who is Logistics Coordinator for the Wayne County Tourism Bureau, showed Lions the new Wayne County Mural Puzzle. It's available for sale at the Bureau.
The club voted to provide eyeglasses for a preschooler in the Centerville-Abington Community school district up to $150. A thank you note was received from the Indiana Eye Bank for $250 given in memory of Lion Allan Spencer. Club President Jack Farmer announced that Mary Kehoe, widow of Lion Don Kehoe, donated $50 to the Lions Vision Van program. And President Farmer also said the club received a thank you from the Dollars for Scholars program.
The next meeting is Governor's Night on February 23. 1/27/15
Halloween Party enjoyed by all...
Halloween Party chairperson Pam Tidrow said turnout was great Friday evening, October 31. The community-wide party for area kids was held at the Centerville Elementary Gymnasium. It is sponsered each year by the Centerville Lions Club. The Leos Club from Centerville High School again assisted the Lions.
10/31/14
Communities in Schools explained to Lions...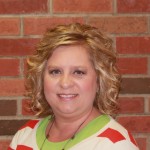 Hollie Day
Hollie Day, Program Director for Wayne County Communities in Schools spoke before the Centerville Lions Club Monday evening, October 27.
The mission of CIS is to surround students with a community of support, empowering them to stay in school and achieve in life. CIS believes that every student needs and deserves these five basics: a one-on-one relationship with a caring adult, a safe place to learn and grow, a healthy start and future, a marketable skill upon graduation and a chance to give back to peers and the community.
Day also passed out some brochures and the organization's annual report.
10/27/14
Richmond Club observes 90th Anniversary...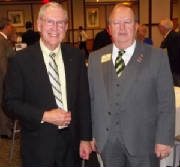 Lion Jim Resh with PID Doug Lozier
The Richmond Lions Club observed its 90th Anniversary with a dinner and program Saturday evening, October 4 at Lingle Hall at Reid Hospital and Health Care Center. The Club was organized June 7, 1924 and chartered on October 5.
Past International Director Doug Lozier of Carmel gave the keynote address.
Centerville Lion Jim Resh represented the Centerville Club in giving greetings and congratulations to the club. The Richmond Club sponsered the Centerville Club when it was organized 70 years ago.
10/5/14
Natco Community Empowerment Center explained to Lions...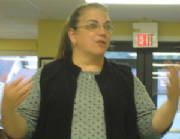 Lions Club members learned what the Natco Community Empowerment Center is and what it does. Community Outreach Coordinator Dana Sinclair said their mission is to 'strenthen community through economic empowerment one step at a time'. The program is aimed at individuals who have found themselves in poverty.
Sinclair said the Center covers budgeting, financial counseling, debt consolidation, foreclosure modification, time management, job seeking assistance, resume preparation, dress for success and their newest program called Circles in partnership with United Way.
The Center is located at 6127 E. Main Street in Richmond.
9/22/14
Volunteers needed for Vision Screening...
October 7 has been set for Vision Screenings in Centerville-Abington Community Schools. Sight and Hearing co-chair Pam Tidrow says four volunteers are needed to assist PDG Jack Buckland.
Lion Pam says the screenings will be conducted from 8 to 11 a.m. at the Junior High School and from 12:30 to 2 p.m. at the Centerville Elementary. She says interested person should contact Superintendant Phil Stevenson at :
pstevenson@centerville.k12.in.us
as soon as possible.
9/17/14
Club launches new year with Annual Steak Fry...
The Centerville Lions Club launched its 70th year with its annual steak fry Monday evening at the Mansion House in Centerville. The club will observe its 70th anniversary with a special program on May 12, 2015.
Lion President Jack Farmer conducted a board meeting following the steak fry to finalize program meetings for the coming year and to appoint standing committees.
Highlights for the year include the Community Halloween Party on Friday, October 31 at the Centerville Elementary Gymnasium. The board approved a $200 expenditure to cover the costs of the party.
The Christmas Banquet will held on December 8, Community Awards on April 14, the 36th Annual Fish Fry on June 5 and 6, installation of officers on June 8 and the Club Family Picnic on June 22.
Lion Kevin Sparks was appointed assistant treasurer to replace Phil Benedict, who is leaving the club for personal reasons.
9/8/14