Leo Club members inducted...
Two Centerville High School Leo Club members were formally inducted into the club during the Centerville Lions Club meeting Monday evening, May 12.
Club president Amanda Pyzluka inducted Samantha Hoskins and Esther Calderon.
Club advisor Lion Pam Tidrow presented Leo Amanda Phyzluka with the International Lions Club 100% Leo's Award for Leadership.
5/12/14
New officers take over...
Lion Jack Farmer took the gavel from President Bob Hobson for the next Lion year that begins on July 1. In an informal change of the guard, Lion Jack's daughter is first vice president and Tim McConaha is second vice president. McConaha served as president in 2006-2007. Hobson first served as club president in 1997-1998.
Other officers remain unchanged.
Ty Farmer and Mike Spotts are the two new board members.
Lion Phil Benedict and Mike Spotts are co-chairing the New Membership Committee.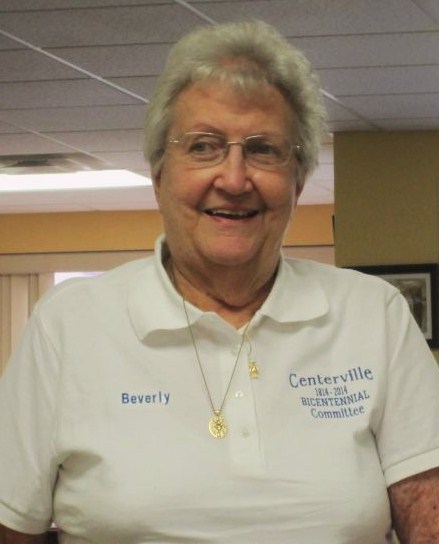 Beverly Nixon of the Centerville Bi-Centennial Committee spoke to the Lions Monday evening. She asked the Lions if they would like to sell Bi-Centennial Brochures at the Fourth of July Celebration. The club would split the profits and the Lions said yes. Lions will also be selling cotton candy that night.
Club treasurer Dennis Stephan reported the Fish Fry grossed over 8-thousand dollars. Fish Fry chairperson thanked everyone for their help including volunteers from the Hope House and members of the Centerville High School Leo Club. There was some discussion to begin the Fish Fry during the afternoon on Friday next year rather than 11 am and keep it all day on Saturday.
Lion Garrett Roberts was presented with a chevron for his 15 years in the club.
6/9/14
Club holds pre-Fish Fry meeting...
Lion Phil Benedict updated members on Fish Fry coming up this Friday and Saturday, June 6 and 7. He said five volunteers will be coming from the Hope House to assist the Lions.
The Fish Fry this year will be at the Christian Church Fellowship Hall, adjacent to the church. It will be held from 11 am to 8 pm each day.
6/2/14
Lion Howell transferred to Reid for rehab…
Lion Jim Howell of Centerville has been transferred from an Indianapolis hospital to Reid Hospital in Richmond to begin a period of rehabilitation. Howell suffered a stroke April 15 at his home and experienced paralysis of his left side.
He has come a long way since then. He now has movement in his left arm and leg, is eating better and talks a lot.
4/30/14
Notes from April 28 meeting...

May 26 meeting has been canceled due to Memorial Day holiday
There will be a June 2 Fish Fry informational meeting
Approved $100 to help a student attend a New York meeting
Approved $100 for the After Prom event
Approved $100 for the Annual Basketball Camp
Lion Phil Benedict was presented with an International Lions Membership Award for bringing in two new members.
President Hobson thanked those who helped with the Community Award Banquet
Election of officers held...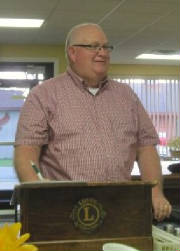 President Hobson conducts annual election of officers
Lion Jack Farmer was elected president of the Centerville Lions Club for 2014-2015 Monday evening, April 28. Election of officers for next year was held at the Senior Center in Centerville. His daughter, Pam Tidrow, was elected first vice president. Tim McConaha, who served as president in 2006-2007, was elected second vice president.
Others elected to serve for the next year are:
Wendy Kornman, secretary; Courtney Amos, assistant secretary.
Dennis Stephen, treasurer; Phil Benedict, assistant treasurer.
President Bob Hobson will serve on the board as past president.
Paul Elstro, tail twister; Steve Sheckles, assistant tail twister.
Steve Sheckles, lion tamer; Bob Hobson, assistant lion tamer.
Ty Farmer and Mike Spotts were elected to two year terms on the board.
Joe Elstro and Bill Felker were re-elected to one year terms on the board.
Phil Benedict and Mike Spotts were named to co-chair the new membership committee.
The officers will be installed at the June 9th meeting.
4/28/14
Lion Howell improving Monday...
The condition of Lion Jim Howell has improved greatly from Sunday. Jim's son Mark Howell in a report to Superintendant of Schools Phil Stevenson said, "He ate oat meal this morning and lifted his left arm and left leg. He is talking (alot) and does very well with that. He will remain intensive care for a while.
"But he is much improved. I saw him yesterday and he would talk but then fall asleep. But he does have a sense of humor (he made comments about Carlos, Lynn and Jim Jones). They said he has really improved over Sunday when I saw him."
In Facebook report from Gary Locke, "He (Mark Howell) says Jim is moving his left leg and arm, however still has no sight in his left eye."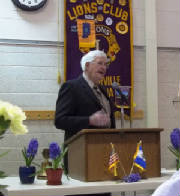 Jim speaking before the Awards banquet Monday evening
Lion Howell underwent four and a half hours of surgery Wednesday (April 16) for a blood clot in his brain. Howell, who suffered a stroke early Tuesday morning (April 15) at his home, is hospitalized at Methodist Hospital in Indianapolis.
He was experiencing paralysis to his left side. Surgeons repaired the bleeding areas and removed the clot.
Howell participated in the Lions' Club Community Awards banquet Monday evening (April 14) at Centerville Elementary Gymnasium, where he presented one of the awards.
David Nixon of the Centerville Bi-Centennial Committee revealed the Committee had planned on announcing at its Thursday meeting that Howell has been selected as Grand Marshall of the Bi-Centennial Parade this year. Nixon said in a Facebook posting on Tuesday that "We would love to see him riding down the parade route."
Our prayers are with Jim, his wife Marge and family.
Updated 4/21/14
Lions hear about investing...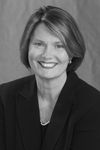 Edward Jones Financial Advisor Gena L. Hartman enlightened members of the Centerville Lions Club about investing Monday evening, March 10. She spoke about the February 2014 Edward Jones Perspective as well as a special tax issue that covered Five Ways to Stay Tax Smart. Gena also touched on Social Security and employment during retirement and the cost of waiting.
3/11/14
Club welcomes new member...
Club president Bob Hobson conducted the meeting following dinner Monday evening, February 24. Hobson introduced Mike Spotts, who is transferring his membership from the Richmond Lions Club.
A request from the Bicentennial committee to enter the Parade on July 5th was received and discussed. It was decided to table it until the President has had time to speak with Jeff Nickell the chairman. But it was well received and members thought we should enter something.
The Bicentennial committee asked to use some of our chairs for different events like concerts in the Park during the celebration this summer and the Club agreed.
A new headquarters for the Indiana State Lions Club association has been obtained in Indianapollis and a new plaza will be built in the front of it with bricks for each club to sponsor. The Centerville Club voted to provide one brick in the amount of $100 with Centerville Lions Club, Organized 1944 printed on the brick.
Dennis Stephen reported on the Awards Banquet set for April 14th in the Elementary Cafeteria. The cost will be $10 each for the dinner. Members were requested to nominate citizens for the awards.
The Club voted to donate $100 to the Senior Center for their upcoming dinner to honor the employees of the Town.
Phil Benedict stated that he would continue to take reservations for the club for meals, but that if you attend a meeting, you are automatically reserved for the next meeting, unless you notify him by Thursday.
2/24/14
Club holds special meeting...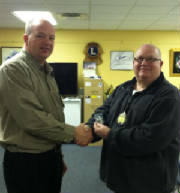 Past president Joe Elstro (left) is presented a membership growth award by president Hobson
A special meeting of the Centerville Lions Club was held on Monday evening, February 10. It was call because the January 27 regular meeting was canceled due to the weather. Two years ago, the board decided to hold only one meeting a month during January and February. After the January meeting was canceled, Club president Bob Hobson commented on the club Facebook page "Getting out of the habit is a big issue. I may look into having two meetings in February."
Reports were given Monday evening by the secretary and treasurer.
Leo Club advisor Lion Pam Tidrow said the Leo Club is preparing for spring project, but have been unable to meet regularly due to school cancellations and delays.
The Fish Fry committee is beginning preparations and plan to conduct an inventory of supplies.
Lion Joe Elstro was presented an award for growing membership during his presidency. The award was presented by Club president Hobson.
It was learned that Richmond Lion Mike Spotts will be transferring his membership to the Centerville Club. He is the District LCIF chairperson.
2/13/14
Christmas melodies on the piano...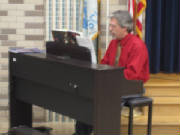 Members of the Centerville Lions Club and their guests were entertained by Sid Newbold Monday evening, December 16. Sid is organist for St. Paul's Lutheran Church in Richmond. He played Christmas music on the piano at the Centerville High School Cafetorium. He was introduced by Lion Bob Meckley, pastor of the church.
It was the final meeting of 2013 for the club. The next meeting is January 27 at 6:30 pm at the Centerville Senior Center. The club meets only once a month during January and February.
12/16/13
New County Extension Youth Agent speaks...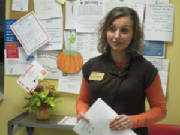 Alicia Criswell, the new Wayne County Health and Human Services/4H Leader, spoke before members of the Centerville Lions Club Monday evening, November 25. She discussed the 4H program and what is being done to increase participation and improve the program.
Following graduation from Ball State University in 2008, she taught Family and Consumer Sciences at Greenfield and Beech Grove High Schools. She earned her Master's degree in Framily and Consumer Sciences from BSU this year.
Since beginning her position with the Extension office, she has focused on Health and Human Sciences identifying community needs and resources, and beginning programs to meet those needs.
She said her areas of focus for the 4H program are increasing enrollment, identifying and reaching underserved populations, and increasing enrollment and involvement in Wayne Township. She is also seeking volunteers to serve as 4H leaders.
She also has spent a lot of time partnering with organizations such as the Boys and Girls Club and Girls, Inc.
Alicia grew up on the Henry County/Wayne County line and attended Tri Jr./Sr. High School graduating in 2005. She was a ten year 4H member.
11/24/13
Delayed Halloween Party pleases participants...
Lion Joe Elstro helps at the golf game
Delayed by one day due to inclement weather, around 125 persons attended the annual Centerville Lions Club Community Halloween Party Friday evening, November first. Held at the Centerville Elementary gymnasium, children of all ages were judged in costume by members of the Leo Club at Centerville Senior High School. Each child entered into the contest received a silver dollar.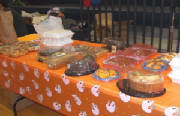 Club members provided cakes for the Cake Walk
The popular Cake Walk was conducted by chairperson Pam Tidrow. Refreshments were provided by the Lions Club. Participants were entertained with games scattered throughout the gym. Over twelve members of the Lions Club helped with the party as well as several Leo members.
Costume winners were:
Ages 1 - 3: Carson Gibson, Braelynn McSweeney, Braylon Henson, Arianna Stevenson and Bella Estes.
Ages 4 - 6: Elizabeth Neviles, Anna Nevilles, Avery Dickerson
Ages 7 - 10 : Brooklynn Fultz, Evan Silvia, Reagan Wilmot
Ages 11 -14: Andrew Wilmot, Gracie Delay and Lucy Jones.
11/1/13
Bicentennial celebrations coming next year...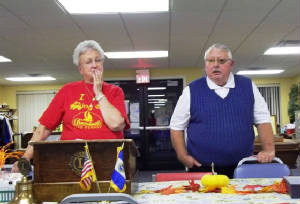 Plans for the Centerville Bicentennial were presented to members of the Centerville Lions Club Monday evening, October 28. Bicentennial chairpersons Bev and Dave Nixon said may events are being planned for the event next year.
Centerville will be 200 years old and many special dates will be set aside for the celebration. The first date will be January first. It will be a flag raising at the Library and a reception for everyone at the Centerville Christian Church Fellowship Center.
The Bicentennial Committee is looking for volunteers to help with the various events.
10/28/13
A place for the abused discussed...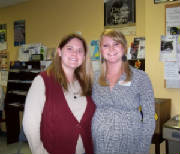 Lion Pam Tidrow (l) introduced Cathy Bulach
Cathy Bulach, victim advocate from the Genesis, spoke to members of the Centerville Lions Club Monday evening, October 14. She talked about the work of the organization. She described how they provide a place for abused women and men at their shelter.
They are also collecting supplies for their shelter.
10/14/13
Notes about the October 14 meeting...
The club voted to donate $100 to Genesis of the YWCA, which was our program tonight.
Lion Bob Blue is checking out the sign out sheets at the storage facility and will have a
listing of items still outstanding.
Secretary Wendy Kornman had a guest, her sister Julie Carman from California and Ty Farmer had a guest.
10/14/13
Two members of the Wayne County Drug Task Force addressed members of the Centerville Lions Club Monday evening, September 23 at the Centerville Senior Center.
They brought along samples of the drugs confiscated during drug investigations in Wayne County. They said heroin has become the biggest problem, not only in Wayne County, but across the country. They said they don't focus as much on marijuana these days, as drug laws across the country are changing.
9/23/13
Halloween party to have carnival-like atmosphere...
Community Halloween Party chair Pam Tidrow says the event this year is undergoing a bit of a transformation with new games and will have a more carnival-like atmosphere.
Lion Pam says she is in need of assistance from those who have some woodworking talent. She said the Leo Club has volunteered to paint some of the new games, but she needs some items cut out... such as witches hats for the new ring toss, a pumpkin for the bean bag toss and a large ghost for Ghostly Golf.
9/23/13
Steak Fry kicks off new year...
The annual streak fry kicked off another year of meetings and activities for the Centerville Lions Club. It was held at the Log Cabin behind the Mansion House in Centerville. President Bob Hobson conducted an informal meeting following the dinner.
He touched on some upcoming events: Centerville High School Homecoming Parade, work at Maplewood park by the Lions, Dollars for Scholars golf benefit on September 22 at Highland Lake Golf Course, brooms sales, the Leo Club and Community Halloween Party on October 31.
The steak fry dinner was prepared by Lion Paul Elstro's wife Marie.
9/9/13