The Lions Club officially brought the 2012-2013 year to a close with its annual picnic Monday evening, June 24. It was held again this year at the home of Lions Anne and Joe Elstro, our outgoing president. Lion Treasurer Dennis Stephen grilled the hamburgers and hot dogs. The meat and drinks were furnished by the club while members and their guests brought a covered dish as well as desserts.
Those who attended enjoyed the fellowship with each other.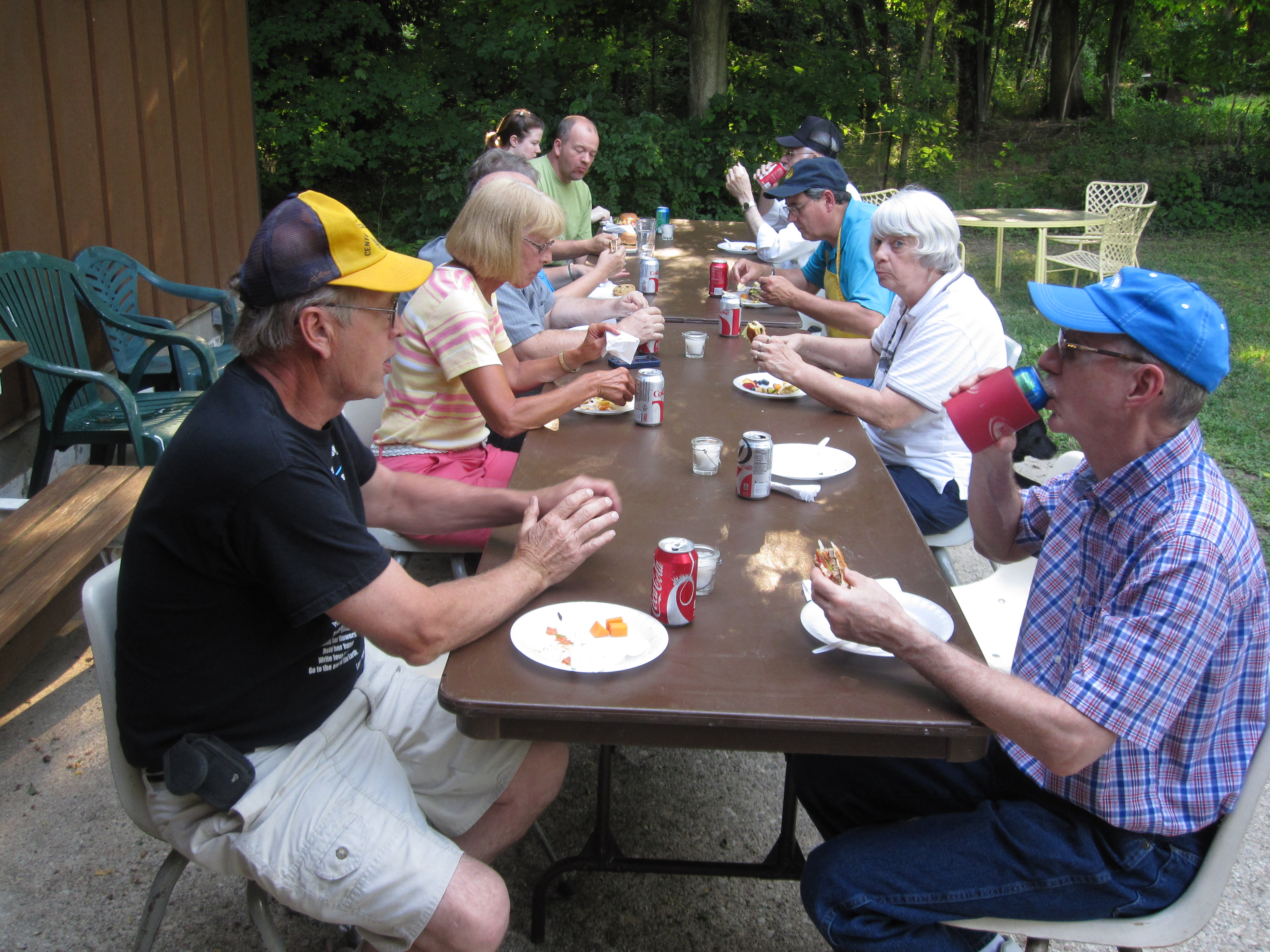 Lions Paul Elstro and Warren Gareiss.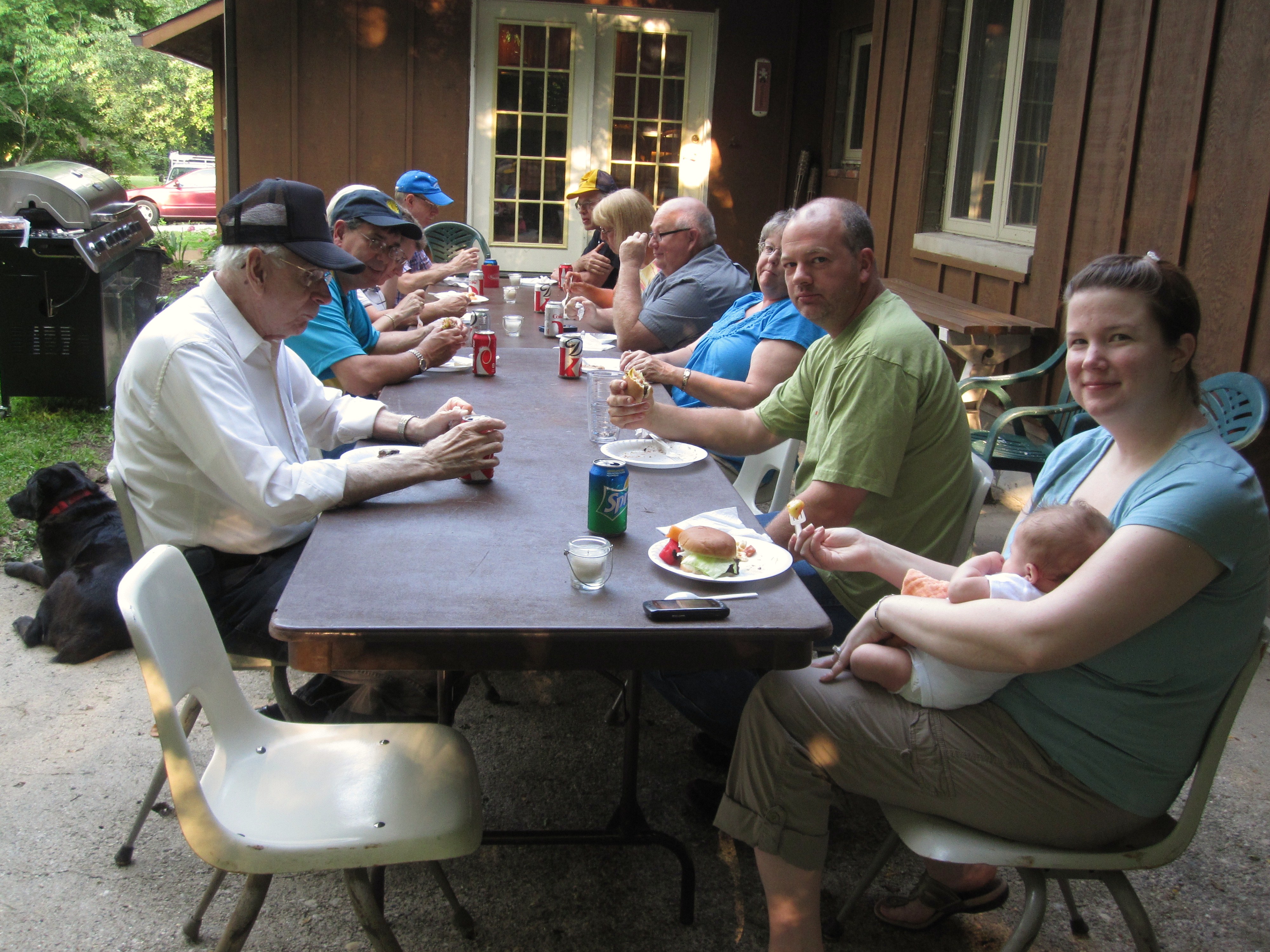 Lions Bob Blue with Anne and Joe Elstro and their two month old son, Conner Holden Elstro.
First day of Fish Fry...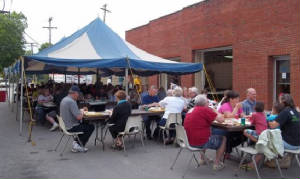 Good crowds visited the 34th annual Fish Fry in Centerville on Friday. The annual fund raiser for the club is sponsored by the Centerville Lions Club. Proceeds are used for various community projects throughout the year.
Saturday is the final day. Serving is from 11 am to 8 pm. Advance tickets are $8.00 and are available from Lions Club members and also may be purchased at the Library next door to the Centerville Municipal Building. Cost of the full dinner is $8.50 at the door.
6/7/13
Time for Lions to sign up for the Indiana State Fair...
Lions can help out the state Lions organization by helping at the Indiana State Fair. District Governor Sue Toft says, "Money earned for your work goes to the Indiana Lions Foundation. They are able to fund many grant requests through this work. If you work, you can either receive points toward a W.P. Woods Award, or get $10 for your club administration."
The sign up sheet may be downloaded by clicking the link below:
Click here to download sign up sheet.
Lion Barker's oldest brother dies...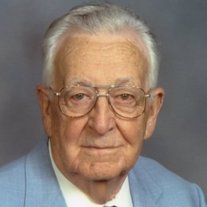 Robert C. Barker, 89 of Eaton, Ohio passed away Thursday afternoon May 2, 2013 at the Greenbriar Senior Living Campus, where he resided for several years. He was born June 8, 1923 near Coeburn, Virginia. He was the eldest of six sons of Garland and Dicie (Moore) Barker. He was married to Wylnetta Irene (Oler) on April 29, 1944, recently celebrating their 69 years of marriage. The couple lived many years near Eldorado, OH. Robert was a long time member of Wares Chapel United Methodist Church. He was employed by Chrysler Airtemp, Dayton, OH and retired after 37 years of service. In addition he worked at Henny Penny Corporation in Eaton, OH. He was preceded in death by his parents, his father and mother in law, Luther and Bessie Oler, three brothers; James, Jack and Harrison Barker and an infant daughter, Joyce Ann. He is survived by his wife, Wylnetta, sons and daughters in law; Robert and Cathy Barker of Lakeland, FL Richard Barker and Matthew Schlansky of Fort Lauderdale, FL, Tim and Cynthia Barker of Palm City, FL and daughter Jan and son in law Pat Hackett of Knoxville, TN, four grandchildren and spouses; Lori (and Bob) Ward, Matt (and Sara) Barker, Amy (and Deven) Robillard and Jesse (and Ali) Sheehan, seven great-grandchildren, two brothers; Tom (and Marilyn) Barker, of Richmond, IN and Charles (and Judy) Barker, of Lakeland, FL and numerous nieces and nephews.
Services were held Sunday, May 5, at the Girton Schmidt & Boucher Gard Funeral Home in Eaton, OH. A graveside service followed at the Greenmound Cemetery, New Madison, OH.
Memorial donations can be made to the Monroe Township Food Bank, 1060 Foos Road, West Manchester, OH 45382 and or Hospice of Dayton, 324 Wilmington Ave., Dayton, OH 45420. Online condolences and other remembrances may be sent to the family by visiting
www.gsbfuneralhome.com.
5/7/13
Lions Anne and Joe Elstro have a new job...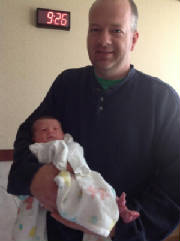 Lion President Joe Elstro with his new son
Conner Holden Elstro was born to Anne and Joe Elstro Tuesday evening at Reid Hospital. The little guy came into world at 6:07 p.m. and weighed seven pounds and two ounces and was 18 and a half inches long.
Lion President Joe and past president Anne are doing fines. Lion Paul Elsto is the grandfather.
5/1/13
June will be a busy month...
June will be a busy month for Lions. It begins with the Fish Fry Organziational meeting on Monday evening, June 3, at the Senior Center. The meeting was moved from May 27 which falls on Memorial Day.
The Fish Fry will be the following Friday and Saturday, June 7 and 8.
June 10 will be installation of officers.
And June 24 will be the family picnic.
4/22/13
Leo Club officers elected...
Officers of the Centerville High School Leos Club were installed during the Centerville Lions Club meeting Monday evening, April 22.
They are: Amanda Pyzluka, president; Matt Sparks, vice president; and Sydney Hoskins, secretary. They were installed by club sponsor Lion Pam Tidrow. Then club president Pyzluka inducted Desi Pope into the club.
The club was formed in 2001 at the high school. They have several projects and assist the Lions Club in seveal activities.
4/22/13
Many past award winners attended...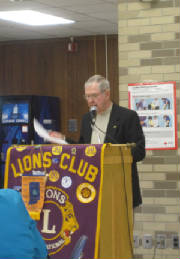 Past secretary Jim Resh
Many Past Honorees attended the 26th Community Awards Program at Centerville, Indiana Monday evening, April 8. It was held at the Centerville Senior High School Cafetorium. Past club secretary Jim Resh acknowledged those award recipients.
Those attending:
1987 - Carrol McConaha Rhodes
1992 - Lions Bob Blue and Jim Resh
1993 - James Howell and Russ Turner
1994 - Allan Spencer and Marie Elstro
1998 - Beverly Nixon
1999 - Dennis Stephen and David Nixon
2000 - Janice Roberts and Connie Gariess
2002 - Jane Lucas
2003 - Paul Elstro
2004 - Dan Wandersee
2005 - Phil Benedict and Phil Stevenson
2007 - Bob Hobson
2008 - Tim Hill and Jeff Cappa
2009 - Joe Elstro
2011 - Tim McConaha
The Centerville Lions Club picked up the awards when they were dropped by Junior Chamber of Commerce in 1986. No awards were presented in 2010 or 2012.
4/8/13
Vision testing at Centerville Elementary...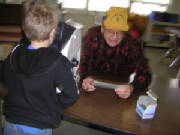 A third graders being tested by Lion Paul Elstro
Centerville Lions sponsored a vision testing program at Centerville schools Friday, February first. 200 students from the 3rd and 8th grades had signed up to be tested. Results of the tests are to go to student's eye doctor.
Although the start of school was delayed by weather for two hours, Lions tested 8th graders beginning at 10 am returning at 12:45 pm to test 3rd graders.
Richmond Lion and PDG Jack Buckland headed the testing along with school nurse Julie Horn. Student nurses Renee Rector and Andrea Hitch assisted. Lion Phil Benedict said, "It was so nice to have us all together to do an event such as this. A big thanks goes out to a nice size group of Centerville Lions who participated." Members from the Centerville Lions club who participated were Dennis Stevens, Paul Elstro, Bob Hobson, Toni Benedict, Phil Benedict, Jim Howell and Tim McConaha.
Club members were certified and/or re-certified for the vision testing program at the January 28 meeting of the club.
2/1/13
Leo Club participates in state meeting...
The Centerville High School Leo Club took part in the 2013 Mid Winter Conference in Plainfield Saturday, January 5. Leo Advisor Lion Pam Tidrow and Leo Club President Reile Tincher presented one of the morning seminars. Lion Tidrow said, "They discussed joint service activities and how they can help to build a relationship between the sponsoring Lions Club and its Leos."
International President Wayne Madden of Indiana was guest speaker for the conference.
Singer Brian Rodgers of Richmond entertained the Centerville Lions Club at its annual Christmas Banquet Monday evening at the Centerville High School Cafetorium. Rodgers, who has been singing since his school days at Connersville, presented a program mostly of old Christmas carols, some dating back to the 1400s. Very talented, Rodgers also did the Alvin and Chipmonks Christmas song.
Several new members were announced at the gathering: Pastor Robert Meckley of St. Paul's Lutheran Church, Ty Farmer, Todd Hobson and Toni Benedict. They will be formerly inducted into the club sometime next year.
The evening began with President Joe Elstro presiding.
12/10/12
Honey is a sweet thing...
Ken Banning of Banning's Honey Farm spoke to members of the Centerville Lions Club Monday evening, November 12.
Banning says they are a small, family-run farm, and their honey sales are more of a hobby than a business. As such, their products are sometimes limited in quantity. All of their products are handmade, so they may have imperfections. That's how you know it's not mass-produced, but carefully mixed, dipped, or poured by Ken, Jill, and their daughter Jennifer.
Their products include 100% pure local honey, beeswax candles, handmade soap, beeswax lip balm and gift baskets.
11/12/12
Sharlene George opens her arms to Lions...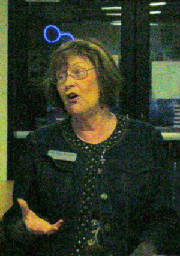 Making a difference in people's lives beyond one day is what Sharelene George does. She's director of Open Arms Ministries in Richmond. She told members of the Centerville Lions Club about the orgranization Monday evening, October 22.
Sharlene said 90% of the clients they see are the newly poor... struggling to meet expenses. She said they are able to make it possible for them to have a renewed start toward making ends meet.
Open Arms Ministries is a faith-based coaltion of churches and other social ministries that provides a clearinghouse of needs-based services in the greater Richmond area. It was established in October, 2009. Over 13-hundred families were served in 2010 with $17,000 in financial assistance given.
Their offices are located in Building 415 at Richmond State Hospital and are open Monday and Wednesday from 9 a.m. to noon. They can be reached by phone at (765) 962-9100.
10/23/12
Halloween Party is saved...
Last minute efforts of Lion Phil Benedict and others saved the Community Halloween Party on October 31 from being canceled this year. Centerville Town Council voted to change the hoursof Trick or Treat in Centerville to the same hours as the Halloween Party. But the town was convinced to restore the former hours.

Although participation has been declining in recent years, the function still provides an outlet for the area children to be off the streets at darkness.
Lions have been asked to help set up for the event at the Centerville Elementary Gym at 4:30 p.m. The Party begins at 6:30 p.m. There will be games, prizes for the best costumes, the popular Cake Walk and goodies to eat.
Hours for Trick or Treat in Centerville remain at 5 to 7 p.m.
10/18/12
Lion Pam Tidrow named State Chair of Leo Clubs...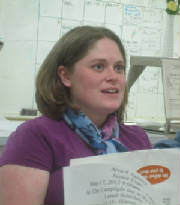 Lion Pam Tidrow
Lion Pam Tidrow has been named Indiana State Chair of the Leo Clubs. She previously was asked to head Leo Clubs in the District 25F. There are four of the clubs, one of which is at Centeville Senior High School, where Lion Pam is the Advisor.
Pertaining to the state post, Lion Pam said, "I'll be coordinating the efforts of the District Leo Chairs & disseminating the information received from Lions International regarding the Leo Program."
Pam will also be interviewed for an article about Leo Clubs for the International Lions Club magazine. She said she believes its because she was a member of the Centeville High School Leos Club, then became a Lion at the Centerville Club and then the Advisor for the club. She said the interview has yet to be scheduled.
6/11/12
New officers installed...
New officers of the Centerville Lions Club for 2012-2013 were installed Monday evening, June 11.
Past District Governor Carl Sharp of the Liberty Lions Club installed Lion Joe Elstro as president along with the other officers of the club:
first vice president, Bob Hobson; second vice president, John (Jack) Farmer; secretary, Wendy Kornman; assistant, Courtney Amos; treasurer, Dennis Stephen; assistant, Phil Benedict.
Tail twister, Paul Elstro; assistant, Pam Tidrow; Lion tamer, Steve Sheckles; assistant, Tim McConaha.
Board of directors: Tim Hill and Jeff Nickell, two years; Ann Elstro and Tim McConaha, one year.
The new officers will serve from July 1, 2012 through June 30, 2013.
6/11/12
New president outlines objectives...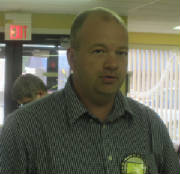 New Lions Club president Joe Elstro
Newly installed president Joe Elstro told Centerville Lions he has two main objectives for the coming year - July 1 through June 30 next year.
He said his first is to upgrade Maplewood Park. He suggested new benches and picnic tables. Leo Club Advisor Pam Tidrow said members of the club could help with the improvements.
Lion Elstro said his second priority to to increase membership in the club. He asked each member to bring in a new member this next year. There already has been interest shown in three or four individuals who have expressed interest.
Lion Elstro's wife was club president in 2010-2011. They are the first husband and wife team in the club to have served as president.
6/11/12
Roger Richert talks about the Depot...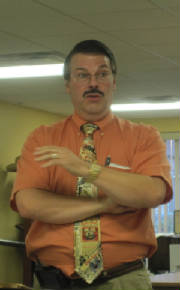 Roger "I'll Save You Money" Richert, owner of Richmond Furniture, talked about the Historic Railroad Depot at the Lions Club meeting Monday evening, September 24.
Richert, who bought the train depot at a tax sale, said it had sat empty for 40 years and was decaying. Designed by the famed architect Daniel Burnman, it has been designated a certified historic site.
He said it may be used as a children's museum or banquet center.
Richert, who purchased the old Miller's Hardward Building in 2004 where his furniture store is located, has also helped in saving several old building in the Depot District.
9/24/12
9-1-1 explained to Lions...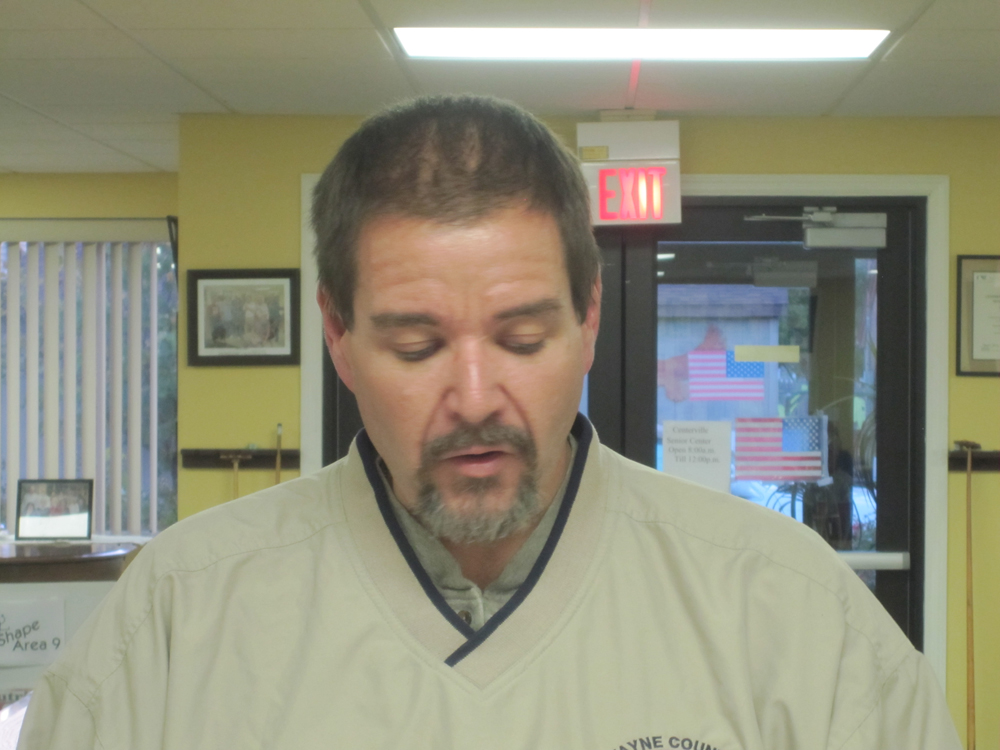 Darin Riney, the deputy director of the 9-1-1 Emergency Communications Center for Wayne County, told Centerville Lions Monday evening about the operations of the center. He said the center dispatches to 27 agencies.
Riney, said Wayne County set a record last year of 50,536 9-1-1 calls. The center, which answers calls for the Centerville Police Department, had 3,500 calls for the Centerville Police and Fire Departments.
Statewide, there were 1.5 million 9-1-1 calls. There were 200 million nationwide.
Riney also announced for the first time, that Wayne County can now receive 9-1-1 text messages.
10/8/12