2012 Family Picnic held at Elstro's...
The 2011-2012 Lions Club year came to a close with the Family Picnic on June 25. It was held at the country home of Lions Anne and Joe Elstro northwest of Centeville. Lion Joe fixed burgers and dogs on the grill while Lion Anne made everyone feel welcome. Lions and their guests brought plenty to eat with an array of desserts. Lion Joe's father, Lion Paul, spent his time playing Corn Hole.
 

Newly installed president Joe Elstro announced the Club will be participating in the Archway Days Festival in August. The Club will hold an organizational meeting in August with the new season to begin on September 10 with the annual Steak Fry.

6/25/12

 
 
Fish Fry sustains year-round projects...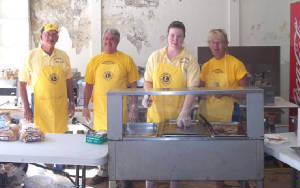 Ready to serve fish dinners at the Fish Fry are from left: Jim Howell, Phil Stevenson - J Resh photo
The 33rd Annual Fish Fry was a financial success. Friday figures were slightly above last year's event. Saturday figures were nearly 14-hundred dollars above last year.
Gross sales for both days were around 81-hundred dollars. Around four-thousand dollars in expenses have yet to be paid.
Top Fish Fry ticket seller was Tim McConaha followed by Bob Blue and Jim Howell.
6/11/12
Model T Ford Museum to open in mid-June...
Jay Klehfoth of the Model T Ford Club of America told members of the Centerville Lions Club the Model T Museum will open in Richmond sometime in June. Klehfoth and Benny Young of the Museum spoke to the club Monday evening, May 14.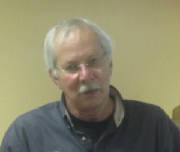 Jay Klehfoth
Klehforth said renovation of a pole barn at 309 North 8th Street in Richmond is nearing completion. He said a soft opening will occur in mid-June. He said there will be about 13 vehicles on display, although they have nineteen at the present time. That will allow for a change in the display at different times of the year. Klehforth said the oldest car will be a 1906 Model N Ford, a precurser to the Model T which came out in 1908.
Besides the display of Model T cars, trucks and other types, there will be a library for research purposes and a gift shop.
The Model T Ford Museum was previously located at Warm Glow Candles in Centerville. The Model T Ford Motor Club of America has its headquarters in Centerville.
Klehfoth is a member of the Centerville Lions Club.
5/14/12
Members briefed on diabetes...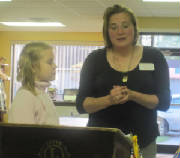 Pharmacist Carol Overstreet and her niece
Phillips Drugs pharmacist Carol Overstreet, RPH spoke to members of the Centerville Lions Club about diabetes Monday evening, April 23. Along with her 4th grade niece alongside her, she described the differences between Type 1 and 2 diabetes.
She showed how her niece copes with Type 1, which usually occurs in children, teenagers or young adults. In Type 1, the pancreas no longer makes insulin and must be treated with taking insulin and making smart food choices. It accounts for 5% to 10% of all diagnosed cases in the United States.
Type 2 is much more common with up to 95% of all diagnosed cases in the country.
Overstreet also described the signs of diabetes. A simple test by your doctor can tell you if you have diabetes.
4/23/12
Officers for 2012-2013 nominated...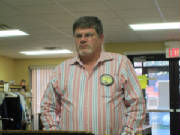 Lion president Tim Hill
The Centerville Lions Club approved a slate of officers for next year at its meeting Monday evening, April 9.
The slate: President, Joe Elstro; first vice president, Bob Hobson; second vice president, John (Jack) Farmer; secretary, Wendy Kornman; assistant, Courtney Amos; treasurer, Dennis Stephen; assistant, Phil Benedict.
Tail twister, Paul Elstro; assistant, Pam Tidrow; Lion tamer, Steve Sheckles; assistant, Tim McConaha.
Board of directors: Tim Hill and Jeff Nickell, two years; Ann Elstro and Tim McConaha, one year.
The new officers will be elected by members at the April 23 meeting and installed on June 11,
4/9/12
Librarian speaks before Lions...
Beth Treaster, Librarian of the Centerville/Center Township Public Library, spoke to the members about the Library's operation. She stated that they presently spend about $1000 a month on obtaining new books and fiction is more popular than non-fiction. She also said that library cards are available anytime and their webpage is
www.centervillelibrary.info
.
Beth also told of her project of preserving the history of Centerville and sorting the many boxes of items which were stored in the library's basement. The Library would like to preserve historic items from the Centerville community and people can turn in historic documents anytime. She passed around a picture of the Class of 1895 from Centerville High School.
Beth is a graduate of Hagerstown High School and has been the Centerville Library for several years. The Club thanked her for doing a great job at the Library. Beth also stressed the 2014 celebration of the Centerville Centennial and encouraged the Lions Club to get involved. New hours of the Library are. Mon, Wed., and Fri. from 10 am to 5 pm, Tues. and Thurs. 10 am to 8 pm, and Sat. from 10 am to 2 pm.
3/27/12
Lions learn about Alzheimers...
Curt Keltner from the Alzheimer's Association was the guest speaker Monday evening, March 12. He said that the disease is not necessarily hereditary, but seems to affect the 65 and over group. There are many warning signs that should cause you to seek medical attention and detection.

The club voted to send money to the tornado victims in southern Indiana.
The Fish fry was discussed. Lion Bob Hobson said the costs to us should be about the same as last year. Some discussion as to lowering presale tickets to $7.00 with at the door price of $7.50. This price still includes dessert.
Lion Dennis Stephen is looking into the club planting trees in Maplewood park in memory of past members who have passed recently.
3/12/12
District Governor encourages growth...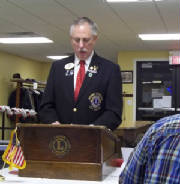 25F District Governor Steve Winegardner encouraged Centerville Lions to grow their club Monday evening, February 27. Winegardner paid an official visit to the club bringing with him his wife, VDG Sue Toft and Cabinet Secretary Richard Getts and his wife.
Winegardner encouraged the club to seek out new members, add another service project, promote youth in the area and have more club family events. He also spoke about state projects and is personal project of planting 2,000 trees in the district.
Lion Dennis Stephen presented the District Governor a $200 check for sight conservation.
During business, the club voted to donate $150 to the After Prom Committe and $100 to the Mission at the Cross in Richmond, which provided the program at the previous meeting.
2/28/12
The Centerville High School Choir entertained for the Centerville Lions Club Christmas Banquet Monday evening, December 12. They sang a variety of holiday songs.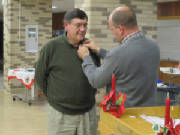 Around 44 attended the annual event at the Centerville High School Cafetorium. Dennis Stephen, who will be inducted into the club at the January 23, 2012 meeting, was presented his membership packet. His sponsor, Joe Elstro, presented him with his Lions pin.
12/12/11 (See more pictures on our Facebook page)
Long term care explained...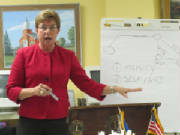 LTC specialist Nancy Frank
Long term care was explained to those attending the Centerville Lions Club meeting Monday evening, November 28. Genworth Financial Long Term Care Insurance Agent Nancy Frank, a Long Term Care Specialist, said planning for long term care actually begins when one is young. She said you're either going to need care in the future or you'll be the one providing it.
She said long term care comes from one of four sources: family, self-funding, government or insurance.
The cost of long term care, now at around $80,000 a year, is increasing at a rate of 5% per year. She said there is a two in three chance of needing long term care.
11/28/11
Lions learn that pork is big...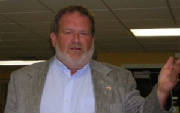 Ron Orebaugh, who runs Grand Grilling, spoke to members of the Centerville Lions Club Monday evening, November 14. He spoke about Wayne County hog production and the Wayne County Fair.
Orebaugh said Wayne County is the number one pork producer in Indiana. Indiana is the fifth largest producer of pork in the world. He said over one-thousand pigs were sold at the Wayne County Fair. Pigs even came from Florida and California. He said hogs from Wayne County end up in places like China, Japan and Germany.
Orebaugh passed on some interesting facts. He said a pig weighing three pounds will become s big as 280 pounds in six months. All organs are the same as a human... many are used to replace human organs including eyes and skin for burn victims. He said 100% of a pig is usable.
11/14/11
Halloween party is a winner...
The Community Halloween Party for the Centerville area was held Saturday October 29th in the Centerville Elementary Gym.
Sponsored by the Centerville Lions Club, the party included costume judging and prizes, along with games and the always popular cake walk.
A large crowd attended and members of the Lions Club and Leo Club helped with the party.
The purpose for the event is to provide activity for the community's youth on Halloween.
10/30/11
Changes to Centerville...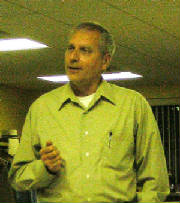 Council president Dan Wandersee
Centerville Town Council president Dan Wandersee updated members of the Centerville Lions Club on recent changes. One of the biggest changes is the annexation north to Interstate 70 which includes the new rest area, now called the Centerville Tourist Center. It also includes Warm Glow Candle, which will be expanding into the building holding the Model T Ford Museum. The museum will be relocating to the Depot District of Richmond. He said the value of this annexation is the tax base.
Wandersee also said the new Crown Creek Boulevard will be opening soon with a dedication ceremony. It will serve the UPS Distribution Center. He said UPS has purchased land east of the facility that will see 60 additional jobs.
He announced that the Blue Monkey has been sold and will become a restaurant and bar similiar to what the old "Jag's" was.
He said the police department is planning on moving into the old State Highway building on National Road east of town.
Wandersee said the town budget keeps getting smaller. The 2012 budget of $700,000 is a couple of hundred thousand dollars less than a few years ago.
10/25/11
Lion John Prall has died...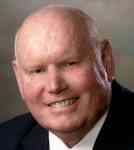 Lion John A. Prall V, age 71, of Richmond, died Tuesday, Oct. 11, 2011, at Reid Hospital.
Born June 25, 1940, in Danville, Ky., to John A. Prall IV and Dorothy Miller Prall, he lived in Richmond since 1967. John was a 1958 graduate of Parksville High School in Boyle County, Ky., earned a BS degree and a master of arts degree in education from Eastern Kentucky University. He was a teacher at Fort Knox, Ky., principal at Centerville Elementary then Rose Hamilton Elementary. John retired in 1997 after 30 years as principal for Richmond Community Schools at Crestdale, Glen Hills, Joseph Moore, Southview and Starr elementary schools. He was a member and deacon of First Presbyterian Church and former member of St. John Lutheran Church for over 30 years, holding many offices. John was a member of the Indiana State Principals' Association, Centerville Lion's Club, Stephen Minister, Good Shepherd for Richmond Reading Academy and volunteer at Reid Hospital for many years. John's life was volunteering and he never missed an opportunity to help, talk to, or care for others.
Lion John served as president of the Centerville Lions Club in 1985-86 and was a member of the board of directors at the time of his death.
Survivors include his wife of 43 years, Barbara Ellen Feltman Prall; son, J. Andrew (Jennifer) Prall VI of Fort Wayne; daughter, Jennifer (Jeff) Whisnant of Charlotte, N.C.; grandchildren, Kaitlyn, Emily, Eddie and Johnny VII; brothers, Roger W. (Vicky) of Mississippi and Thomas (Edna) Prall of Kentucky; nephew, Ashley (Melanie) Prall of Kentucky; niece, Robyn Prall of Mississippi; many close friends and a legacy of many successful students.
He was preceded in death by his father, John A. Prall IV; mother, Dorothy Miller Embry; sister, Suzanne Kaba; and nephew, Travis Prall.
Visitation for John A. Prall V will be from 4-7 p.m. Friday, Oct. 14, 2011, at Doan & Mills Funeral Home, 790 National Road W., Richmond. Funeral service will be at 10 a.m. Saturday, Oct. 15, 2011, at First Presbyterian Church, 100 N. 10th St., Richmond, with Rev. David Layman and Rev. John Place officiating. Entombment will be in the Earlham Memorial Mausoleum.
Memorial contributions may be made to: First Presbyterian Church, 100 N. 10th St., Richmond, IN 47374; or St. John Lutheran Church, 501 S. Seventh St., Richmond, IN 47374; or American Heart Association/Stroke Association, Midwest Affiliate, Memorials & Tributes Lockbox, 3816 Paysphere Circle, Chicago, IL 60674.
10/12/11
Lions learn about Civic Theatre...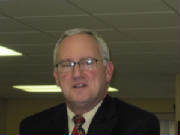 Richmond Civic Theatre General Manager Bill Strouce enlightened members of the Centerville Lions Club about the history and operation of Civic Theatre Monday evening, September 26. Strouce told about the 70 year history of the theatre.
He said three divisions now make up the organization: Main Stage (season ticket), Studio Ten and Stage One (children). Volunteers run the operation with the exception of two paid employees. He said it costs around $1,500 to put on plays and around $5,500 for musicals and can run anywhere from $8 to $10,000.
Dr. Jekyll and Mr. Hyde opens October 14. See their
web site
for details.
9/26/11
Lion Stephen formally inducted...
Lion Dennis Stephen was formally inducted into the Centerville Lions Club Monday evening, June 11. He was presented his membership packet at the Christmas Banquet in December. His sponsor, Joe Elstro, presented him with his Lions pin at that time.
Lion Dennis has also been elected to serve as Club Treasurer for 2012-2013.
6/11/12
Notes from June 11 meeting...
Several expenditures were approved by the Club on June 11.
$50 for Cadet Molly Callahan to compete in the Miss Flame Contest as a representive of Centerville Fire and Rescue.
$150 for sponsorship of a green at the Dollars for Scholars Golt Tournament September 23 at Highland Lake Golf Course.
$100 for our appreciation to our caterer.
Shirts for the Leo Club with a limit of $200.
6/11/12
Fish Fry plans finalized...
Plans for the 33rd Annual Fish Fry were completed by the Centerville Lions Club meeting on Monday evening, June 4, at the Centerville Senior Center.
The club's major fund raiser of the year will be held this year at the Centerville City Building June 8 and 9. Serving will be from 11 am to 8 pm both days. Advance tickets from Lions Club member at $8.00. Tickets at the door will be $8.50.
The dinner includes fish, hamburger, cheeseburger or hot dog with baked banes, french fries, coleslaw, drink and dessert.
A large tent will be erectd on the street between the City Building and Library for dining.
6/4/12
Notes from June 4 meeting...
The Club voted to appropriate $100 for the Centerville Summer Basketball Camp.
The Club's Annual Family Picnic will be held this year at the home of Lions Anne and Joe Elstro at 1198 West Grove Road, Centerville. Members are asked to bring a side dish and dessert to the 6:30 pm event. Meat and drinks will be provided.
Members are being asked to provide three pies (or other dessert) for the June 8 and 9 Fish Fry. It's requested they be brought to the Centerville City Building on Friday, June 8.
6/4/12
Notes from April 23 meeting...
Officers for 2012-2013 were elected by unanimous vote Monday evening, April 23. The officers will be installed at the June 11. The entire slate is listed in an April 9 story on this page.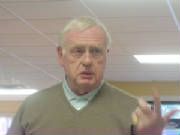 Jan Passmore
Jan Passmore of the Richmond-Wayne County Chamber of Commerce appeared before the Centerville Lions Club to thank them for supporting the county-wide sign project. The club donated $100 dollars toward the refurbishing of signs at the edge of Centerville. Passmore said over the years the signs had started to show signs of wear from the elements. He said all signs around the county have now been rehabiltated.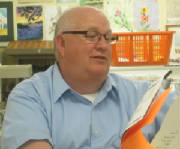 Fish Fry co-chair Bob Hobson
Fish Fry co-chair Bob Hobson told Lions the garage at the Centerville Municipal Building will not be available for the Fish Fry in June. Hobson said the garage has been filled since the offices were rehabed last year. Lions were told the Fish Fry still could be held in the street adjacent to the garage using tents. Or it could be held at the Maplewood Park, which has two shelter areas. A final decision will be made at the next meeting.
The club also approved the purchase of an over-the-street sign from A-Plus Signs for $590. The sign would be placed at the east end of town.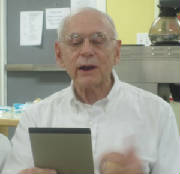 Past secretary Bob Blue
Past Secretary Bob Blue presented some figures on past Fish Fry reciepts. He said $150,894 dollars in gross sales were made during the first 20 years of the event, with a net income of $86,194. The best year for sales was 2001, when $10,236 worth of tickets were sold. The best year for profit was 2000, when the club netted $6,600.
This year will be the 33rd year for the Fish Fry. It will held on June 8 and 9.
4/23/12
Leo Club to sponsor Youth Concert...
Leo Club advisor Lion Pam Tidrow told members of the Centerville Lions Club Monday evening, April 9, the Leo Club will sponsor an Youth Concert on May 18.
It will be held at the Kehoe Performing Arts Center at Centerville High School beginning at 7 p.m. It will be a rock and roll show featuring a couple of bands and a group.
Proceeds will go toward building wells in Africa.
4/9/12
Notes from March 26 meeting...
President Tim Hill conducted the March 26 business meeting. Jack Farmer reported on the Leo Club and their concert project is still on.

Jeff Nickell reported on drinks for the fish fry and he recommended we go with Coke company. They will accept returns and also will provide a cooler free. A motion was passed to let Jeff handle the drinks.

The fish fry will be held at the City Building this year.

President Hill told about the Lions Club sign for the basketball scoreboard at the high school. For 2 years we can have a 3 ft x 4 ft sign for $650.00. After some discussion, the Club voted to purchase the sign.

Lion Jeff Nickell suggested we should pay our State Projects, which have not been paid for two years.... He moved to pay $50 each to the 9 state projects and that the checks should be sent to the District Governor. The motion was passed.
3/27/12
Lion V.P. Elstro introduces guest speaker Ron Wolf
Ron Wolf from the Mission at the Cross spoke to the Centerville Lions Club Monday evening, January 23, concerning their activities and service to others. They have a thrift store and help with clothing ministry. Mission at the Cross is located in Richmond at 1018 South E Street. Their web site is
www.hellfighters.org
.
Ron is a Centerville High school graduate.
1/24/12
Notes from January 23 meeting...
Lion Bob Hobson reported on the Fish Fry which will be held June 8th and 9th. He will obtain permission to use the Christian Church Fellowship hall again.
The club has purchased 60 new brooms for our broom sales.
Tim Hill conducted the business meeting and a $200 donatin was received from Dennis Stephen to the Lions Sight conservation project..from the Whitewater Eye Center.
LionPam Tidrow and Leo Club Advisor gave a report on the Leo Club. She said they are planning 3 projects this spring.
Twenty-three members and guests attended the Lions Club meeting at the Senior Center.
1/24/12
New members of the Leo Club inducted...
New members of the Leo Club at Centerville High School were inducted into the club during the Centerville Lions Club Christmas Banquet Monday evening, December 12. Club president Rachel Grinstead inducted the new members: Sydney Hoskins, Sara Toschlog, Amanda Pyzluka, Matt Sparks and Reile Tincher.
Club sponsor, Lion Pam Farmer Tidrow, spoke about the club's activities and invited members to attend the club's Wednesday morning meetings.
12/12/11 (See more pictures on our Facebook page)
Mother-in-law of Lion Tom Barker has died...
94 year old Mary A. Healton of Winchester died October 22 at Reid Hospital In Richmond. After services October 28 at the Walker Funeral Home in Winchester, burial followed at Fountain Park Cemetery in Winchester.
Survivors include four children including Marilyn Barker (husband Lion Tom) of Richmond and 14 grandchildren, including Robin Hill (husband Lion Tim) of Richmond; 32 great grandchildren and 11 great-great grandchildren.
10/30/11
October 24 meeting notes...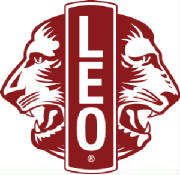 Leo Club
The Leo club has 19 members and have agreed that each member will be involved in no less than 3 events which will qualify them to get their dues paid by the Lions club. One of those events will be the up coming Halloween Party.
10/24/11
PSI IOTA XI Sorority explained...
The PSI IOTA XI Sorority was explained to members of the Centerville Lions Club Monday evening, October 10. Marie Bunch of the Centerville chapter said there are 115 chapters in Indiana. It was originally formed in Muncie, Indiana in 1897. The Centerville sorority was started sometime on or before 1939. It stands for self direction and personal growth.
The local Sorority donates to many groups some of which are the Civic Theater, Museum of Richmond, Easter Seals, Schools, Reid Hospital to name a few. The total giving of all of the Sororities in Indiana amounted to $970,000.00 this last year.

The Centerville PSI IOTA XI Sorority main project in which they have been doing for 20 years is the sales of cheese balls during Thanksgiving and Christmas.
10/10/11
Leos Club growing at CHS...
The Leo Club had 27 students show up for their 1st meeting. They are looking forward to many projects one of which is helping the Lions Club with their annual Halloween Party. The Leo Club is also wanting to plan a Talent Show at the school. They are interested in teaming up with the Green Club and plant some trees.

The are some of the perspective members who feel that they will have difficulty paying the annual dues. Club Advisor Lion Pam Tidrow asked if the club could help with this. The club set some stipulations that perspective members would have to meet for the club to pay the dues. They would be required to make a certain number of meetings and attend a certain number of Leo or Lions Club events.
10/10/11
Lions notes..

HOMECOMING PARADE
A big Thank You to Lion Joe Elstro for having a float for the Lions Club in the past Home Coming Parade.
10/10/11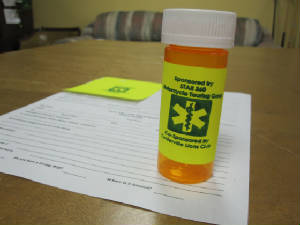 The Vial of Life was distributed to members of the Centerville Lions Club Monday evening, September 26. The program was approved by the Lions club on April 25 when Lion Phil Benedict made the proposal to the club to help sponsor the program with the STAR 360 Motocycle Touring Club.
Individuals list their insurance, medications, medical history, allergies and contacts including doctors which is placed in a vial that is kept in refrigerators at home and in automobile glove compartments. In emergencies, EMTS know where to look for the information.
9/26/11
Lion Nickell's father dies...

Ronald H. Nickell of Richmond died Thursday, August 18, 2011 at Reid Hospital. The father of Lion Jeff Nickell, he was 75. He retired from Dana Corporation in 2003 after 45 years. A 32nd degree Mason, he was a member of Webb Lodge 24.
Besides his son Jeff, he is survived by his wife, Shirley, another son, John of Avon, two grandchildren and a nephew.
Services will be Monday morning at 10 at the Doan and Mills Funeral Home in Richmond, where friends may call Saturday from 4 to 8 p.m. Burial will be in Crown Hill Cemetery in Centerville.
8/19/11.
Full obituary at Palladium-Item newspaper.
Club drops two meetings in January and February...
Lions will have two meetings during January and February this winter. The board of directors, at the club's annual organizational meeting Tuesday evening, August 30, voted to drop the first meeting of the month for January and February. Inclement weather was cited as reason for the action. In February, Lion Jim Howell suggested suspending all meetings during January and February. But the board felt that was too long a period of time not to meet. The action means there will be meetings on January 23 and February 27.
In other action, the board approved the Halloween Party for Saturday, October 29; Community Awards Banquet for April 9; and the Fish Fry for June 8 and 9, 2012.
Lion Tim McConaha will be in charge of the Christmas Banquet on December 12. And Lion Paul Elstro will again head up the season opener Steak Fry on September 12.
The meeting was held at the home of Lion President Tim Hill.
(Note: Scheduled meetings are listed in Upcoming Events in the second column of this page.)
8/31/11
Steak Fry opens 68th Year...
Around twenty members and guests enjoyed the Centerville Lions Club Steak Fry Monday evening, September 12th. Held at the Log Cabin behind the Mansion House, the dinner included steaks, augratin potatoes, slaw, peach crisp and drinks. The dinner was made again this year by Lion Paul Elstro's wife, Marie.
After a short business session led by President Tim Hill, many retired to the Mansion House for some card games.
9/12/11