June 13th notes from the club...
Club treasurer Kevin Sparks reported to the club Monday evening, June 13, that the fish fry receipts will run around 35-hundred dollars after bills are paid.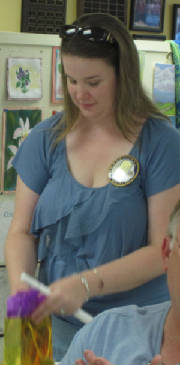 Lion Secretary Wendy Kornman presented from the club a gift certificate to Shafer Pottery in Centerville to outgoing president Anne Elsto. Anne was the first female president of the Centerville club.
She will now serve a two year term as a member of the board of directors. Her husband Joe was installed as first vice president and will be president next year.
Mother of Lion Felker dies at 98...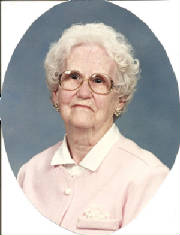 MAUDE C. FELKER, 98, passed away May 28, 2011 at Hope Hospice, Highlands Regional Medical Center in Sebring, Florida. A resident of Frostproof, Florida at the time of her death, Mrs. Felker was born November 25, 1912 in Ft. Branch, Indiana.
For over 20 years beginning in 1943, Mrs. Felker and her now deceased husband, William Felker, farmed their property on Millersburg Road, McCutchanville, Indiana. She later moved to Evansville and then to Lebanon, Indiana where she worked for 10 years at the Indiana Methodist Children's Home. She lived in Centerville, Indiana a number of years before moving to Richmond, Indiana to reside at Inter-Faith Apartments. In 2001 she moved to Frostproof, Florida to be near her daughter. While in the Evansville area, Mrs. Felker was very active in Eastern Star, Daughters of the Nile, White Shrine and was Mother Advisor of the Rainbow Girls. She also had been a Four-H leader for over ten years at Evansville. She was a member of McCutchanville Methodist Church and later a member of Centerville United Methodist Church and First United Methodist Church of Frostproof.
Survivors include her son, William H. Felker (Linda) of Richmond, Indiana, her daughter, Carole McDonald (William) of Frostproof, Florida; grandson, Mark Felker (Kellie) of Birmingham, Alabama; and granddaughters, Karen Burdette (John) of Centerville, Indiana, Lori Snow (Rick) of Yarmouth, Maine, and Jill Byrne of St. Cloud, Florida, and 8 great grandchildren.
A family memorial service was held July 26 at Parklawn Cemetery in Evansville, Indiana. Memorials may be sent to Indiana United Methodist Children's Home, Inc., P.O. Box 747, Lebanon, Indiana 46052-0747.
Canals and byways...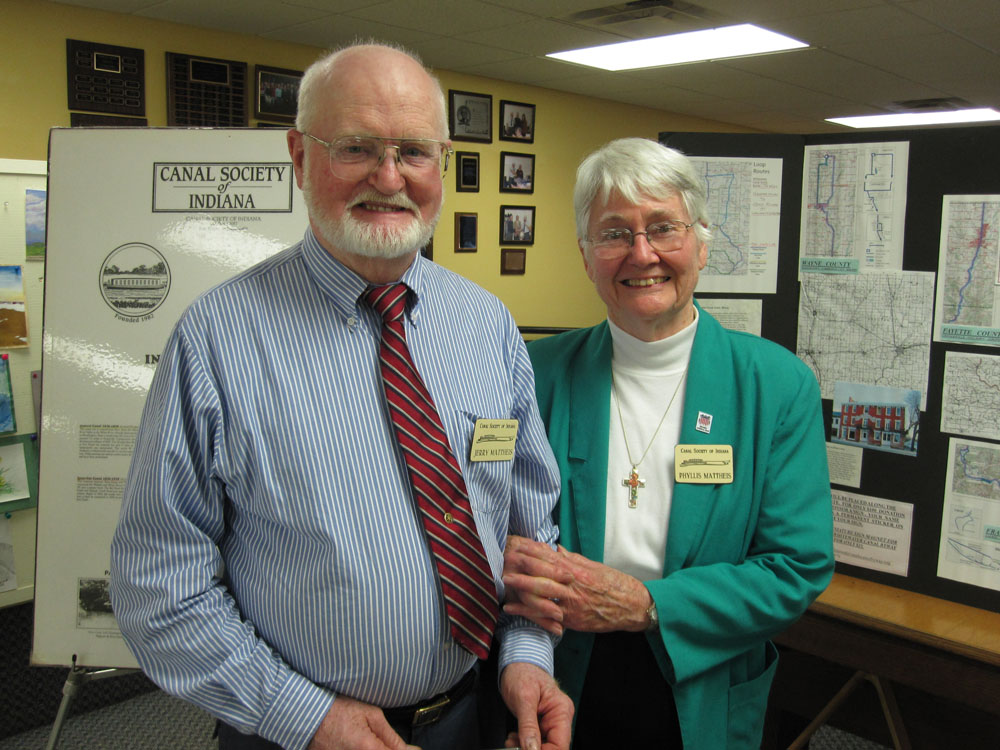 Phyllis and Jerry Mattheis of Cambridge City talked about canals and scenic byways in southeastern Indiana at the Centerville Lions Club meeting on May 9. They were introduced by Lion Jim Resh, the brother of Phyllis.
They represented the Canal Society of Indiana and the Whitewater Canal Scenic Byway. They said there are three scenic byways in the area. They spent a lot of time describing how the Whitewater Canal was utilized. Beginning in Cambridge City, with a branch to Hagerstown, it extended down to Lawrenceburg, Indiana, after going through part of southwestern Ohio around Harrison. The Whitewater Canal was only one of a series of canals either built or planned in the early 1800s. But, the railroad put an end to the canals even before some of them were completed.
5/9/11
Notes from your club...
Lion Pam Tidrow has been named the new advisor for the Leos Club at Centerville Senior High School. Lion Pam was a Leo when in high school at Centerville and shortly after graduating became the first female member of the Centerville Lions Club.
The club approved a $50 donation to the National Kidney Foundation.
Lion Steve Sheckles was recognized for his work with Richmond Power and Light as he led a team of employees and trucks to help out restoring electric power to the Chattanooga, Tennessee area.
It was announced that Past District Governor Jack Buckland will install new officers on June 13.
And the Family Picnic will be held June 27 at the home of Lion Phil Benedict.
5/9/11
Officers elected for next year...
Officers for 2011-2012 were elected by members of the Centerville Lions Club Monday evening, April 25.
Tim Hill will become president with Joe Elstro and Bob Hobson as first and second vice presidents.
Wendy Kornman and Courtney Amos will continue as secretary and assistant secretary. Kevin Sparks will continue as treasurer and Tim McConaha will be assistant treasurer.
Other officers elected: Lion Tamer Steve Sheckles and assistant Phil Benedict. Tail Twister will be Paul Elstro assisted by Jack Farmer.
Board members: Anne Elstro and Kevin Sparks for two year terms; one year, John Prall and Mark Robbins.
The officers will be installed during the June 13 meeting.
4/25/11
Community Awards to be presented...
The Centerville Lions Club will present its Community Service Awards at its meeting Monday evening, April 11. Chair Jim Howell said his committee has been working very hard to complete plans for the event. It was not held last year.
Lion Howell said two members of the community will be presented with Community Service Awards. And one Centerville Lion will receive an Outstanding Lions Award.
The dinner meeting will be held at the Senior Center this year. It begins at 6 pm with a social time with dinner to begin at 6:30.
4/4/11
Notes from March 14 meeting...
Tim Hill reported on the fish fry tickets...they will not be printed until Jeff finds out how much things will cost this year.
Jim Howell reported on the Apr. 11th Awards Banquet and he would like to see at least 50 members and guests from the Lions Club attend also.
The club voted to donate $100 to Community in Schools project at Centerville.
Lion president Anne Elstro read a letter from Mary Slonaker who invited members to attend the Single G night at the Indiana Pacers game the end of March in Indianpolis. Single G will be honored at halftime.
3/11/11
February 28 meeting notes...
Lion President Anne Elstro read a letter from Lion Jack Salsbery on the Vision Screening
Program. Lion Jack Buckland said he has vision screening equipment and with a few dayw notice can get a team together and is willing to help schools do their vision screening for pre school, 3rd and 8th grades.

Lion Tim Hill will be the Chairperson for the Fish Fry and will get the tickets printed.

Lion Jeff Nickels said he is willing to bring his antique tractor to the fish fry for people to see. Further discussion on doing this will take place at a later date.
3/7/11
Attendance down...
Attendance at recent meetings have been disappointing. Only 12 members turned out for the February 14 meeting. Several members spend the winter in Florida and the area has been hit with unusual winter weather this year. Lion Jim Howell suggested the club consider suspending meetings during January and February next year. No action was taken.
Vice president Tim Hill conducted the meeting in the absence of president Anne Elstro, who was ill.
The Club did approved a $100 expenditure to the After Prom Party at the high school this year. No action was taken on on helping to secure a new drug dog for the Sheriff's Department.
2/14/11
Jerri's Catering to continue to serve Lions...
Jerri Chiles announced to the Centerville Lions Club Monday evening, January 24, that she is closing her catering business. But she reassured the Lions that she will continue to serve them.
Jerri has been in the catering business for a long time, serving groups and organizations in the Richmond area.
1/25/11
Program presenter fails to show...
Lions were expecting to hear a program on the Reid Hospital Acute Rehab Unit Monday evening, January 25, but the program presenter failed to show up. It's not the first time the club has been without programs this year; a problem that started this year.
Lion Phil Benedict talks to Lions about reservations
Lion Phil Benedict spoke to members about making reservations while he is in Florida for the next couple of months. Although it was cold and snowy Monday evening, 17 members attended the meeting.
The Club voted to donate $500 to Hope House, which has been experiencing funding problems. And they approved $150 for the Indy Thunder Blind Baseball team, which presented the program two weeks ago.
1/25/11
Notes from Centerville Lions Club...
Lion Allan Spencer is recuperating from his illness and hopes to be up and about soon.
Lion Bob Blue's wife Evelyn remains at Arbor Trace recuperating from a broken hip and ankle.
Lion Mike Poynter's wife Sherry is still waiting on test to get finished to see if she will need surgery.
Lion Courtney Amos is recuperating from having a plate put in her arm.
Keep all these Lions Family members in your thoughts and prayers.
1/10/11
Lion Bob Blue presented his slide and sound presentation of
An American Adventure
at the Centerville Lions Club Ladies Night Monday, December 13. Blue shows his slides on three screens along with music. His latest show included scenes from around the country, including a trip through the western United States, with a little Christmas music added for the event.
Blue, a retired banker, has had photography as a hobby and has made presentations to area groups through the years.
12/13/10
Centerville Lions entertain at Halloween party...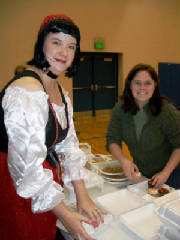 Club president Elstro and event chair Tidrow
The annual Community Children's Halloween Party was held Saturday October 30th in the Centerville Elementary gym with 150 persons attending. Over 12 members of the Lions Club helped with the party and served refreshments. Lion
Pam Tidrow served as chairperson. Each child dressed in costume received a cash prize and winners in the judging contest received ribbons. Children enjoyed many games and the annual cake walk.
10/30/10
Father of Lion Jill Moore passes away...
Canandaigua, NY. - John D. Dresser, age 78, of Holiday Harbour died, Thursday, September 9, 2010 at FF Thompson Hospital. He is survived by his wife of 52 years, Betsy Dresser; two children, Jill (Robert) Moore and Mark (Debra)Dresser; four grandchildren, Kate, Sarah, Brian, and Daniel; two sisters, Marilyn (Stewart) Turner and Janice (Richard)Sills; brother, James (Mary Jane) Dresser; sister-in-law, Marilyn Dresser; many nieces and nephews. He was predeceased by his brother, William Dresser. Mr. Dresser was a US Army Veteran of the Korean War. He was a volunteer at the VA Medical Center and Sonnenberg Gardens. Mr. Dresser retired in 1998 after 23 years as owner and operator of the Trail Break Motor Inn in Fairport. There will be no calling hours. Services are private. In lieu of flowers, memorial contributions may be made to the Sands Cancer Center, 360 Parrish St., Canandaigua, NY 14424. Arrangements by the Johnson-Kenendy Funeral Home Inc., Canandaigua.
9/13/10
Congratulations Bob Blue...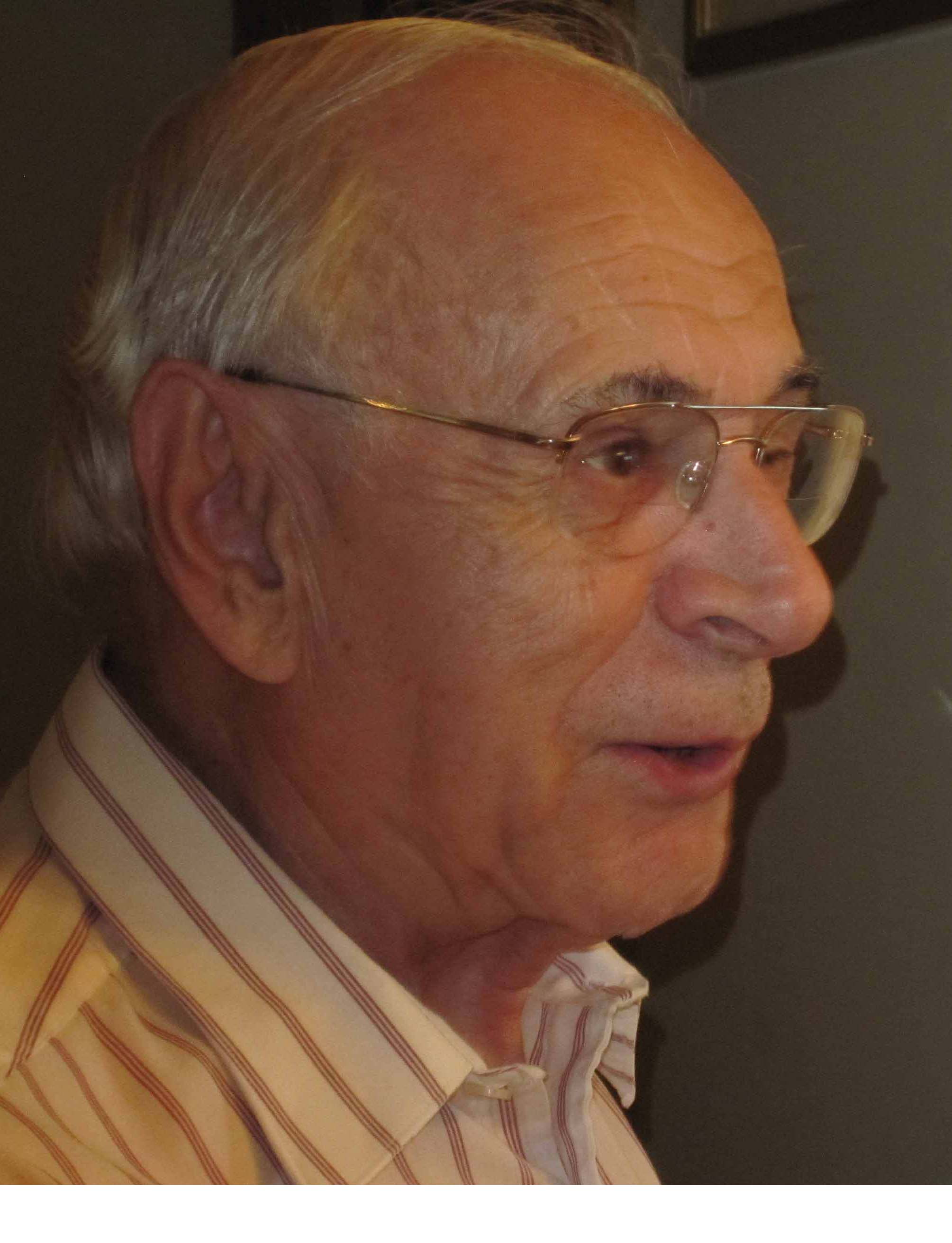 Lion Bob Blue, who knows a little about money, was the Top Fish Fry Ticket Seller for 2010. A retired banker, Blue led Lions with $381 dollars in ticket sales. The Club netted over 34-hundred dollars from the two day event.
8/23/10
Jerome Swim talks about Adopt-A-Highway...
Jerome Swim, Operations Manager for the Cambridge City Subdistrict of the Indiana Department of Transportation (INDOT), spoke about Adopt-A-Highway before the Centerville Lions Club on Monday evening, October 25. He then answered questions about the new subdistrict garage at Cambridge. He told about their operations and how they handle the highways in this area. President Anne Elstro introduced him.

Lion Pam Tidrow told about the Halloween party scheduled for October 30. She passed around a signup sheet for all members. Set up is Friday and the party is Sat. from 6:30 to 8:30 in the Centerville elementary gym.

Lion Treasurer Kevin Sparks said State and International dues have been paid.

The Christmas in Centerville night was discussed and the Lions will sell tickets for the carriage rides this year. Lions may have a float in the parade also.
10/26/10
INDOT program to be presented October 25...
Due to last meeting being Columbus Day, Jerome Swim of the Indiana Department of Transporation did not present his program on "Adopt a Highway." He has been rescheduled for Monday evening, October 25.
Program chair Jill Moore reports that Melinda Frech of the Community Blood Center cancelled for Monday evening due to the Leos Club cancelled out of the Blood Drive that is scheduled for November 15. However, the Christian Church will be sponsoring the drive instead.
Lion Moore said the Leo Club will not be meeting for the remainder of the year.
10/21/10
Lions hear about membership and projects...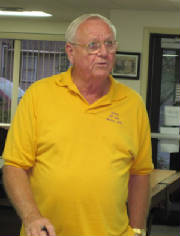 District 25F Membership Chair Tom Slattery and District 25F Retention Chair Jean Acre paid an official visit to the Centerville Lions Club Monday evening, September 27.
Slattery talked briefly about the Lions Eye, Eye Bank, Cancer, Speech and Hearing programs and the Indiana School for the Blind.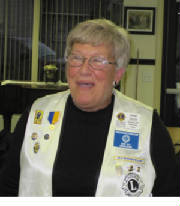 Acre talked about membership retention, highlighting the five I's: Identify, Invite, Inform, Induct and Involve.
Acre, from the Greensburg Lions Club, told members to identify persons in the community you would like as members. Inform them of what you do in the club. Then invite them to become a member. Induct them into membership. And then involve them.
9/27/10
Lions Jim Resh, Garrett Roberts & Jim Howell
Centerville Lions gave away water to thirsty Archway Day goers this weekend (August 27, 28 & 29).
The Saturday afternoon parade was led by Grand Marshall Jackie Carberry.
8/29/10
Organizational meeting held...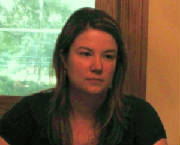 Lions Club President Anne Elstro
The Community Awards Program is coming back. At its organizational meeting Monday evening, August 23, the board of directors reinstated the long held program that was not held last year. It will be held on April 11, 2011.
The board, conducted by newly installed president Anne Elstro, approved several activities and set the dates for other programs during the year.
The Club will be sponsoring a Water Tent at Archway Days this coming weekend and assisting Archway Days with the Dunk Tank and Inflatables for Kids. Volunteers are needed for the Water Tent on Saturday, August 28 from noon to 4 and 10 to 5 on Sunday, August 29. Volunteers are needed from 10 to 1 and 1 to 4 for the Dunk Tank and Inflatables on Saturday. Please let Lion Anne Elstro know when you can work these events by calling and leaving a message at 765-855-0906.
The annual Community Halloween Party was set for Saturday, October 30. The Christmas Banquet will be held on December 13.
The annual Fish Fry will be held Friday and Saturday, June 3 and 4, 2011.
Nominations for officers for 2011-2012 are due at the March 28, 2011 meeting. Officers will be elected on April 25 and installed on June 13.
The Family Picnic will be held in June of next year, with the date to be determined.
Zone A Chair Mark Harris, his wife Judy and his guide dog Callie were guests at the meeting.
8/23/10