Leos elect officers...
The Centerville High School Leos Club has elected officers for next year. They are Natalia Liu, president; Sierra Bunch, vice president; Austin VanBastelaer, treasurer; and Nicole Orsborn, secretary. They will be installed at an upcoming Lions Club meeting.
The club, sponsored by the Centerville Lions Club, will meet on May 19th to discuss activities during the summer.
5/11/09
Committee changes Fish Fry date...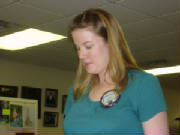 2nd V.P. Anne Allen
The Fish Fry Committee has changed the date of the Annual Fish Fry from the second weekend of June to June 19 and 20. Committee spokesman Phil Benedict attributed the change due to several members of the committee being unable to be available during the second weekend.
Ticket prices remain the same as last year: $6.60 advance sales and $7.50 at the door. The public may call 765-967-1296 for advance tickets or see any member of the club.
The complete meal will consist of Fish, hamburger or cheeseburger, hot dogs, baked beans, french fries or hush puppies and drink. Dessert will be extra..
The Fish Fry will be held again at the Centerville Municipal Building at 204 E. Main Street from 11 a.m. to 8 p.m. each day.
The April 27 meeting was conducted by 2nd vice president Anne Allen in the absence of Lion president Mark Robbins, who was ill.
4/27/09
Lions approve expenditures...
With icy, inclement weather, only twelve members turned out for the February 23 meeting of the Centerville Lions Club. The club did approve a couple of expenditures.
$495 was allocated to the Centerville Volunteer Fire Department to purchase a new, complete dress uniform in memory of Lion Charlie Killen. Killen served as fire chief for many years.
The club also voted to donate $250 to the Circle U pantry in Richmond.
In other business, Lion Robert Moore report the Leo Club at Centerville High School will hold a "Senior Prom" for seniors April 18 at the school. Lion Wendy Kornman read a leetter from Camp Woodsmoke stating that March 14 will be Cleanup Day at the camp. All members are invited to help at the camp. Lion Jim Howell, chair for the annual Community Awards Banquet, reported plans are moving along for the April 14 event. Cost of the meal will be $11.00. Leos are also being invited. Howell also said the new golf cart in in and the logo looks great with new signs on it. The cart will be used at school functions to transport the elderly and disabled.
The Club was advised the Economy Lions Club will celebrate its 50th anniversary on April 28 with a banquet at the West River Friends Meeting. Cost is $10 each and members of the Centerville Lions Club are invited to attend.
2/23/09
Leader Dog visits Lions Club...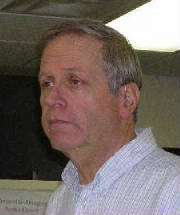 Richmond Lion Mark Harris tells about his Leader Dog Callie
Leader Dog Callie brought her master Lion Mark Harris with him to the Centerville Lions Club meeting Monday evening, February 9. Harris, a member of the Richmond Lions Club, explained the process of learning each other at the 30-day training school.
The 40 year old Harris and his wife, Judy, have one other dog and a cat at home. He said they all get along great. He went into detail of what the training entailed and many of the types of moves Callie does for him. Most important is having trust in the dog.
Lion Harris handed out information on how to approach a blind person with a leader dog. Such as "Do not pet a dog in harness". "Ask the owner's permission before touching the dog or making eye contact". "Approach the person on the right side as the Leader Dog is usually on the left." "Speak to the person, not the dog."
2/9/09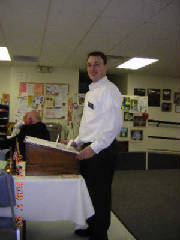 Assistant president Kevin Sparks conducts meeting
President Mark Robbins, Secretary Wendy Kornman and Treasurer Jeff Nickels were absent from the February 9 meeting. Filling in for them were Assistant President Kevin Sparks, Assistant Secretary Courtney Amos and Assistant Treasurer Phil Benedict. Lion Benedict, who heads for Florida this coming week, said, "Sounds like a lot of filling to me."
There were 24 Lions and guests at the dinner meeting, catered by Darlene Robbins and Linda Erk.
2/9/09
Snowbirds from Centerville Lions...
Several Centerville Lions are spending some time in Florida this winter. Lions Tom Barker, Carl Orsborn, Bill Felker, Allan Spencer and Phil Benedict are among Snowbirds scattered throughout the Sunshine state.
Lion Felker visited the Frostproof Lions Club Tuesday evening (January 13). They meet at the Orange Box Cafe on U.S. 27. President Paul Huntzelman said they only have ten members, but are a very active club. They are planning on selling orange juice at the
Florida Flywheelers
22nd Annual Antique Engine & Tractor "Swap Meet" January 14, 15, 16 and 17. That is one of several fund raisers at the Flywheelers events.
1/13/09
DG Goldman pays official visit...
25F District Governor Merle Goldman made an official visit to the Centerville Lions Club on January 26. He spoke of the many district meetings along with some of the projects.
Also speaking was Vice District Governor John Scott who touched on the emergency preparing kit which every family should have.
A member of the Nora Lions Club since 1982, Goldman served as its president in 1996. He is recipient of the Melvin Jones Award in 1998 and W.P. Woods Award in 2000. A teacher at the Indiana School for the Deaf from 1950 to 1993, he earned a Bachelor of Arts degree from Lynchburg College and Master of Science from the University of Tennessee. He and his wife, Nancy, have three sons.
Lion Robert Moore, subbing for his wife Lion Jill, reported on the Leo Club. He said they are again planning a Senior Dance for this spring.
1/26/09
Lions hear about girls basketball...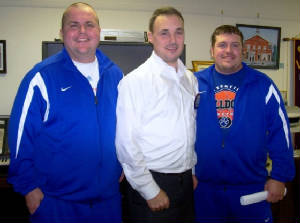 Tracey Crull, Program chair Kevin Sparks & Jason Searcy
Assistant Centerville High School girls basketball coach Tracey Crull spoke before the Centerville Lions Club Monday evening, January 12. He said the team has done well this year, winning the Wayne County Tourney last weekend at Hagerstown. He said they are looking foward to the sectional coming up in a couple of weeks. Also attending was head basketball coach Jason Searcy who said they were thrilled with the tourney win.
Crull also told of a fund raiser with Indianapolis professional teamsk such as the Pacers in which they raised around $1,000 for the team. He suggested members of the Lions Club could also raise money by selling refreshments there.
Club president Mark Robbins conducted a moment of silence in memory of Lion Charlie Killen who passed away last week.
Lion Phil Benedict was named Communications officer. He will be in charge of notifying members of meetings. The club also accepted the resignations of Nick Aughe and Roger Keep. That brings membership to 39.
Community Award chairman Jim Howell announced he would like nominations by January 31. The Award Banquet is April 13.
1/12/09
Mother of Lion McConaha dies...
92 year old Elinor L. McConaha of Centerville died Wednesday, January 28. She was the mother of Lion Tim McConaha. Visitation for Elinor L. McConaha will be from noon-2 pm, Saturday, Jan, 31, 2009, at Mills Funeral Home, 405 E. Main St., Centerville. Funeral service will be Saturday at 2 p.m. at Mills Funeral Home with Rev. Laura Altman officiating. Burial will be in Crown Hill Cemetery.

Memorial contributions may be made to Adult Day Care of Richmond, 2727 E. Main St., Richmond, IN 47374; or Centerville Senior Center, 111 S, Second St., Centerville, IN 47330.
1/30/09
Lion John Sperling dies...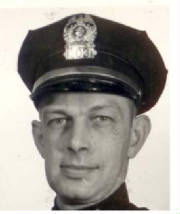 John Frederick Sperling, 85, of Richmond, died Monday, Aug. 24, 2009, at Friends Fellowship Community. He was born in Richmond, Ind., on Aug. 20, 1924, to parents the former Wayne County Sheriff Carl and Ruth M. Heitbrink Sperling. John retired from the Richmond Police Department on Jan. 1, 1968, with 22 years of loyal and distinguished service. He began his duties as a police officer Dec. 1, 1946. He spent 10 years as a radio operator. His radio service was followed by regular patrolman duties. He then served as records clerk and city court bailiff. John went to work at Richmond State Hospital in Jan. 1969, and retired on Feb. 3, 1984.
John was an Army veteran of World War II. He was a Corporal serving as a clerk in the 3rd Reinforcement Battalion in the European Theatre. He earned a Bronze Star, Good Conduct Medal and Victory Medal. John was a lifetime member of the Fraternal Order of Police. He was a 53-year member of the Richmond Lodge F. & A.M. of Indiana 196. He was a long time member of the Order of Eastern Star Loyal Chapter 49, Centerville Lion's Club and Harry Ray American Legion Post 65. He was a 54-year member of the Central United Methodist Church.
John was preceded in death by his parents; wife, Edith Gross Sperling; infant twin sons, Robert and Roger Sperling; and daughter, Anne E. Sperling. John leaves behind several cousins; extended family and friends.
Funeral services were at 10 a.m. Friday, Aug. 28, 2009, at Stegall-Berheide-Orr Funeral Home in Richmond. Burial was in Earlham Cemetery with military rites by the Wayne County Veterans Honor Guard. Memorial donations may be made to the following: Central United Methodist Church, 1425 E. Main St., Richmond, IN 47374, or the Reid Hospital Foundation where the need is greatest, 1100 Reid Parkway, Richmond, IN 47374.
8/28/09
Lion Charlie Killen has died...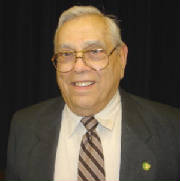 Centerville Lions Club oldest member has died. Charles L. Killen, who was 83, died Wednesday morning, January 7, at Pinehurst Nursing Home. Charlie joined the club on April 29, 1958 and served as president in 1962-63. He was recognized for 50 years membership at the club's April 14, 2008 meeting. He was recipient of the Community Award in 1988 and again in 1996 with his son Gary.
Killen was hospitalized in mid-December; then transferred to Pinehurst for therapy. His son, Gary, said on January 5 that his father suffered a couple of seizures and a possible stroke.
Survivors include his son, Gary and daughter, Pam (Killen) Lamb-Johnson, several grandchildren and great grandchildren. He was preceded in death by his wife, JoAnn Killen, in 1994.
Visitation will be Friday from 4-8 p.m. at the Centerville Christian Church where he was a member. Masonic and Scottish Rite services will be conducted at 7 p.m. Members of the Centerville Lions Club will meet at 6:30 p.m. Services will be held Saturday at 2 p.m. at the church. Burial will be in Crown Hill Cemetery in Centerville.
He had been active in many communty projects including Archway Days Festival each August, Centerville Music Boosters, Centerville Bicentennial Celebration in 1976, Christmas in Centerville, Promote Centerville, Inc., and was a 50 year member of Hiram Masonic Lodge #417 in Centerville and Indianapolis Scottish Rite.
He was fire chief for 20 years of his 28 years with the Centerville Volunteer Fire Department and was past president of the Wayne County Fireman's Association.
He owned and operated Killens Service Center in Centerville since 1957.
1/7/09
New Lion year begins with a new caterer...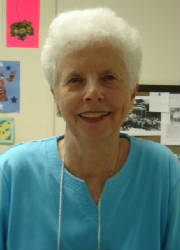 Jeri Childs of Jeri's Catering
The 2009-2010 Lions year began Monday evening, September 28, with a new caterer. Jeri Childs of Jeri's Catering Service in Richmond will be serving some of the meals this year. Child's is sharing the duties with Darlene Robbins and Linda Erk, who have served meals for the past couple of years.
Pork Chop Charley will provide the Christmas Banquet dinner on December 14. He will be retiring following the dinner.
9/28/09
Former club president dies...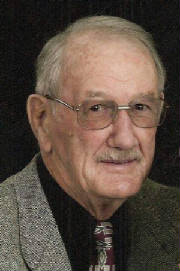 86 year old Arthur R. "Pete" Blansett of Richmond died Saturday (Dec. 5) at Reid Hospital. He had been a member of the Centerville Lions Club for many years serving as president in 1990-91.
Blansett is survived by a daughter and two sons, five grandchildren, nine great grandchildren and a sister. His wife, Betty, died in August of 2008.
Services will be Friday at 10 a.m. at the Mills Funeral Home in Centerville, where friends may call Thursday from 5-8 p.m. Burial will be in Crown Hill Cemetery in Centerville with military honors.
12/6/09
Exchange student speaks before Lions Club...
Katy Temple, a Spanish student and a senior at CHS, she attended a 7 week student visit with a family in Valencia, Spain. She also attended a school while there and visited several important places, including Cathedrals and Roman Ruins. She travels with about 20 other Indiana spanish students.
The Lions Club helped to support her trip.
10/9/09
Hope House explained to Lions...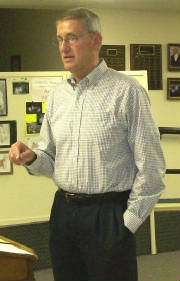 Pastor David Layman, a member of the board of directors of the Hope House Adiction Recovery Center, spoke to members of the Centerville Lions Club Monday evening, October 26. Layman said Hope House was begun in 2001 and continues to provide innovative recovery and rehabilitation to homeless, needy or alcoholic dependent persons.
Layman is also pastor of the First Presbyterian Church in Richmond. John Prall was program chairman.
President Kevin Sparks conducted the business meeting. The annual Halloween party was discussed and set up will begin at 3 pm on Saturday. The party is from 6:30 to 8:30 pm in the elementary gym.
Jim Resh announced about the Lions Christmas Banquet set for Dec. 14th at 6 pm in the Centerville High School Cafetorium. The Richmond Community Orchestra will entertain. Dinner will be served by Pork Chop Charlie and cost is $13.00 each.
Twenty three members attended the meeting.
10/26/09
Lion Charlie Killen died back in January. His son Gary gathered his dad's Lions Club pins and other memorabilia and asked Lion Phil Benedict what he could do with them. Lion Phil constructed a shadowbox and put the items, dating back through Killen's 50 year history with the club, in the box. Benedict will present the shadowbox to Killen's family during the Christmas Banquet on December 14.
9/15/09
Father of Lion Golden dies...
John Paul Golden, 76, of Centerville, died Wednesday, September 9, at Reid Hospital. He was the father of Lion Phil Golden.
John was founder and president of Golden Manufacturing.
He is survived by his wife, two sons and two daughters, eight grandchildren and five sisters.
Services will be Sunday at 4 p.m. Christ Presbyterian Church where friends may call beginning at 2 p.m. Burial will be in Greens Fork South Cemetery. Mills Funeral Home in Centerville is in charge of arrangments.
9/11/09
Steak Fry opens new Lions Club year...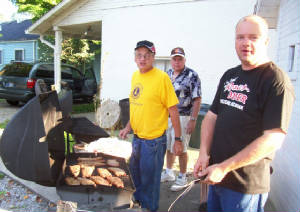 The new Lions Club year began with the annual Steak Fry Monday evening, September 14. It was held again at the old Log Cabin Courthouse behind the Mansion House on East Main Street. In the absence of President Kevin Sharp, Lion Phil Benedict presided with around 24 Lions and guests attending.
With the treasury at a near all-time low, the club voted to discontinue the Community Awards program next spring and hold it every two years beginning in 2011. The club also decided to discontinue handing out candy bags at the Halloween Party in October. The Club also may vote later to present only one $400 scholarship next year.
Secretary Wendy Kornman handed out attendance awards and presented outgoing President Mark Robbins with a clock.
It was announced that the Richmond Lions Club will celebrate it's 85 anniversary with a dinner and program on October 3rd at Lingle Hall in Reid Hospital at 5:30 p.m. Reservations are requested and should be in by September 20th.
9/15/09
Young Adult Cancer Survivor Program...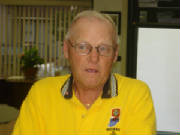 Lions Cancer Control Trustee Paul Shane
Centerville Lions learned of a new Indiana Lions program at its meeting Monday evening, September 28. Lions District 25F Cancer Control Trustee Paul Shane said the the Indiana Lions Cancer Control Fund has created a $750,000 endowed professorship in cancer survivorship. It would allow for the hiring of a new Indiana University doctor to serve as the program's leader.
Shane said the program would allow the IU Simon Cancer Center to address the needs of young people - specifically those 18-25 - who, as a whole, are in need of continuing care. It would also be available for other ages. He said many survivors have ongoing symptoms that are a result of their treatments and must be addressed in order for a good quality of life to be restored.
$90,000 have been raised so far.
(For more information, contact: Amber Kleopfer Senseny, Senior Associate Director, Major Gifts; Indiana University Melvin and Bren Simon Cancer Center, Office of Gift Development; 317-278-4510 or 800-643-6975;
akleopfe@iupui.edu
)
9/28/09
Sister of Lion Spencer dies...

Funeral services for 70 year old Marilyn Kay Williams of Portland, Indiana were held Wednesday morning, May 12. She was the sister of Lion P. Allan Spencer of Centerville. She died after a lengthy battle with cancer Saturday morning at the Jay County Hospital.
She and her husband, Edward N. Williams, who survives, owned and operated Williams Auto Parts, where she served as secretary. She is also survived by another brother, a son and daughter, her mother-in-law, four grandchildren and nieces and nephews. Burial was in Green Park Cemetery in Portland.
District and Vice District Governors visit Centerville Club...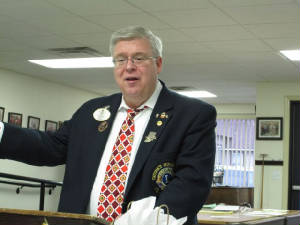 District Governor John Scott
25F District Governor John Scott of Indianapolis, accompanied by Vice District Governor Ray Hawkins of Greenfield, paid an official visit to the Centerville Lions Club Monday evening, April 26. Both were accompanied by their Lion wives.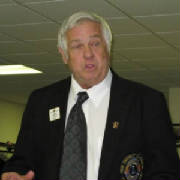 Vice District Governor Ray Hawkins
Scott spoke to the Lions about the State Convention last week. He urged the club to bring in at least two new members this year to help stave off the trend of declining membership in the district. The district lost 35 members last year, although it remains the largest district in the state with 1,876 members. The Centerville Club initiated one new member last year, but lost one, remaining with 37 members.
Nationally, Lions Clubs have seen a 24,000 membership increase.
4/26/10
Former Centerville resident speaks to Lions...
Former Centerville resident Eddie Miller spoke to members of the Centerville Lions Club Monday evening, March 8, about being and staying healthy. Miller, who lives in McCordsville and runs a landscaping service, is a 1981 graduate of Centerville High School.
Miller, who once weighed 430 pounds, had bariatric surgery. He now weighs 180 pounds. He continues to exercise and lives a good life by counting calories. He's a spokesperson for St. Francis Hospital and has been on TV and billboards around Indianapolis.
Miller presents talks around the state on hehalf of the hospital. He was introduced by Lion Jeff Nickell.
The Club voted to sponsor a Centerville Youth League Team if members will support it. Members will be able to donate at the next meeting.
It was announced the Leo Club will sponsor a Community Dance at the high school on April 24 at 6:30 p.m. It will be open to the public.
28 members and guests attended the meeting.
3/8/10
Members hear about Internet crime...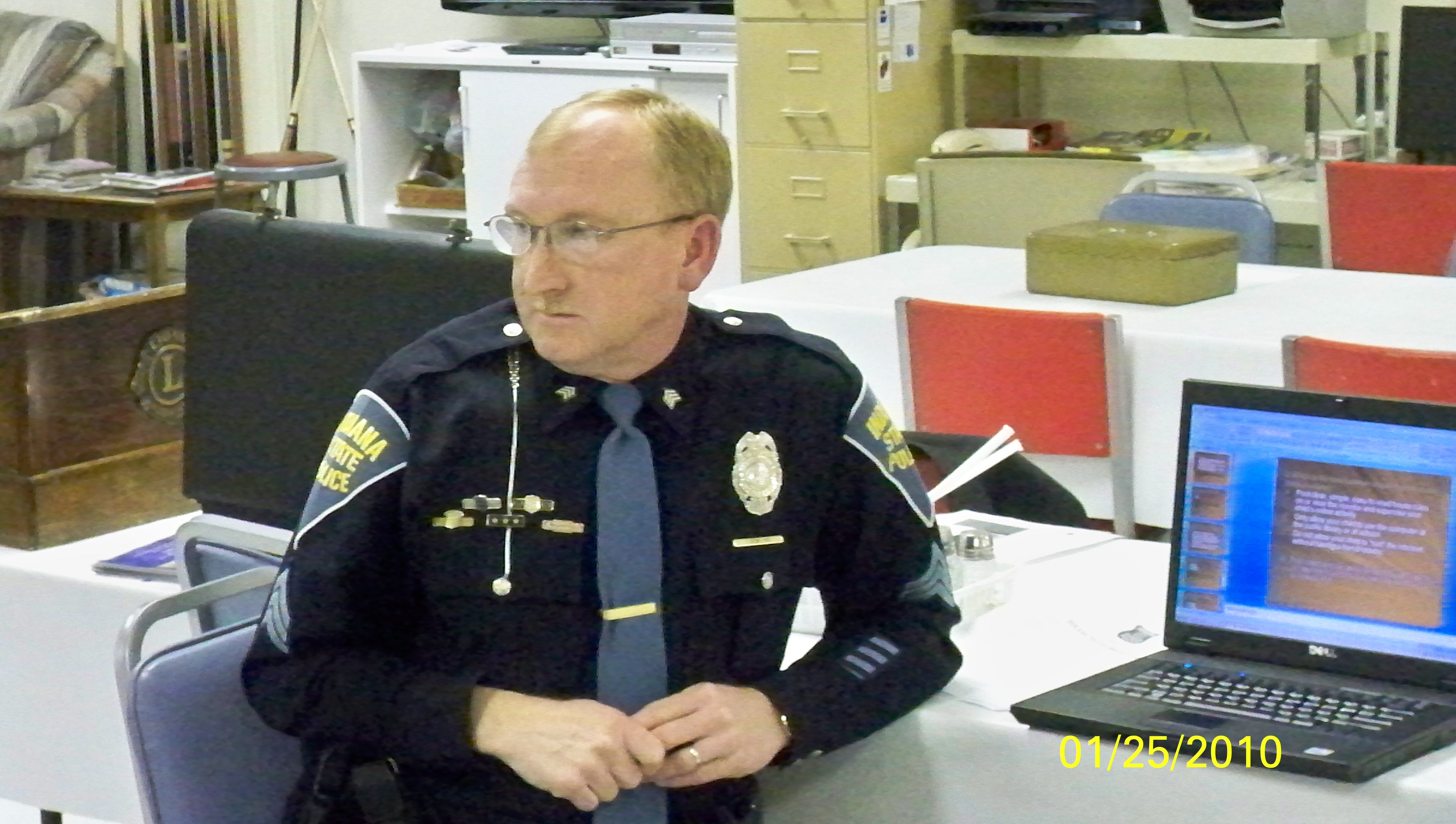 Sgt. John Bolling of the Indiana State Police spoke to members of the Centerville Lions Club Monday evening, January 25. Bolling's topic was Internet Crime. He spoke about the dangers of predators on the Internet and how to keep children safe.
It was "Pizza Night" with the pizza supplied by Americana Pizza in Centerville.
Winter weather conditions held the turnout to about a dozen Lions.
1/26/10
Lions enjoy chili on a cold night...
Caterer Darlene Robbins came prepared with chili on a cold Monday night. It was also chili in the Senior Center as members of the Centerville Lions Club gathered for its January 11 meeting. 18 members attended presided by President Kevin Sparks. Next meeting on January 25 will be Pizza Night.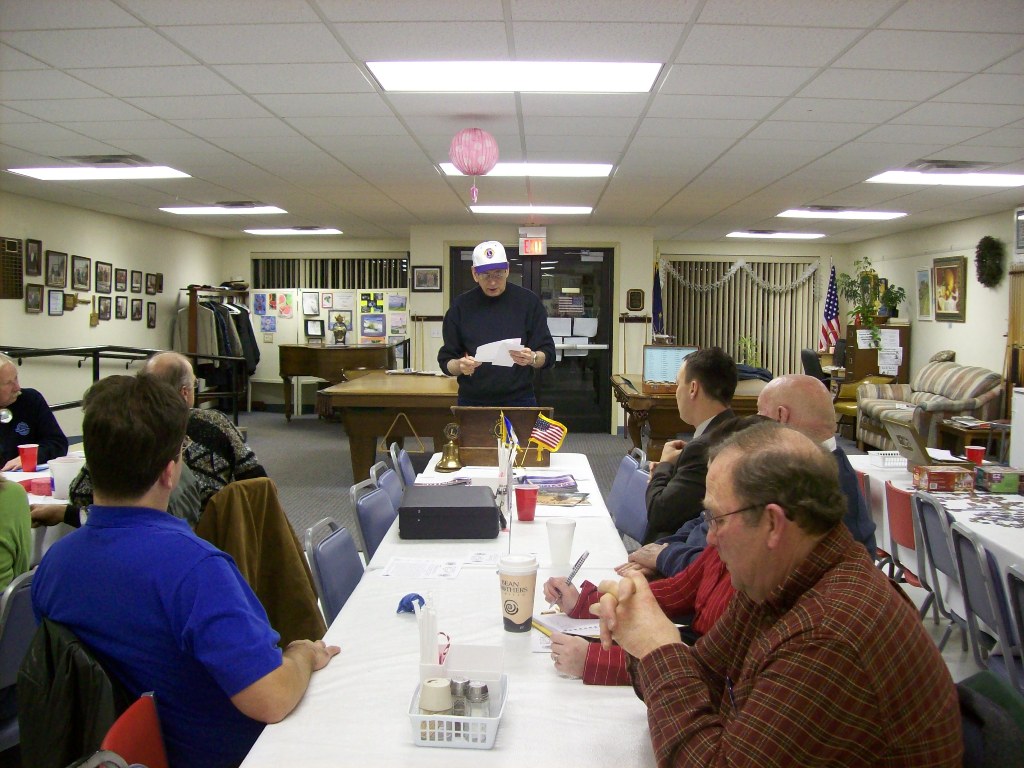 Lion Bob Blue gives the treasurer's report
Bob Blue, who had served many years as treasurer, returned to the post temporarily as he filled in for Jeff Nickell. Assistant secretary Courtney Amos also filled in for Wendy Kornman.
President Sparks read a letter of thanks from the Richmond Community Orchestra for its participation in the Christmas program in December. Sparks reported the club has received 2 electric wheelchairs from an anonymous donor. He also said club has recieved another wheelchair, two more walkers and other equipment recently.
Leo club advisor Jill Moore reported Leo gave a $75 gift card to a needy family at Christmas and collected food for cats. She also said they are planning another Senior Prom for April 24. Lions are encouraged to attend the club meeting held every Tuesday morning at 8 o'clock at Centerville High School.
District Governor John Scott is planning an Official Visit on February 22.
01/12/10
Club visits Model T Ford Museum...
Lion Jay Klehfoth, who is in charge of publications and business office of the Model T Ford Motor Club of America, based in Centerville, spoke to members of the Centerville Lions Club Monday evening, January 11. Klehforth, whose wife Barbara is secretary of the organization, told of the history of the Model T.
The 100th anniversary of the Model T was observed with a week-long celebration in Wayne County in July of 2008.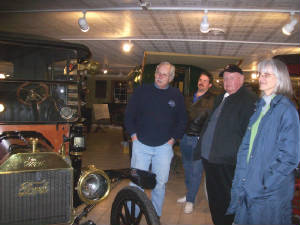 After the program at the Senior Center, Jay took everyone on a tour of the museum located just off I-70 and Centerville Road. He explained the different cars and trucks on display and on loan to the museum.
Persons interested in the Model T Ford Club of America may
click here
for more information.
01/12/10
Lions discuss upcoming projects...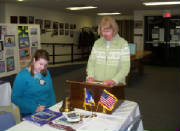 Vice President Elstro listens as Secretary Wendy Kornman reads the mintues of the last meeting
Lions Club vice president Anne Elstro presided at the February 8 meeting.
Lions discussed the Fish Fry scheduled for June 11 and 12. They expect to drop the hush puppies, but bring back slaw on the menu this year. They approved adding recorded music when live musicians are not performing.
Some of the unused excess equipment in the storage shed at the Mansion House will be donated to Haiti for relief. Members will be cleaning out the garage soon.
2/8/10